Keen to get your family out on the water this season? Alex Smith investigates some of the key questions to consider when searching for the perfect family boat.
Whether it's a small starter boat, an offshore RIB, or a high-spec cruising machine, a good family boat has a seriously tough job to do. It needs to keep your family safe and relaxed, as well as entertaining. It needs to be capable of turning its hand to a whole variety of boating pastimes and it needs to do so while remaining affordable to buy, easy to own, and simple to operate. Certainly, if you have the finance for a 70-foot flybridge cruiser or a luxury superyacht with a fleet of onboard toys and a resident crew, you're in a very good place to enjoy everything family boating in the UK has to offer. But for the rest of us, the best family boats (and certainly the best family starter boats) tend to be relatively compact power-driven craft with sufficient space for a mix of sun and shelter and sufficient flexibility for a broad range of family activities.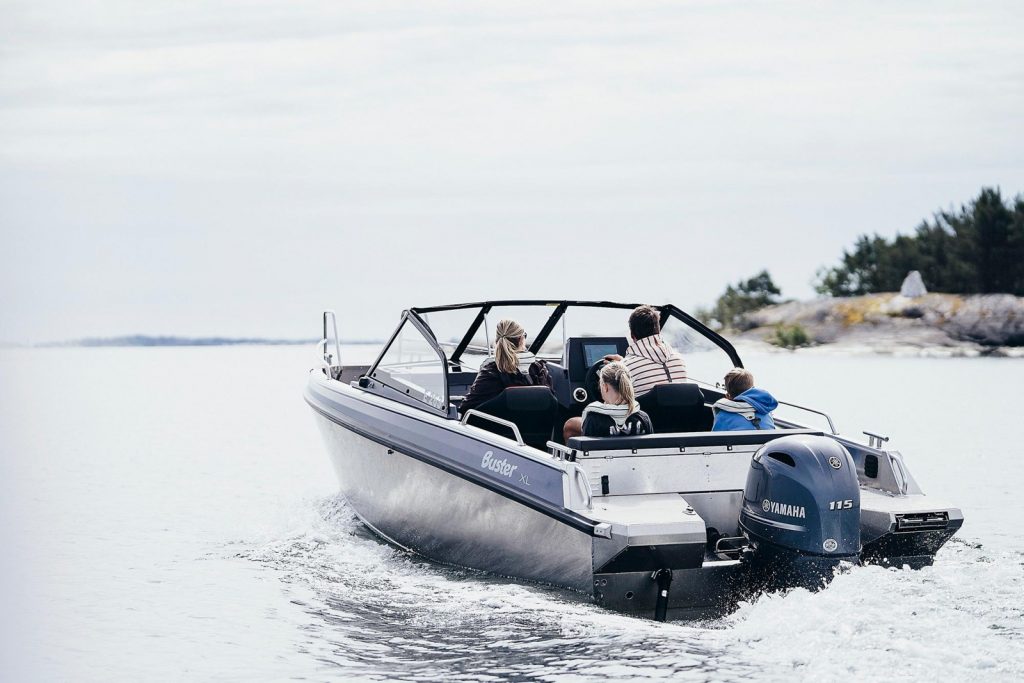 A great family boat tends to be a compact, power-driven craft that offers comfort and flexibility. Image source: Buster.fi.
Family boating: the best open boats
A small open runabout can make a great starter boat for a family of boating novices. While plenty of the big American brands like Bayliner and Glastron take quite a traditional 'bow rider' approach to day boating, the Scandinavians produce some outstanding family-friendly open boat options, often with practical deepset cockpits, a variety of furniture layouts, and secure open-decked bow spaces with step-through forepeaks. The Terhi 475 BR is a particularly satisfying example…
Built from tough, impact-resistant ABS plastic, it might look quite modest but the Terhi 475 BR is a brilliantly accessible five-man plaything with excellent cockpit shelter, reliable driving dynamics, and a quick-rig canopy concealed beneath the stern bench. With a 50hp outboard on the transom, it has just enough power to keep you entertained as you build your knowledge and experience. If you have a slightly bigger budget, the Buster X is even better. With tough aluminum construction and seating for seven, this safe, dependable and very capable boat uses a set of movable deck boxes for the greatest possible versatility. Easy to trailer, simple to launch, and able to skim along at a good pace with excellent efficiency, it's a thoroughly positive way to show your family just how enjoyable life on the water can be.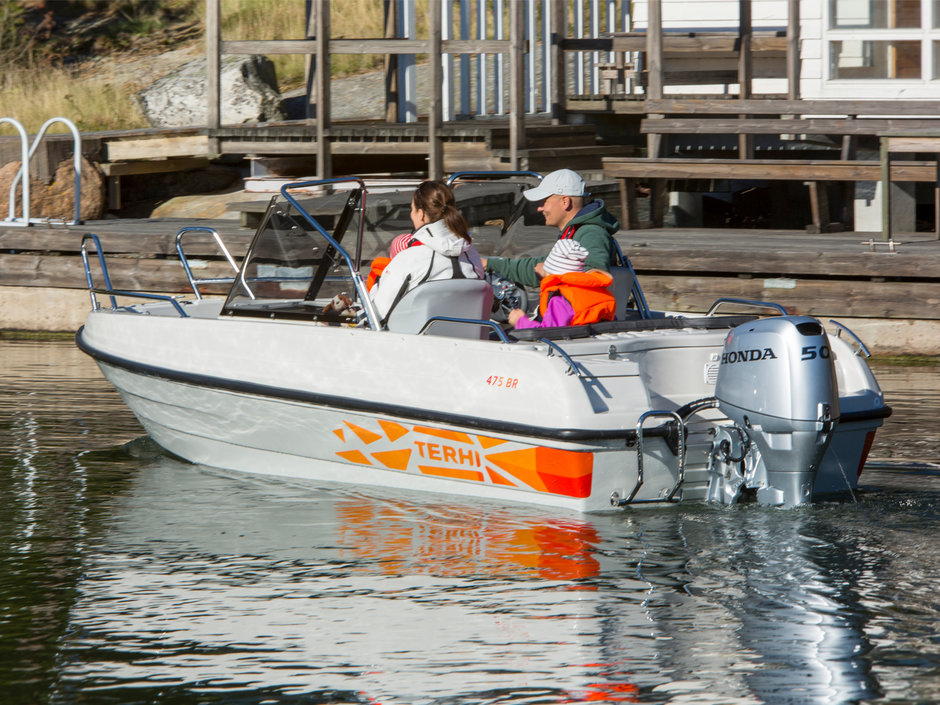 An open runabout can be an excellent starter boat for a family. Image source: Terhi.fi.
Family boating: the best RIBs
RIBS has changed over the years. While once, they tended to be heavily built sea boats, designed for serious load carrying duties, rough seas, and the daily grind of commercial labor, today's RIB market offers a whole range of stylish and sophisticated options for the family boater. One of the best is the remarkably versatile Zar 85SL. With its tapered three-quarter length collar and its hard beamy bow, internal space is outstanding. You get space for 12 people to relax in comfort, thanks to a sheltered cockpit, a convertible dining area, and a five-man seating zone in the bow that transforms into a sun lounger. Capable of 40 knots with a single 300hp outboard on the transom, it provides all the performance you could want, alongside huge reserves of storage and a remarkably generous double bed and loo beneath the console and foredeck.
If you're looking for other boats that merge traditional RIB performance with refined family luxury, brands like Ribeye, Brig, Stinger, and Capelli are also right at the top of their game. And for a range of RIBs that combines proven hulls and beautifully appointed internal arrangements with robust aluminum construction and a stylish finish, the new Highfield fleet is a great place to look.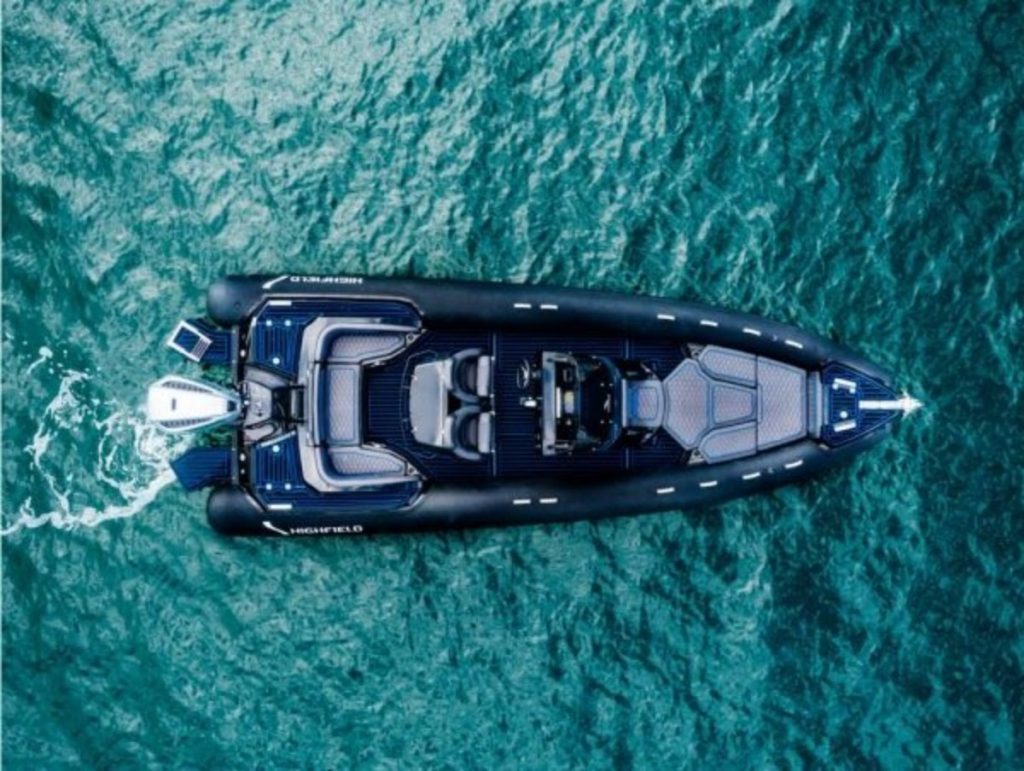 RIBs have become a favorite boating choice among families because they are easy to maneuver. Image source: Highfieldboats.com
Family boating: the best cruising boats
Family cruisers are required to tread a fine line between conflicting priorities. Should they commit to internal volume over external style? Deck space over windage? Sleeping spaces over day spaces? Luxury over performance? Scale over affordability? The result of this balancing act is a range of solutions encompassing everything from sleek sporting cuddies to traditional sports cruisers, from tri-deck flybridges to voluminous long-distance trawlers and from aft cabin cruisers to four-season pilothouse designs. The only way to narrow down the best option is to decide where you personally stand on each of the key compromises…
For a range of affordable solutions, Quicksilver's Activ line is a very impressive place to start. If you want a cutting-edge cuddy with stylish looks, lightfooted performance, a convertible cockpit, and a pair of double berths with separate heads compartment, the Finnmaster T9 is a fine example of its type. And for something that feels strikingly bold and modern, the Axopar 37 XC is superb. With its modular approach, it is able to provide a pair of private cabins, plus a sheltered pilothouse for year-round cruising and an open walkaround layout with forwarding and aft deck spaces for summer recreation. For its brilliant use of space, Beneteau's Swift Trawler 35 is also a triumph and if you want a classical 'compact' flybridge model with proven credentials and superior quality, it doesn't get much better than the Princess F45.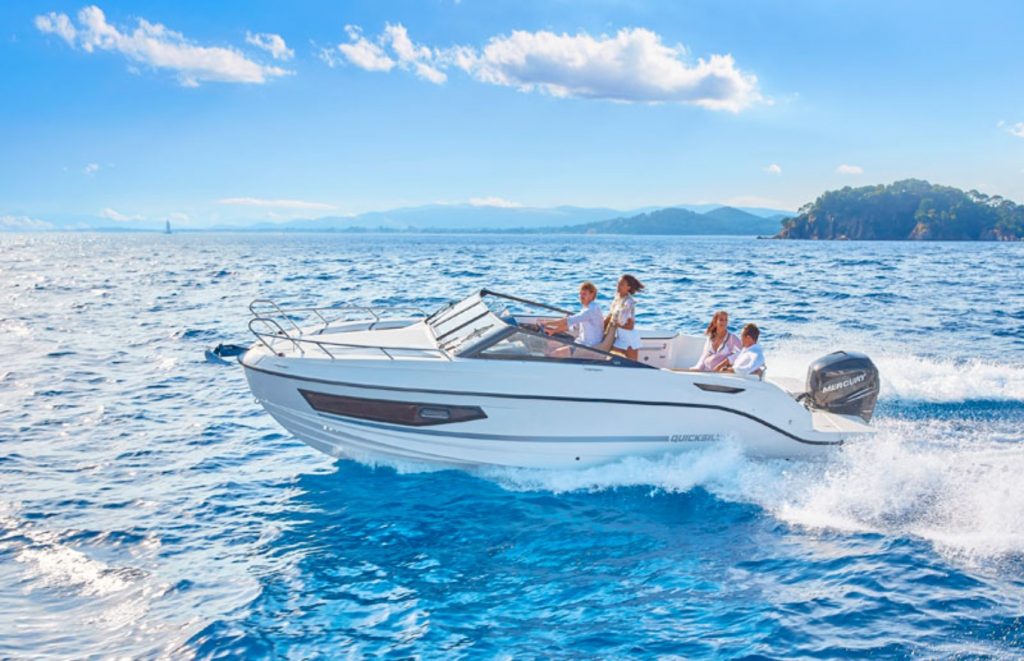 Choosing the right cruiser boat for your family requires deciding your personal viewpoints on the key compromises. Image source: Quicksilverboats.com
Useful features: small family boats
Whatever kind of boat you favor, there are certain features that lend themselves to enjoyable family boating. On a small boat, look for easy access on and off the bow, the stern, and the beam. Deep freeboards are of course a major plus for those with young kids, as are elevated guardrails, single-level decks, and plentiful grabbing points. To help keep the family relaxed and happy during a day out on the water, it is great if the helm console or foredeck is able to conceal a toilet and a private changing space. And while an overhead canvas is vital for keeping the sun off on a hot day, a full 'tent-like' cockpit cover can transform the flexibility of a small boat, enabling you and the kids to enjoy camping-style weekends away in the summer. It's also worth looking out for convertible furniture that enables you to adjust the space to the demands of the day. And, while inboard engines have natural benefits in terms of handling and stability, a modern outboard engine is a great way to maximize your internal space. If you're planning on a spot of wakeboarding or offshore fishing, just make sure it has enough power to do the job when loaded with the full complement of passengers and a day's worth of baggage.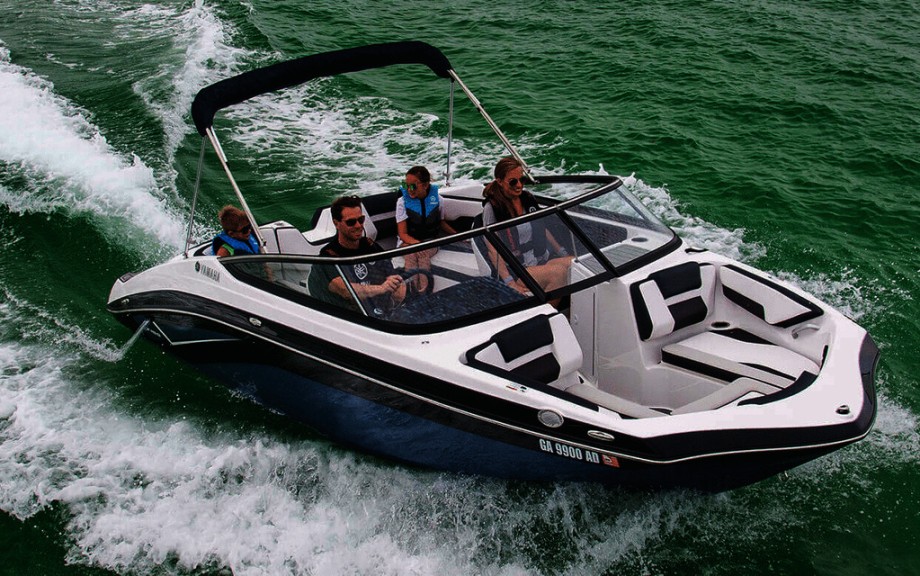 A small boat's useful features, bow, stern, and beam should be easy to access. Image source: Yamaha-motor
.eu.
Useful features: large family boats
On larger family boats, many of the same principles apply. Configurable sleeping arrangements and convertible deck furniture help you maximize onboard flexibility and adjust your boating as the activity demands. Space for a few toys, like inflatables, SUP boards, and scuba gear is also a valuable way to mix up the entertainment. And whether the aft end of the main deck is optimized for watersports or not, it's a great asset if you can fit a tender on board.
To keep the kids entertained when they grow tired of their parents, a climate-controlled saloon with some lounge seating, a TV and a music system is always a great help. And just as a well-managed foredeck can add an extra place for a lunch party or a bit of private downtime, a flybridge can be a superb feature on a family boat – especially if you intend to cruise for several days at a time. As regards the driving experience, the key is to make it easy on yourself. Look for excellent all-around visibility, easy access to the side decks, secure walkways, and as many modern drivers aids as you think you and your potentially inexperienced family crew will need in order to remain calm, controlled, and friendly.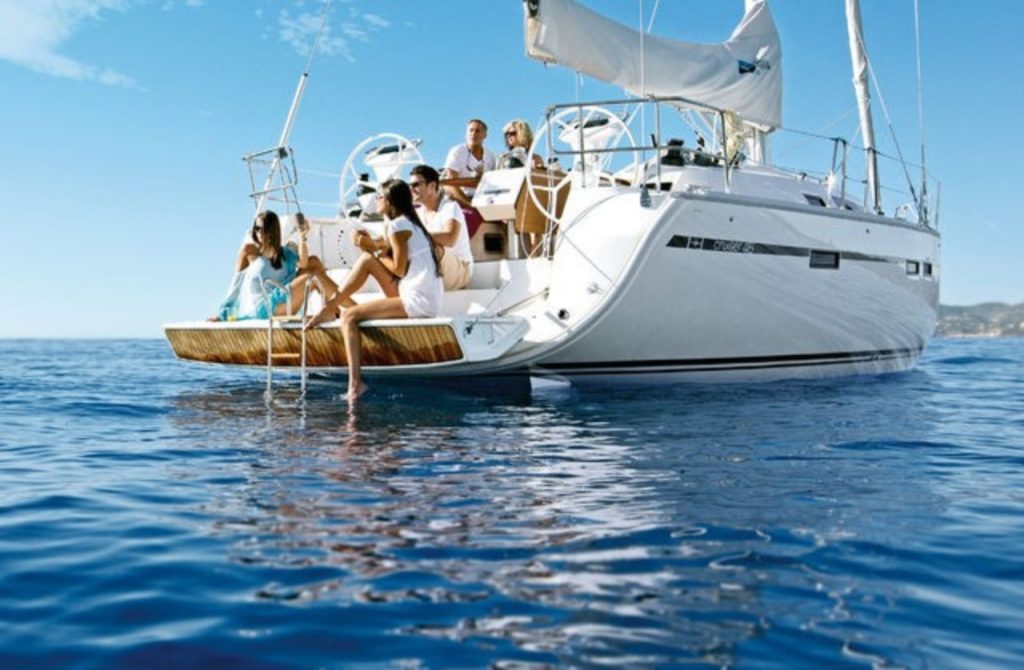 On larger family boats, you need configurable sleeping arrangements and convertible deck furniture to help you maximize onboard flexibility. Image source: bavariayacht.com