You'll want to keep your pride and joy in pristine condition by cleaning it after each use – especially if it's been in saltwater. Salt deposits can cling to surfaces and cause abrasion that leads to rust. It's well worth the effort of rinsing and scrubbing the exterior and detailing the interior after a day on the water. A deeper clean at least once per year will help your boat to last longer. The lead up to summer is the perfect opportunity to undertake a thorough spring-clean and general inspection, getting you ready to enjoy a season of uninterrupted boating.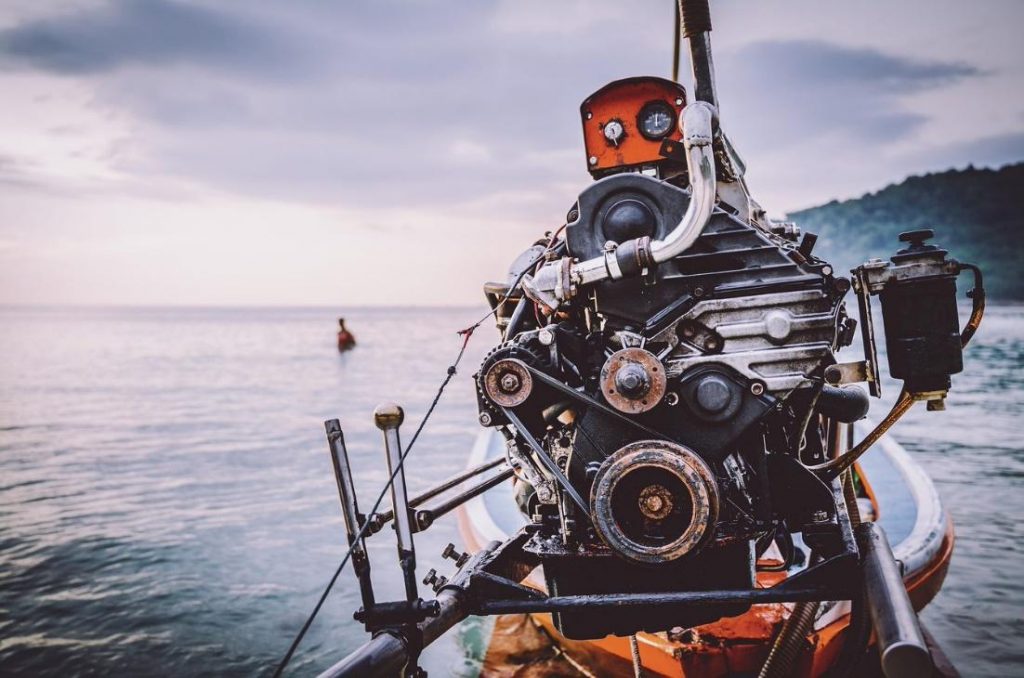 Minimise clutter 
Larger boats can quickly fill with more items than are necessary to have onboard. Commence your spring cleaning by decluttering areas such as the helm and cabin. Keep in mind that any unnecessary weight slows you down on the water and results in using more fuel. It's a good idea to have an inventory of gear and tools that you need on board, and remove all others. Where possible, look for multipurpose tools and collapsible items, such as cleaning brushes and attachments, that can be easily stowed away.  
Pressure-clean the hull
Whether you start by cleaning the interior or exterior is a matter of personal preference. If you go from the outside in, the first step is using a pressure washer to rinse salt water residue, algae and debris from the hull. Saltwater deposits can be notoriously stubborn to remove, so quality equipment is important. 
The next step is to scrub the exterior all over with a cleaning solution and boat brush – opt for soft bristles for delicate paintwork and harder bristles for surfaces that can withstand more intensive scrubbing. Read an in-depth guide to cleaning your boat's hull.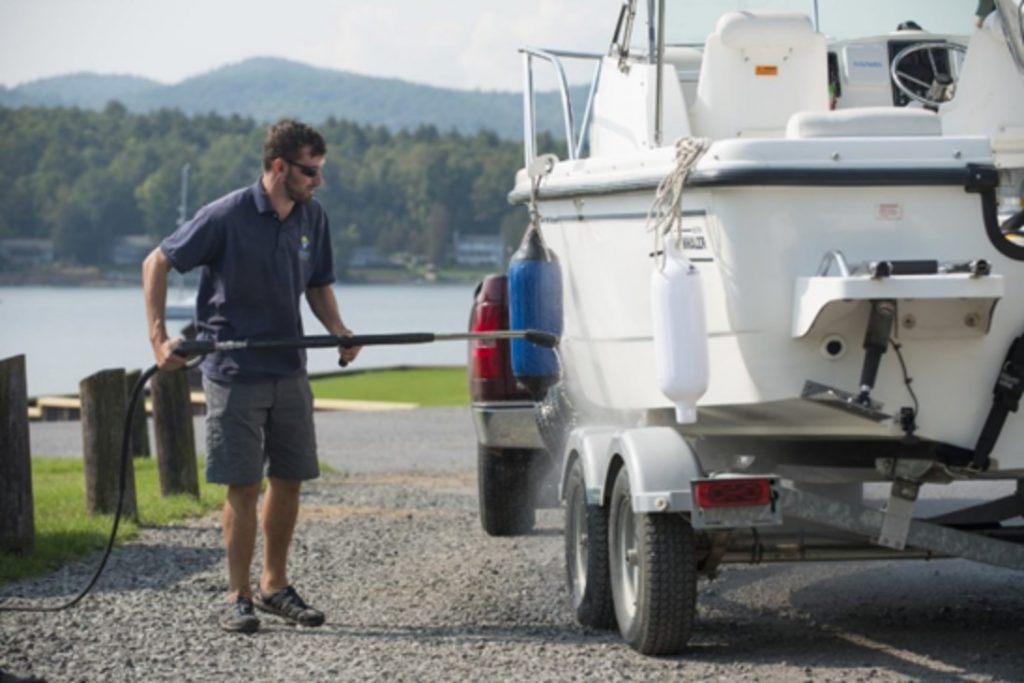 Boat cleaning products
When it comes to cleaning products, look for trusted marine-approved cleaning solutions, and never be tempted to use detergent, which damages paintwork. There is much discussion among boaters about switching from chemical-based boat cleaning products to natural alternatives that may lessen the impact on marine life. For example, mixing white vinegar with water is an effective cleaning solution for exterior paintwork, while baking soda mixed with water forms a paste that works well on fibreglass. Apple cider vinegar makes chrome shine like new, and wooden finishings in your boat's interior can be gently cleaned with olive oil or almond oil. 
After rinsing off your preferred cleaning solution, use a squeegee blade or chamois cloth to thoroughly dry the surfaces.   
Protect with wax 
After cleaning, applying protective wax to the boat's exterior is an ideal way to extend the life of its paintwork. Professional boat waxes and polishes often include UV protection, which goes a long way to prevent deterioration caused by the sun. You can apply wax manually using a rag or soft towel (and get a good workout!), or use a power buffer to ensure a perfectly smooth finish.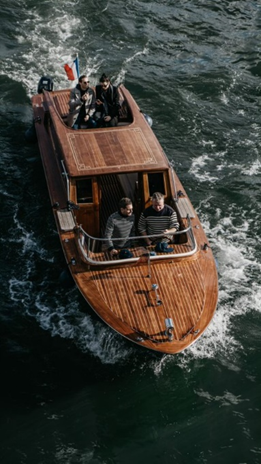 Clean the interior
Keep the momentum up and move on to the all-important interior of your boat. Vinyl surfaces gradually accumulate dirt and can be wiped clean. Mop wooden floors and interior surfaces using approved cleaning polishes – note that teak requires special care. Allow them to dry and then use a buffer to gently polish them before spraying with wax. Frequently vacuuming and dusting upholstery is likely part of your year-round routine, but once per year, you should consider a deeper clean by shampooing carpets and upholstered seating. Canvas also requires frequent cleaning, but if the item is small enough to fit in your washing machine, you can easily freshen it this way on a lower-temperature cycle. Alternatively, use a hose and gently scrub marks away with a brush and either mild soap or baking soda mixed with water. 
Engine maintenance 
Now that every surface is sparkling clean, don't miss the opportunity to inspect your engine – the most important and expensive part of your boat. Check the fuel tank for water, look for corrosion or any blockages, inspect the battery, test its charge, and once a year (or according to the manufacturer's instructions), change the oil and filter.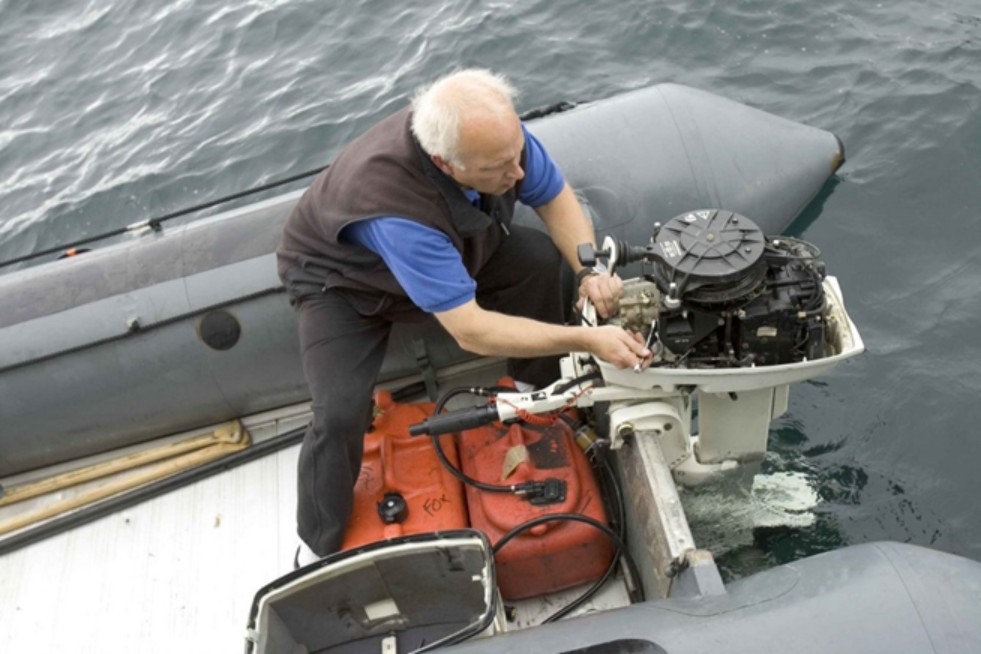 For more essential checks and repairs, see our guide to boat maintenance to do before summer. Find information on summer maintenance for yachts, improvements you can make on a powerboat and read more about cleaning and extending the life of sails.