Whether you're looking to buy a boat or sell one, this article will help you understand how much a boat should cost as well as factors that affect its price. 
Knowing how much a boat should cost will help you negotiate a better price to avoid getting ripped off or having a boat sit on the market for months. That's why we are answering two common questions about boat value: 
The first thing you should know is that the primary factor that will determine a boat's value is whether the boat is new or second hand. Like all used goods, a second hand boat will, understandably, be much cheaper than its new counterpart due to depreciation. Whilst there are different factors that come into play depending on which category the boat belongs to, both new and old boats share some common ground.
Boat Class and Model
Boat class is one of the key factors that can affect the price of a boat- the price you would expect to pay for a
sailing boat
compared to a
fishing boat
greatly differs. Another factor to consider is that depreciation affects boat classes differently; some types, such as sailing boats and cuddy cabins, retain their value much better than others. On the other hand, boats such as bow riders depreciate at a much faster rate. 
The specific boat model can also affect the price of the boat. For example, well known and popular boat models such as the
Leader 33
or the
Merry Fisher 605
both by Jeanneau, will sell at a higher price than their more obscure and lesser known counterparts.  
Brand
The shipyard the boat was built by can also affect the price of a boat. Boats that are built by well-known high-end builders, such as
Beneteau
and
Princess
yachts, will command a higher price.
Size
This is rather obvious, but the bigger the boat, the bigger the price tag. It's size won't just affect the initial cost but will also affect the cost of appraisals, maintenance and winterisation as many of the ongoing
costs of ownership
are calculated by metre.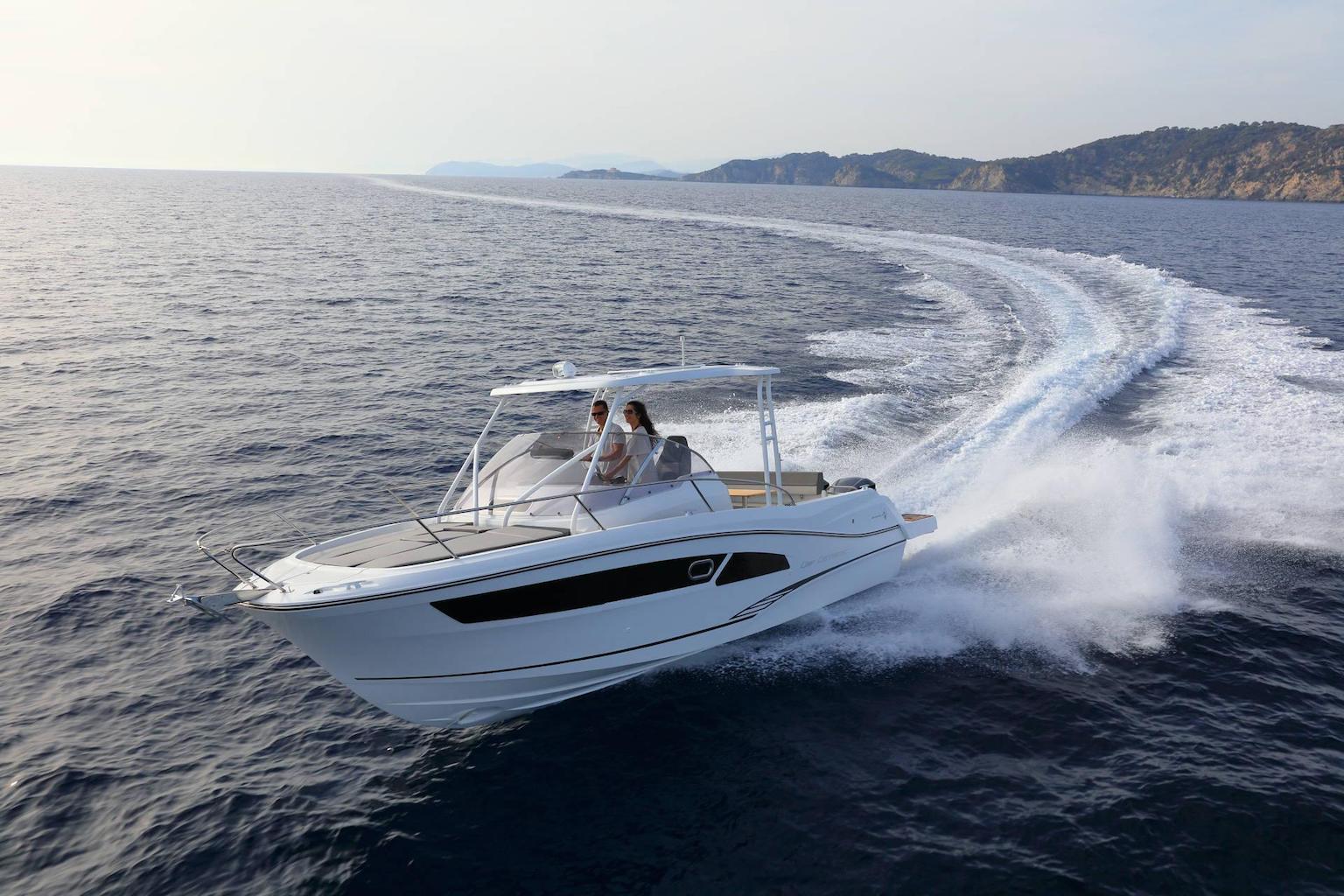 Newer boats do not suffer from depreciation. Photo: Jeanneau
New Boats 
Let's start with the pricier option of the two. New boats, glittery and fresh on the market, do not suffer from depreciation like second hand boats. Of course boats that have just been released will affect the sale price of previous models, but this is nothing compared to the depreciation a boat suffers at the moment it has been sold. 
Old Boats
The moment you buy your boat should be a joyous moment filled with (a) relief that the buying process is over and (b) excitement anticipating the times to come. However there is something else, much more sinister, that also happens at this same moment: depreciation. The moment you buy your boat, its value will hugely decrease. This depreciation will continue with each year of usage and can differ according to model and brand.
Equipment
Second hand boats are often sold with extras such as trailers and other equipment that the previous owner had bought specifically for that boat. This equipment, depending on the quality, can often raise the price of the boat if sold as a package. Often owners will also offer the possibility to sell the boat separately.
Condition
Second hand boats can be a bargain- but only if they are in good condition. So naturally, one of the top factors dictating second hand boat prices is whether or not the boat has been well maintained. 
Engine Hours
The general rule of second hand boats is: the less engine hours the better. However, the truth is often much more nuanced. For example, if you were given the choice between two boats, one with a significant amount of engine hours and the other with hardly any, before jumping the gun and choosing the latter you should take a look at the year the boat was built. If the boat with the least engine hours was a much older boat, this should raise alarm bells. An engine that has been neglected and poorly maintained is far worse than one with more engine hours that has been regularly looked after.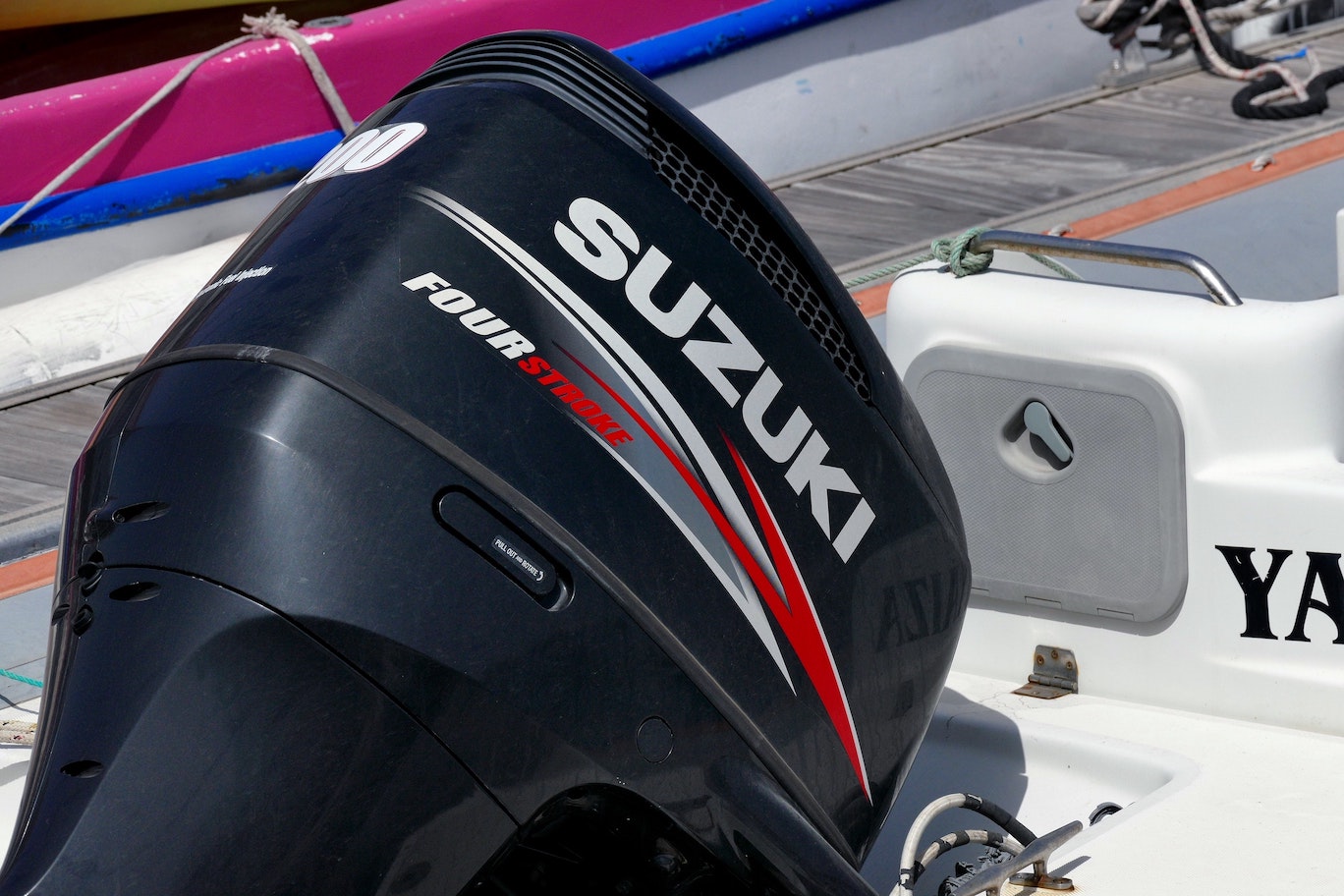 Engine hours are a crucial factor in determining the price of a second hand boat. Photo: Zibik on Unsplash
Age 
Age is closely related to a boat's condition and its engine hours; older boats are generally in poorer condition and have more engine hours which can be a concern to buyers and will therefore be reflected in the price. Unless the boat is a classic or antique, the rule of thumb is the older a boat is, the less valuable. A boat will depreciate the most during its first year of ownership, after which it will depreciate at a slower rate year by year. 
Location 
If the boat is located in a more popular boating area, prices will be more competitive due to the large supply. Boats located in quieter areas, on the other hand, will also suffer a significant price drop due to its lack of accessibility. This price drop is often an incentive for buyers to view the boat.
If you want to find out how much a boat is worth, there are a range of options, both paid and free, available to you. If you are looking for a free service, check out our
price guide
. Boats and Outboards' price guide is based on over 11,000 listings of boats for sale on our website. Once you have selected the manufacturer and model a list of results will appear with the building year and highest, lowest and average prices.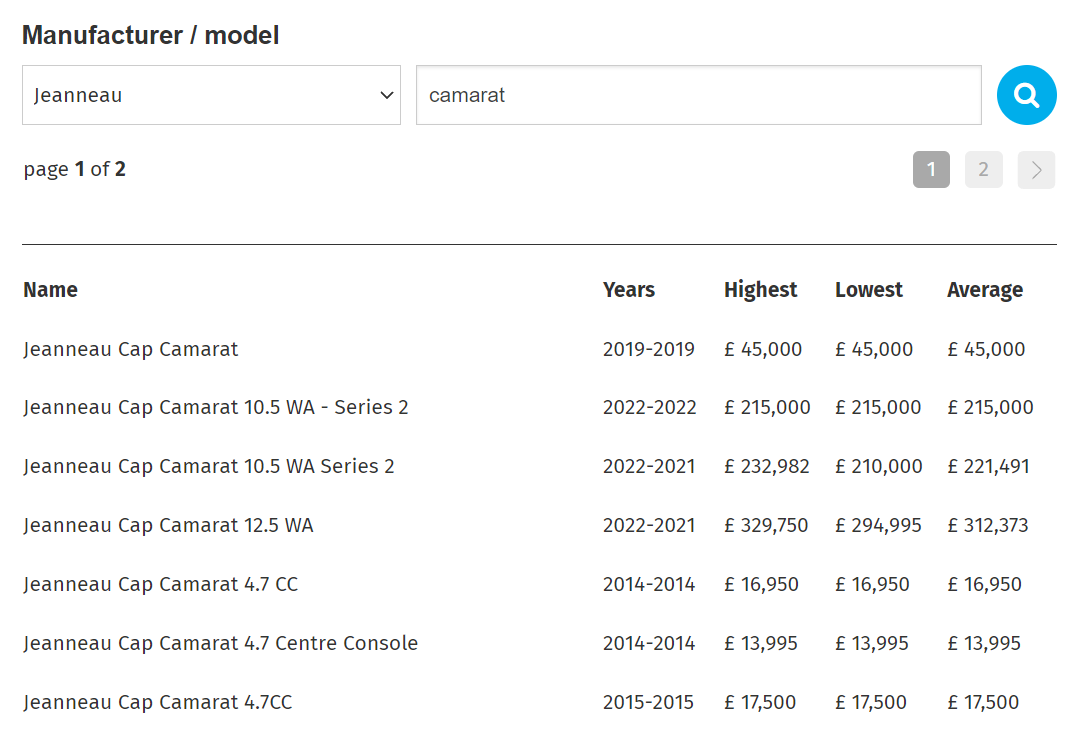 Here you will find the average prices of the Jeanneau Cap Camarat boats listed on Boats and Outboards.
Main image: Bavaria