How to register a boat in the UK?
Thinking about registering a boat in the UK for 2022? While not compulsory for all pleasure craft, boats entering international waters or with a marine mortgage need to be registered by law. Even if you don't meet those criteria, there are many reasons to undertake boat registration in the UK. For one, it provides proof of legal ownership and legal certainty if issues arise, including protection under UK law against maritime disasters. So, if you've got a boat or are thinking of buying a boat and don't know how to register it, here are all the details you need to know.
Boat registration provides proof of legal ownership. Image: Jeanneau.com
Why should you register your boat?
Before looking at the financial and technical details of registering, let's first underline why you should register your boat. Registering a vessel is a simple process that proves a boat's nationality. It can also help to prove ownership if any issues arise and are compulsory with certain commercial activities (like fishing). 
If you're a small boat owner, it's an inexpensive process. You will be able to sail the UK flag in international waters and receive all the prestige that comes with this. Many marinas outside of the UK even require proof of boat ownership for access. UK boat registration provides this simply with clear documentation. More importantly, if your boat is stolen or gets damaged, registration helps authorities track down issues and support insurance claims. 
Where to undertake boat registration in the UK?
UK boats for use at sea are registered on the UK Ship Register. This is an online process that can be undertaken through the UK's GOV site. Application by post is also accepted. The UK Ship Register comes in 4 parts. The part you need to register with depends on your boat type and use. Let's look at these parts more closely:
The registration of a boat depends on the type of boat and its use. Image: aussieboatloans.com.
Part 1 - commercial or pleasure boats
If you have a commercial boat (but not for fishing) or a pleasure boat (one that does not make money), you can register on Part 1. This also allows you to spend more than 6 months outside the UK and enables you to get a marine mortgage and boat finance. The cost for registering is £153 for 5 years with a renewal of £72 for the following 5 years. 
Part 2 - fishing boats
If you have a fishing boat, you should select Part 2. This enables you a legal right to catch and sell fish. There are two different types of fishing boat registration - simple and full. If you intend to take out a marine mortgage on your fishing boat, you must have full registration. The cost is £159 for a simple registration and £196 for full registration.
Part 3 - small boats
To reach the "small boats" criteria, your boat must be less than 24 metres long and used solely as a pleasure craft (not for business or commercial purposes). You also need to be based in the UK for at least 185 days per year. Among the most cost-effective registration options, it will allow you to prove your boat's nationality in international waters and costs £35 for 5 years.
Part 4 - commercial boats
If you plan to hire out (or charter) your boat, you should register on Part 4. This costs between £35 to £196 for 5 years, depending on the size and type of boat being registered.
Choosing the right registration
Choosing the right UK Ship Registry Part is pretty straightforward with only some overlap. In general, the simplest way to register a non-commercial vessel is to select Part 3, the small boat register. This gives you complete peace of mind as a UK resident, is cost-effective and covers all pleasure boats under 24 metres. You don't even have to keep your boat within the UK as long as you are a UK resident for at least 185 days per year. Note: you cannot use a Part 3-registered vessel for commercial means.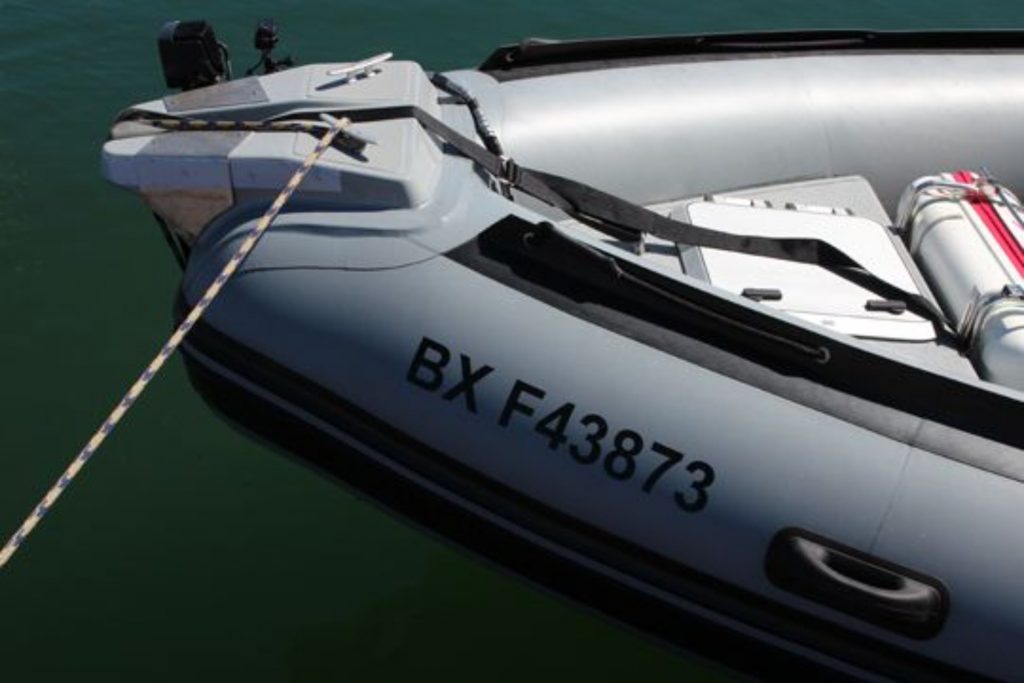 Registration requires your vessel's name as well as the details of all owners. Image: Boatnews.com
Who can apply for national ship registration?
Different sections of the registry come with different eligibility criteria, but there are some commonalities. In general, you must be a UK citizen or non-UK national settled in the UK. 
What do you need to register a boat?
Before you get started with the registration process, there are a few items that you'll need at hand to make the process smoother. First, you'll need your vessel's name along with the details of all owners. You can register your boat as an individual or under several joint owners. For multiple owners, a Bill of Sale must include all names with signatures. The UK's government system associates the first-listed owner as of the recipient for correspondence, so be sure to list this accordingly. All owners must also provide an address, email address and other personal contact information. 
Next, you'll need full details of your boat, its type (catamarans, motor yacht, sports cruiser, etc.), make and/or model, radio signal detail, the number of hulls and length of the boat. Safety certificates, a builders certificate and a certificate of survey for tonnage and measurement may also be requested. You should also provide the Hull Identification Number, if applicable, plus any previous government documentation. 
Supplementary forms
Along with your completed application form, you must also submit a copy of your boat's Bill of Sale and a Declaration of Eligibility. Information on all these necessary documents is provided when you enter the registration process on the government application website. Once the process is complete, you'll pay online with your credit or debit card accessible through the application menu. You can log in at any time to check any new or current data related to your license.
What happens next?
You will receive an email notification when it's time to renew. If you don't want to renew, you don't have to take any steps. The license runs out on the final date. If you've become a new owner of a boat, please get in touch with the registry to change/transfer ownership. Similarly, if you've sold your boat, please get in touch with the registry to let them know.
Boats need to be registered with specific licensing authority.
How to get a waterway license?
While registration on the UK Ship Register is required for use at sea, inland waterways like canals, rivers and lakes are different. From paddleboats to canal boats, a license is needed on waterways. Here, you need to register specifically with the particular licensing authority. These roughly include the Canal & River Trust and Broads Authority in England, Scottish Canals in Scotland and NI Direct in Northern Ireland. England's canals and rivers are further divided by the River Thames, River Medway, Anglian waterways and Rye Harbour.
To complete registration on any of these waterways, you may need insurance and a Boat Safety Scheme (BSS) certificate. Waterway licenses need to be renewed each year. While you need to register with each navigation authority for use, you can buy a visitor license for short periods.
How much is a UK waterways license?
As different waterways are managed by different bodies, there is no single cost to a waterways license. One of the most useful is the UK's Canal & River Trust "Gold License" which covers all of their waterways. A Gold License covers any boat with a motor (including riverboats and canal boats) and grants regular access to waterways owned by the Environmental Agency. This year-long access fee starts at £634.
If you don't need constant access to different canals or rivers, it's far more cost-effective to choose a license or toll from the particular department you're using. In the Broads, for example, this tool is based on the size of your boat and whether it is a row/man-powered boat or motorboat. You pay for access annually and must meet the regulations of each authority.
Kayaks, canoes and rowboats
Simple kayaks and canoes are also subject to licensing for use on British waterways. In the UK, that's a flat fee of £53.71 for the Canal & River Trust, £35 for the Broads Authority and £44.20 with the Environmental Agency. Many canoes or kayak owners register with organisations like British Canoeing to cover all these for less. Likewise, rowing clubs provide rowing boat licenses on select waterways through British Rowing. You can find more information on available licenses on this HM Government page.
Should I register my boat?
The simple answer here is yes. Registering your boat offers peace of mind and ensures boating authorities that you meet standard regulations. For more information on requirements needed, head over to the HM Government page.