There are seven different types of waders available from Fladen as part of their Outdoor range, from the traditional PVC /Nylon waders to three-layer breathable waders with an associated price tag.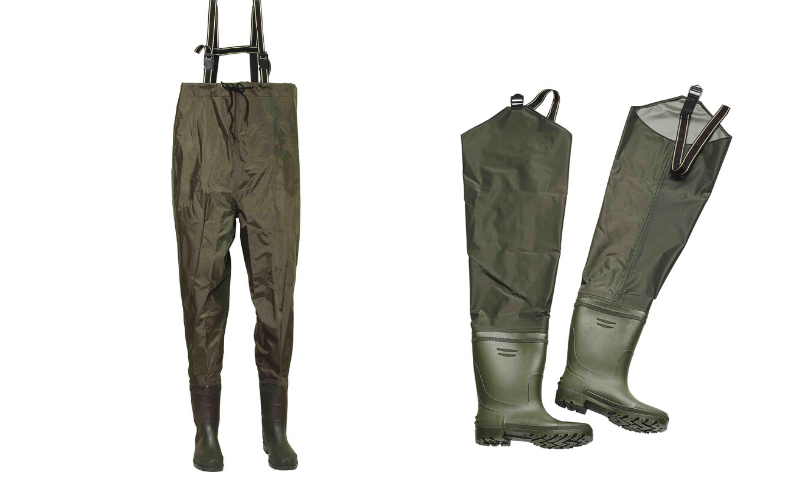 I have not covered safety in this article but it would be prudent to familiarise yourself with any water area prior to entering the water, and wearing an appropriate buoyancy aid or life jacket if entering into the water or where there is a likelihood of you falling. 
These products are reasonably priced retailing at approximately £35.00 (Price as of May 2020) for the hip waders and £45 (Price as of May 2020) for the chest waders. See
oneoceantec.co.uk
for our latest prices. The price should not detract from the fact that they are high-quality waders that would suit any angler, fisherman, or individual who works near water or may need to access shallow water, and require a dependable, well-made product as part of their outdoor equipment. 
It would be unfair to regard either of these products as entry-level waders, as new more modern fabrics and designs have been created in recent years which have pushed these into the lower end of the market, and without good justification. These waders are one of the originally designed waders of the past, and though they are basic in their design they would definitely be included in my equipment for outdoor activities such as fishing or any other river or pond activity where I needed greater access than a Wellington depth.
Overview
The Hip and Chest Waders are made from the same 0.35mm Nylon/PVC with rubber boots with stitched and heat-sealed seams to the upper waterproof nylon PVC. Both types are available from Size 40-47 inclusively.

Both types are made from the same 0.35mm Nylon / PVC material and rubber boots. The hip waders are cut to fit the wearer's hips and secured on the outer part of the leg with adjustable straps that loop around the wearer's trouser belt.
The chest waders are secured around the wearer's shoulders with two adjustable shoulder straps and an additional draw string around the chest to stop the waders from slipping. Both types have the same rubber boot which has deep fissured grooves for added grip.
The boots provide adequate foot support, much greater than neoprene sock boots but not as rugged a support as walking boots or work boots. That said the support is more than sufficient for walking through rivers and ponds and wet environments.
The Hip Waders
On first wearing the hip waders, I found that they fit well with the adjustable strap. The strap webbing is attached to elastic which means that the waders can be attached tightly without the fear of tearing the nylon on the top of the waders.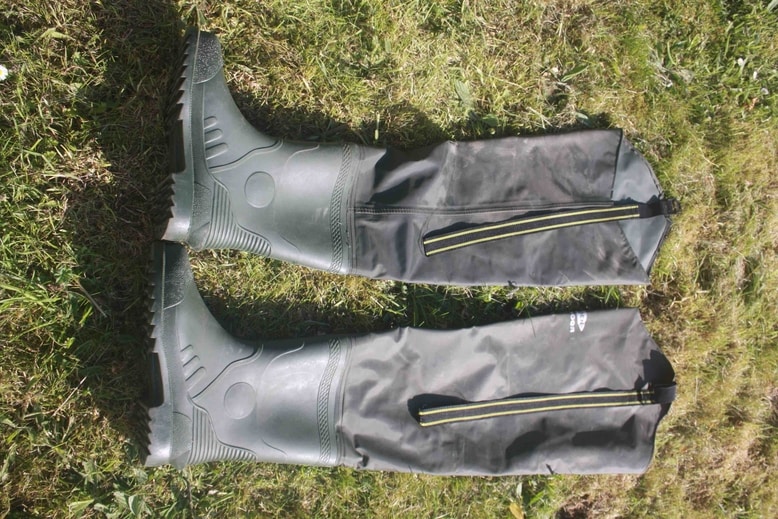 The PVC boots are just under 30 cm in height and they are sealed to the Nylon wader to ensure a watertight fit.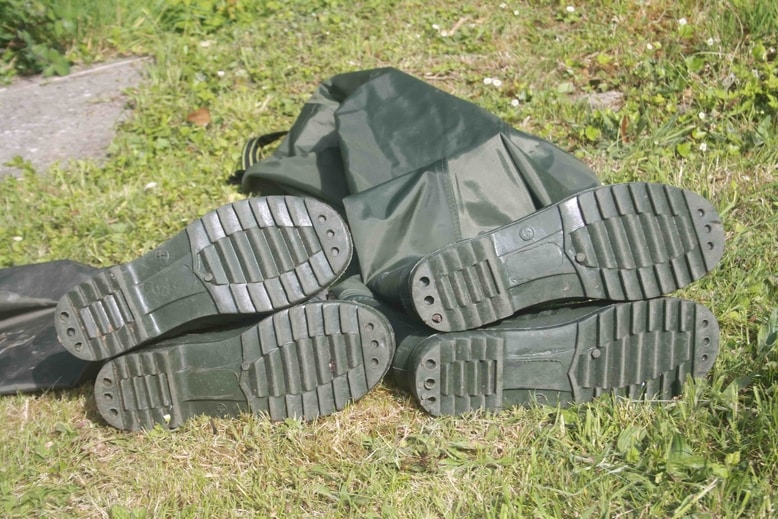 The boot soles of both waders are deeply fissured to avoid slipping on wet stones, grass or other hazards. Though the boots are strong and durable the waders are quite thin and not sufficiently strong enough to prevent a sharp object from penetrating or tearing the fabric.  This is true of all waders. Even the toughest drysuits can be punctured or torn so good care and appropriate use is of paramount importance to ensure longevity of the waders.
On wearing the hip waders I found that my legs and feet became damp during use. This is due to the non-breathable fabric and one of the hazards of wearing protective clothing outdoors or in damp conditions. Fladen do sell breathable waders available but of course, they come with a price.
I have worn these on multiple occasions in water up to my thigh and I have been quite comfortable whilst wearing them once the straps have been adjusted to allow movement. They have never been a hindrance to me whilst I was involved in any activity.
I do have to be aware of the height limitation and on occasion, I have found my hip area has become wet just from forgetting about the height of the water.
They are extremely versatile and I have used them for fishing, for river clearance and for using in wet conditions where I needed to remain dry. I found it easy to climb up river banks whilst wearing them and though I had to readjust the straps it was easy to do. I wore these hip waders over my Fladen Authentic Wear Trousers and found them to be comfortable and practical.
The boot support is sufficient enough, and much more supportive than an equivalent neoprene boot sock. My socks do become damp when I wear them but this is a common result of wearing wellingtons, waders and dry suits. It would be wise to buy thermal socks for added comfort.
The Chest Waders
The chest waders are extremely comfortable and once worn it was easy to forget I was wearing waders due to the design and attachment around the shoulders.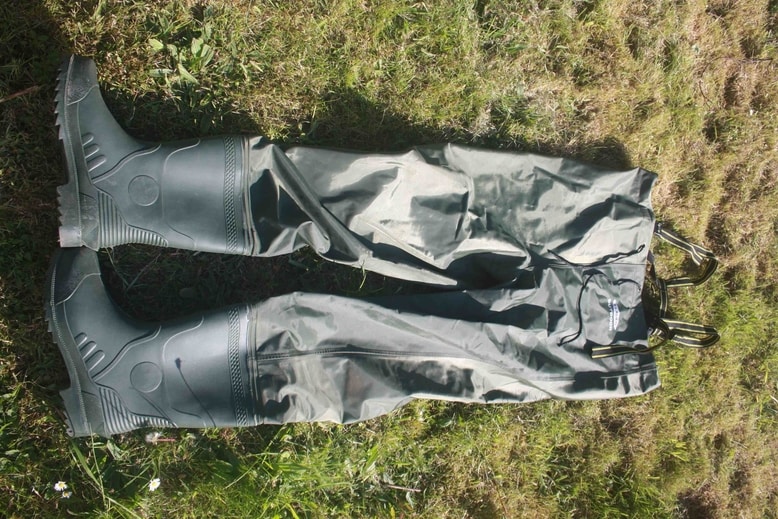 There is not the discomfort that I felt from hip waders attached to my belt. Despite their size it is easy to manoeuvre; they are designed with fishing in mind, so climbing up and down river banks was not a problem with the chest waders. Of course, as the chest waders are waterproof up to the chest I could relax more when I was in a river, by not having to worry about whether I would have water ingress above the top of the leg. I did sweat more in the chest waders and found that all my clothes were quite damp after wearing them on a warm day, whereas only the lower legs were damp from wearing the hip waders.
The boots on the chest waders are identical to those on the hip waders and I have worn them with confidence knowing that the rigid soles give me the protection I need when walking in deeper water.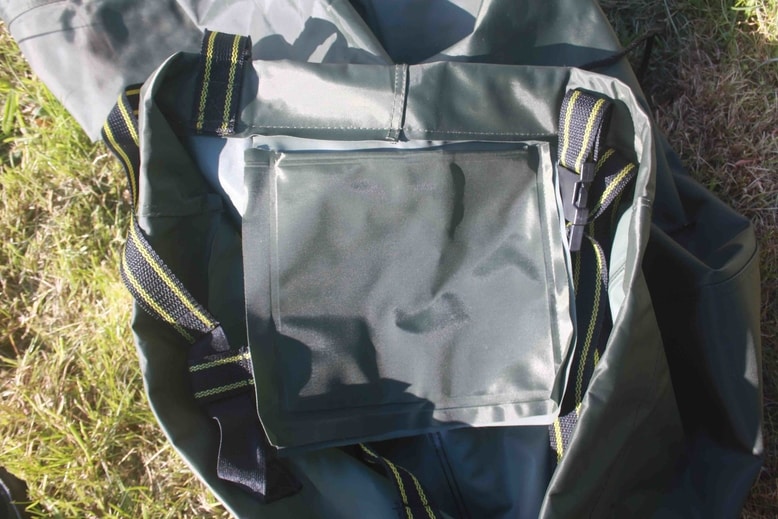 There is a square pocket located at the chest height, useful for holding keys, phone or a small fly box.
Both the hip and chest waders would be an ideal first purchase or for someone who is buying on a budget. But one should not be so quick to dismiss these waders for more expensive designs as they are more than adequate whether you intend to wear them once a year or on a regular basis.
Even if the intention is to purchase a more expensive breathable set of waders in the future, either of these would be an excellent second pair to be carried in the boot of your car to use as the need arises or in case your primary pair becomes torn or leaks, or for a second person who may be with you who have not got the correct equipment.
Conclusions
Both the hip waders and the chest waders have pros and cons and ultimately it is down to the environment you intend to wear these that determine the eventual purchase. The benefit of wearing hip waders is that over a long period of time only the lower leg will become damp. Additionally, there is the practicality of comfort breaks and for quick removal, if required. The limitations, of course, are that one could become wet quite easily if the water happened to splash or cover over the upper leg height, but if you intend to enter into shallow water then the hip waders would be more than adequate.
The chest waders' greatest limitation is that the whole body becomes damp over time and actually can make the wearer become cool or even cold over a long period of time. That said, it is reassuring to wear waterproof clothing at chest height even if the depth of water is only at leg height as you will not have water ingress. The waders seem more a part of you as they are secured by the shoulders, so you are not as aware of them as you are of hip waders. Also, they don't slip down your body whereas hip waders do pull on your trouser belt or loops and require readjusting.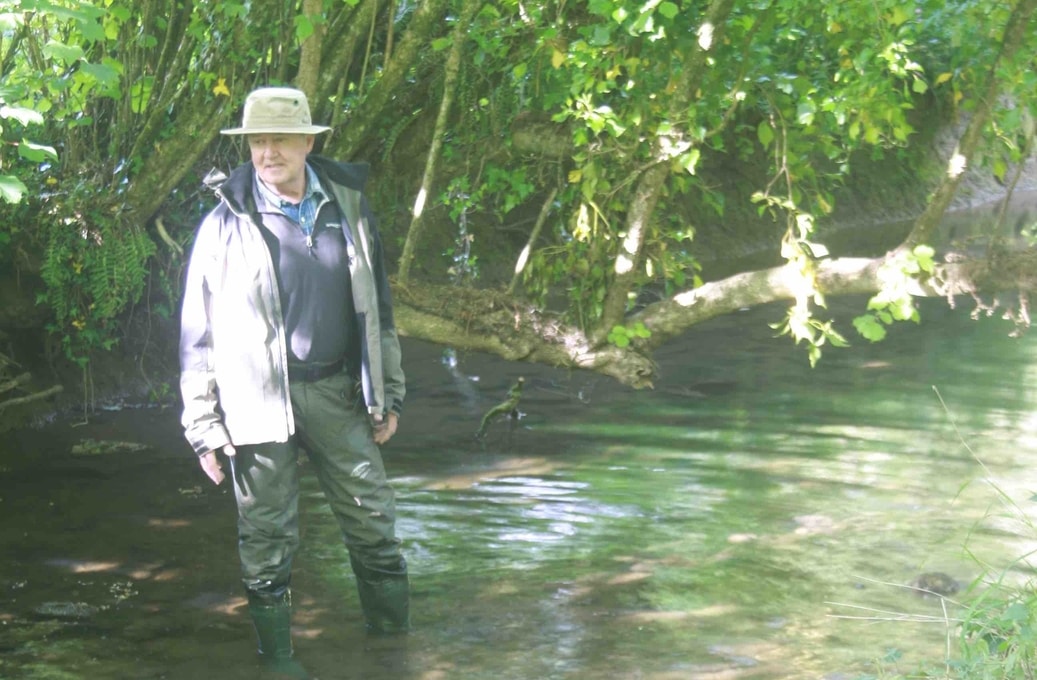 Wearing them in mid May I found the water still to be cold and neither the hip nor chest waders offered any thermal protection, so it would be prudent to invest in a pair of thermal leggings and the Fladen Authentic Wear Jacket and Trousers, the trousers having a warm inner fleece, which would bring added comfort to the wearer.
Both these types of waders should be worn with other associated equipment such as a wading jacket, wading staff gloves,  and thermal socks as these PVC nylon waders have poor insulation. This is a consideration in any season other than the summer.
The hip waders and the chest leaders should serve you for many years if the products are well maintained and looked after. Areas of potential weakness are the strap connections which could become frayed and could tear if not properly used.
Both these waders come delivered with a small repair set with a patch measuring approximately 18 cm x 12 cm (7 x 5 in) and a small tube of glue in order to stick the patch onto any tear there are instructions enclosed with the repair set.
Both waders are excellent products and I would thoroughly recommend either for anyone who participates in activities that require venturing into shallow water.