If you're serious about selling your boat online, you need to make your listing stand out from the crowd. The easiest way to do that is to capture and upload high-quality images of your vessel (both photo and video). Here we'll explore some of the basics on how to leverage the power of digital media – from shooting with your smartphone to hiring a pro – to get the most out of your boat listings.
The hero image
The hero image gives the first impression of your boat – it's the one you choose to show up in our search results as a thumbnail that shoppers will click on to view the rest of the boat details. So, it has to be a strong, compelling photo. That means it should capture the full length of the boat: easiest is side-on, optionally angled a little with bow nearest, and slightly aerial if you can manage it. The most appealing are 'action shots' with your boat caught moving on water. If it must be on land, ensure an appealing background. Get maximum resolution: most modern smartphone cameras will do on max settings, but make sure you don't lose that resolution by emailing the photos in compressed formats. Lastly, if professional lighting isn't available, avoid the dark and shade, or consider shooting at golden hour for a more glamorous sheen.
Depicting a beautiful 1997 Hatteras 54 Convertible sportfishing yacht, this running photo is taken from slightly above the vessel off the port side looking down in a bird's eye style view. Note how the entire vessel is visible from bow to stern, including the flybridge / tower, rigging and aft deck, making it an ideal "hero image".
Shooting video
If a picture is worth a thousand words, a video can be worth a thousand pictures. In fact, our data shows listings with videos get seen exponentially more – and listings with good videos perform even better! The most common kinds of boat videos are 'running videos' of boats passing by the camera on water, and longer walkthroughs: showcasing the key features of your model. Whichever you shoot, make the same considerations as above, plus a few extra tips. Plan plenty of time for pre-production, shooting and post. Minimise background noise and clear up any personal items before shooting close up. Finally, if you're not passionate or confident about doing this yourself, consider hiring a professional. Below are two examples of typical boat listings videos of a high standard, with a breakdown of how they were made.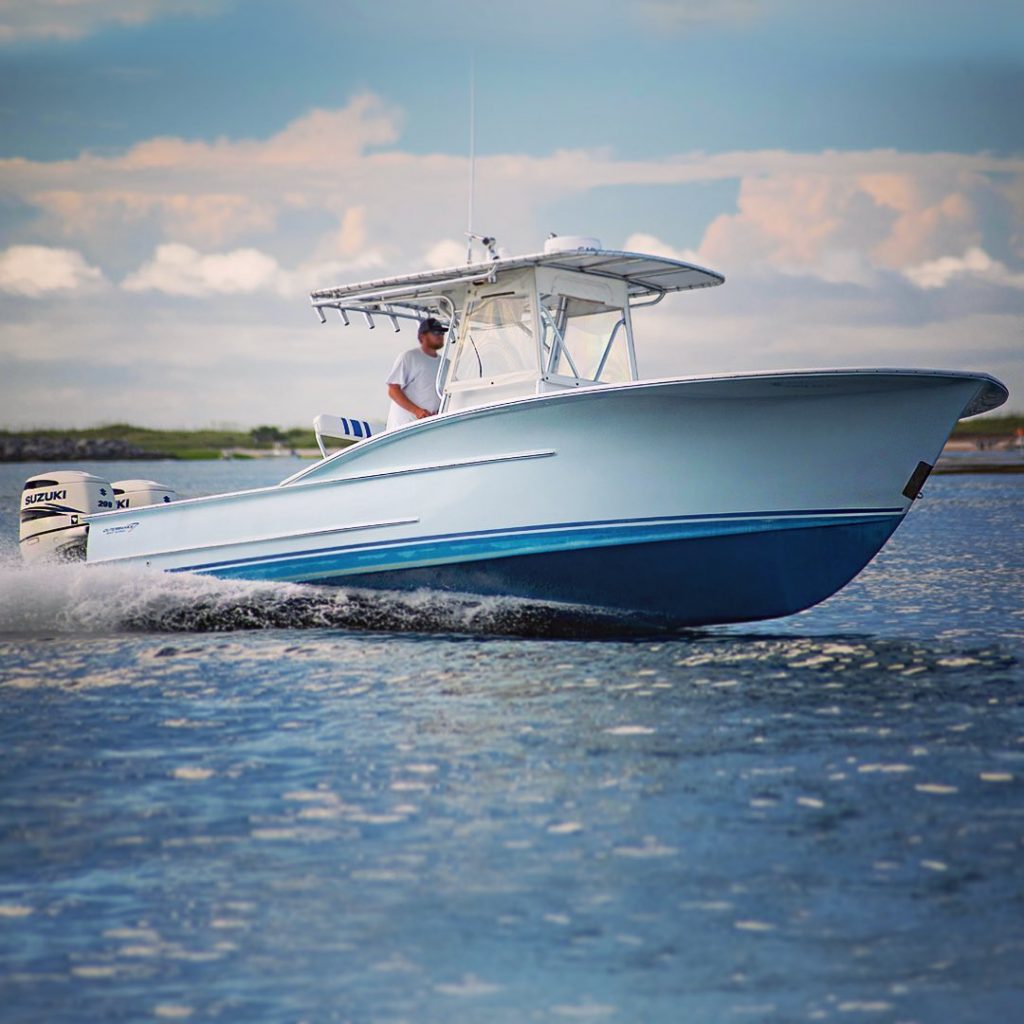 You can almost feel the adrenaline in the above boat-to-boat action photo of a 2013 Custom Carolina 26 centre console. Built by Outer Banks Boatworks the image shows her twin Suzuki 200 four stroke engines rigged to the transom while accenting her sharp, Carolina-flared, full-composite hull, specific characteristics this builder is known for and buyers are likely to appreciate.
Filming a boat in action
This video includes aerial footage of the boat from all different angles using a Phantom Pro 4 drone that shoots 4K video (four times regular 1080HD resolution) at 60-frames-per-second (60fps), and which was then edited and slowed down in Adobe Premiere. However, you could also just shoot some similar passing footage with a friend holding a smartphone very steadily as you drive the boat by a dock: try shooting in the highest frame rate possible on your device. You can then use more affordable, simpler editing software such as Apple's iMovie, Nero Video or Corel VideoStudio – or, even simpler, the editing tools on your phone.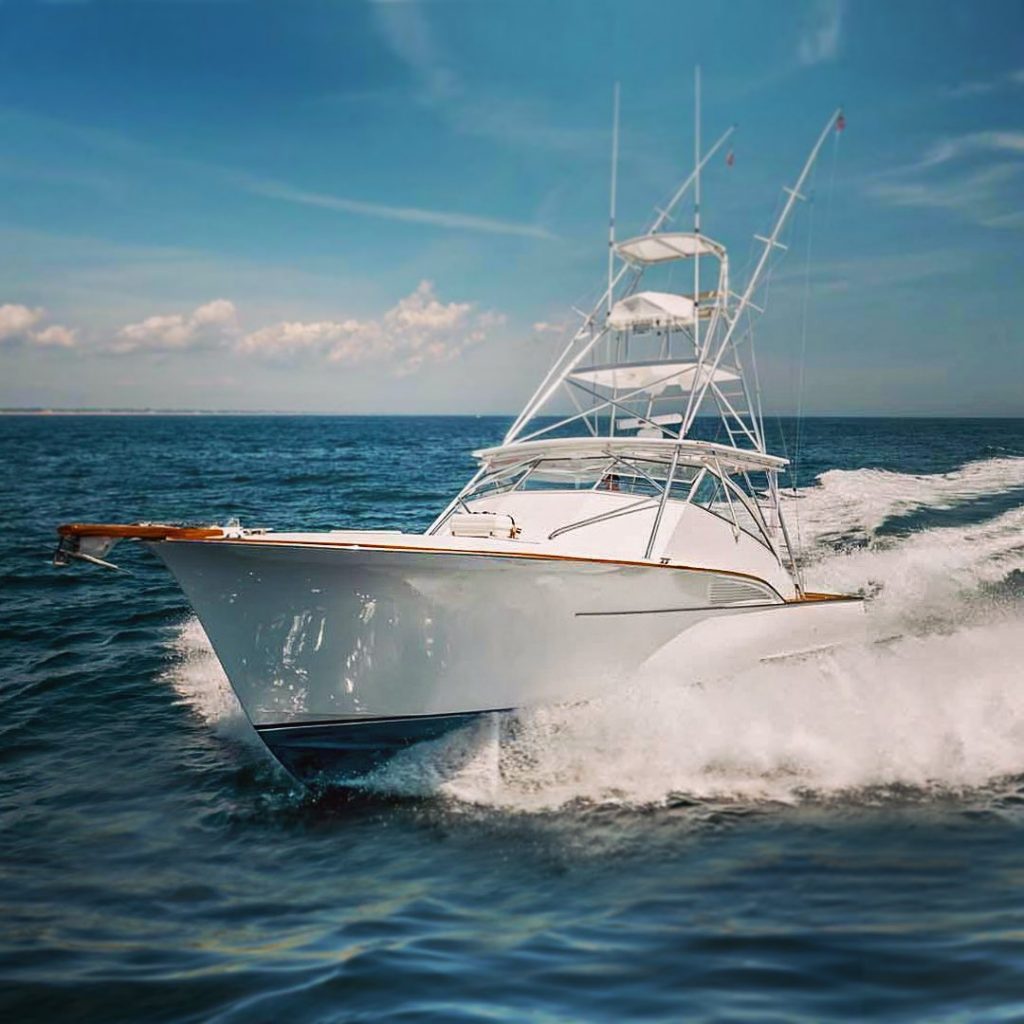 Above, this epic photo shows "Wake Maker", a 1993 Buddy Davis 44 Express Custom Carolina yacht that was listed on Boat Trader in 2020. A clear example of a top-notch hero image the photo grabs attention and prompts those browsing through listings to click and see more.
Making a walkthrough video
Most boat shoppers really want to see every feature of a boat before buying. If you have a quiet place to walk through the boat from stern to bow in under two or three minutes, the resulting video can be a great way to explain to the buyer the unique and key aspects of your boat. This video does just that. There's nothing fancy going on, given that the boat is sitting in a car park at the dealer, but it does showcase the model and explain the virtues of its design. Note how the speaker describes in detail how different kinds of buyers can make use of specific features. If you're filming on a smartphone, have a friend hold the phone horizontally for YouTube, but consider vertical format for Facebook or Instagram Stories. If you don't use professional microphones, at least ensure the phone is close enough to record your voice clearly.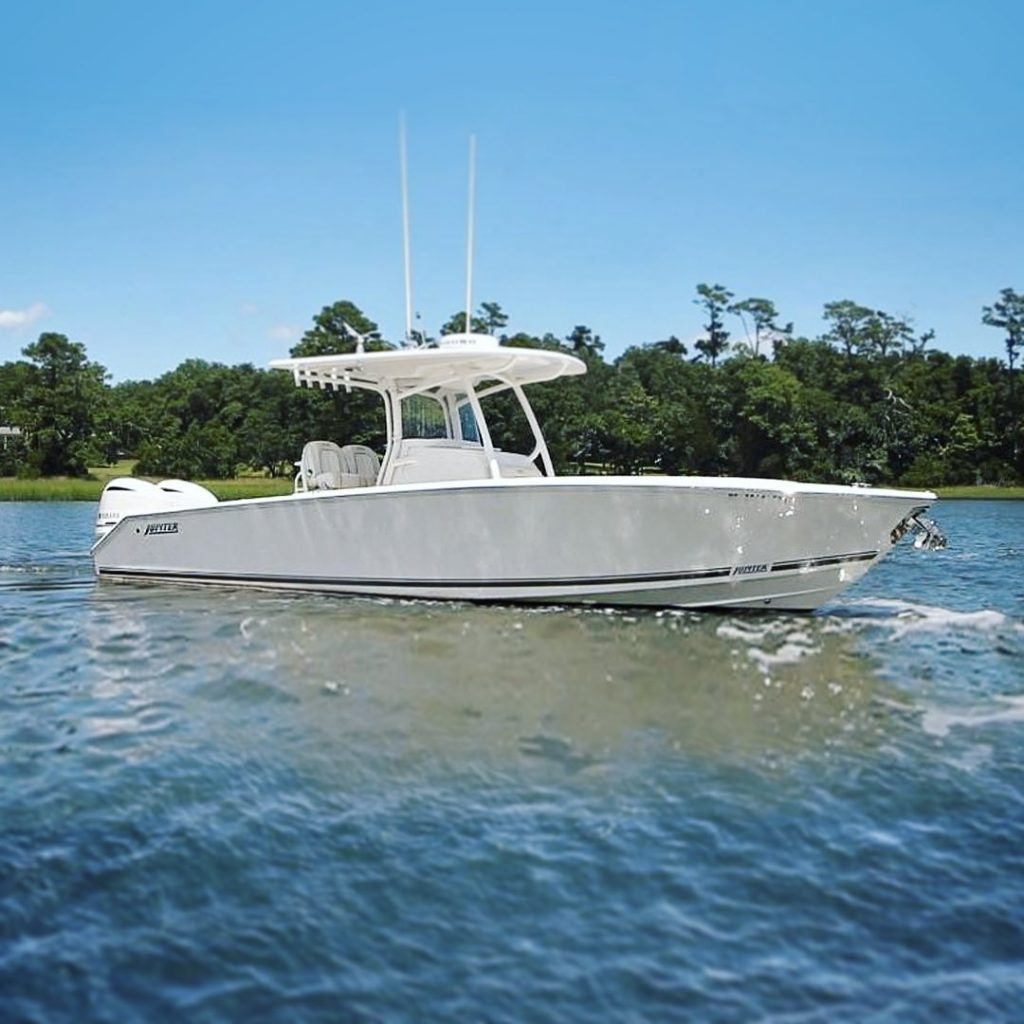 You don't need a drone to get a great photo of a boat! Even if you can't get a running shot, it pays to bring her to the local boat ramp and take a few photos of the vessel floating in the water. Here the seller of this 30-foot Jupiter centre console placed the boat right in the centre of the photo with an uncluttered, eye-pleasing natural background that accentuates her sleek lines, factory hardtop and twin white F300 Yamaha outboards.
Whether you choose to hire a professional or do it yourself, capturing high-quality images and videos of your boat is essential. Check out similar listings for more examples, and when you're ready, list your boat for sale.