When selling your boat, it can be difficult to find the motivation to keep maintaining it. However, poor maintenance is likely to dissuade buyers, slow down your sale and influence the final price. Particularly important for buyers is the condition of your engine. Whether it's an outboard, an inboard gas-burner, diesel, or a stern-drive, this 10-item checklist will help make sure your engine is in tip-top shape – helping with the speed and price point of your sale.
Why engines make a difference when selling
So you're busy with a million things, and you just want to move on and get your boat sold as fast as possible. It's tempting to overlook dirt, defects, and maintenance issues and just trust potential buyers to understand and accept them, but ultimately these can actually slow down your sale and land you with less money at the end of the day. When it comes to your boat survey and sea trial, the condition of your boat will go a long way in persuading potential buyers of the value of your boat – as well as your trustworthiness going forward.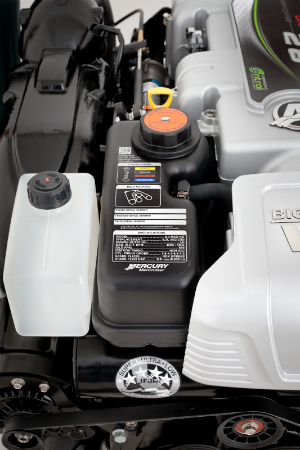 The engine is the beating heart of your boat
The condition of a boat's gelcoat, bottom, and accommodations are important, but intelligent buyers will focus just as much, if not more, on the condition of the engine or engines. How you've treated the engine will tell the buyer a lot about how you've cared for the whole boat. So, unless you've had your powerplant professionally maintained all along, and have given it plenty of TLC between visits to the mechanic, now's the time to spruce things up to impress any potential buyer. Trust us, it's less of a sacrifice than you think to take these basic measures to spruce up the condition of your engine – just follow these ten steps.
1. Change the engine oil and filter. Oil for sale should be golden, not brown or black.
2. Make sure the belts are in good condition (no cracks or dust) and at the proper tension. Change them if necessary.
3. Install fresh zincs (sacrificial anodes) in the engine and running gear.
4. Change the air filter if it is at all clogged or discoloured.
5. Change the fuel filter(s).
6. Clean the cooling system and replace impellers as necessary.
7. Find and repair any fluid leaks.
8. Carefully go over the engine mechanicals with engine cleaner, rags, and cotton buds.
9. Eliminate any rust and touch up cracking or peeled paint.
10. Carefully clean the engine pan and bilge. Leave them spotless and dry.
For most boats these chores will take a matter of hours, not days, and any costs are likely to be less than what you save on your final sale price. When your potential buyers step aboard, you can feel confident you're offering something in good condition, assuming your boat is also well maintained in general. Once you're satisfied with the condition, choose the right time to list, and use only the best images for your listing. When you're ready, list your boat for sale.
Image: www.boattrader.com