The video blog about buying an older GRP canal or riverboat had been well received. Off the back of this, several people have asked me about specific models of boats that I would recommend looking out for and to go view. I realise buying any boat under say, £10,000 these days is not that easy and can be a challenge in itself but these smaller riverboats make a fantastic introduction to boat ownership on our waterways.
*To note, the particular examples included below I have not seen in person either in or out of the water and therefore I can't comment on any of them for review.
Freeman River Cruisers
Boats I would certainly look out for are some of the smaller, older Freeman Cruisers. The Freeman 22 Mark 2 and the Freeman 23. Bear in mind a lot of Freeman boats are wide beams at 7ft 6in so are not ideal if you are looking to take your boat on one of the very narrow canals.
'Liffy Liff' an example of the Freeman 23 for sale with Tingdene Boat Sales in Pyrford Marina
Freeman built very high-quality boats that are easy to look after and maintain, ideal for the less experienced and skilled. Don't be put off by the vintage of some Freeman boats that you may find either. Parts are readily available, and they truly have stood the test of time on our rivers and given so much pleasure.
I have owned many smaller Freeman boats over the years and have had great fun owning them and cruising the River Thames, The River Gt Ouse, and tributaries and the Middle level and River Nene, to name a few. Both the F22 and F23 are roomy four berth cruisers that are easy to handle and can be moved by trailer to another waterway.
In my view, the Freeman 23 is one of the best smaller GRP starter riverboats around even after all this time.
View all Freeman boats for sale 
Norman Boats
Thinking about narrowbeam, cheaper GRP boats? Look out for the Norman range.
The Norman 20, 23, 27 and the Norman 32 are all narrow-beam GRP boats that have also stood the test of time and again are a straightforward boat to work on and helm so make super starter boats. Most Normans had outboard motors, with some of the latter built Norman 24 and 27's did also have smaller Volvo diesel engines fitted so always worth looking for these.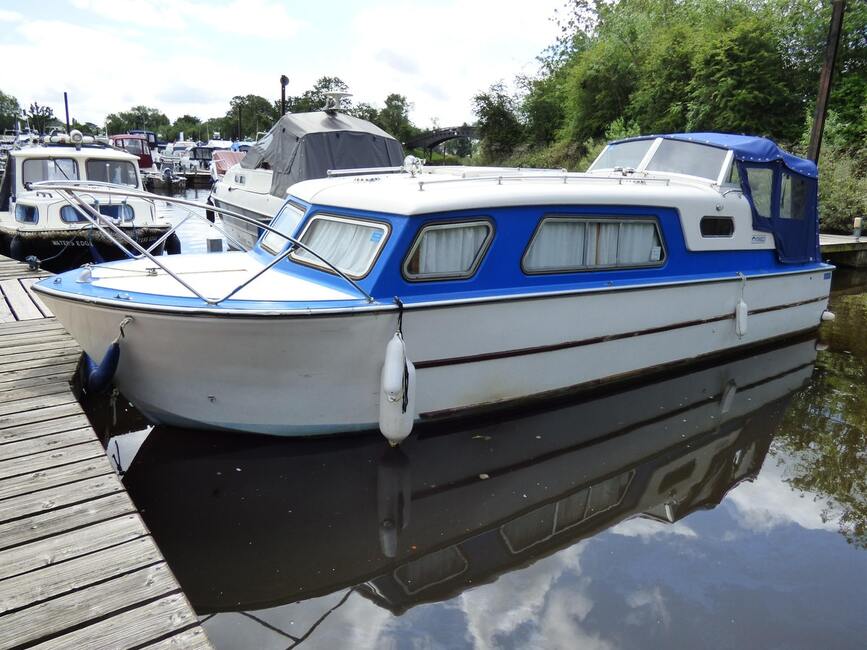 'Two Hats' a Norman 18 for sale from BWML Sawley Marina
I owned a brand new Norman 27 in 1981, and that was a super boat to cruise on along the waterways. She was so easy to helm and had excellent accommodation. I spent many weeks exploring the Fenland waterways and River Gt Ouse on the Norman.
View all Norman boats for sale
Viking Inland Cruisers
I have always been a big fan of the Viking range, although you may have to look harder to find some cheaper and slightly older Viking boats on the market.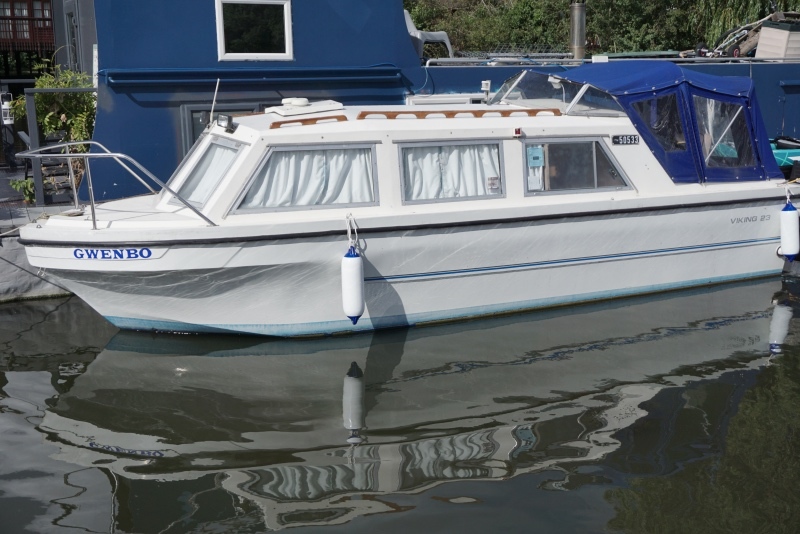 'Gwenbo' a Viking 23 1989 example for sale in Cambridgeshire by Marlex Marine
The Viking 23 is a very well laid out, ideal starter boat. Perfect for a family who may want to try boating for a season or two without spending vast sums of money. Most of the older Viking boats were outboard motor powered very often with the quiet and economical Honda outboards, which I rate highly. There again such a comfortable boat to work on, can be towed anywhere and such an easy craft to learn boat helming and locking on!
As with most of these boats here, the Viking 23 was a four-berth, and well worth a look in my view. If you are looking to cruise in the more narrow canals, this is a superb choice with beams under 7ft. If you are after a bit more room, the Viking 26 is another model worth viewing.
View all Viking boats for sale
Princess Cruisers
'April Falls' 1979 Princess 25 on the market from Val Wyatt Marine
If you are looking for a wide beam GRP riverboat for roughly £10,000, take a look at the Princess range. There are some magnificent boats like the Princess 25 and even the big Princess 32 that can be snapped up at a very fair price now. All were high-quality builds, which is why they are still here today, and you should be able to find an example with a lot of life left.
The accommodation will be generous, and most Princess boats had either Petrol or Diesel inboards. An important note with hardtops over the cockpit, which may seem obvious, is checking the headroom you have under bridges on the waterways you intend to cruise. You would be surprised how many people overlook this. They subsequently find that the boat they've had transported wasn't a suitable choice. Often referred to as the air draft, look for this on any boats you are shortlisting, and not all sellers put this in their listing so make sure you remember to find this out!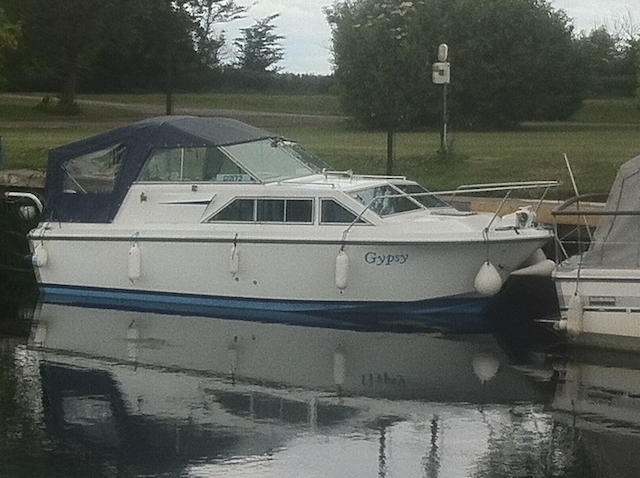 'Gypsy' another Princess 25 in Cambridgeshire with Riverside Marine Services
Nauticus
Coming back to a narrow beam classic again, I have always loved the Nauticus 27.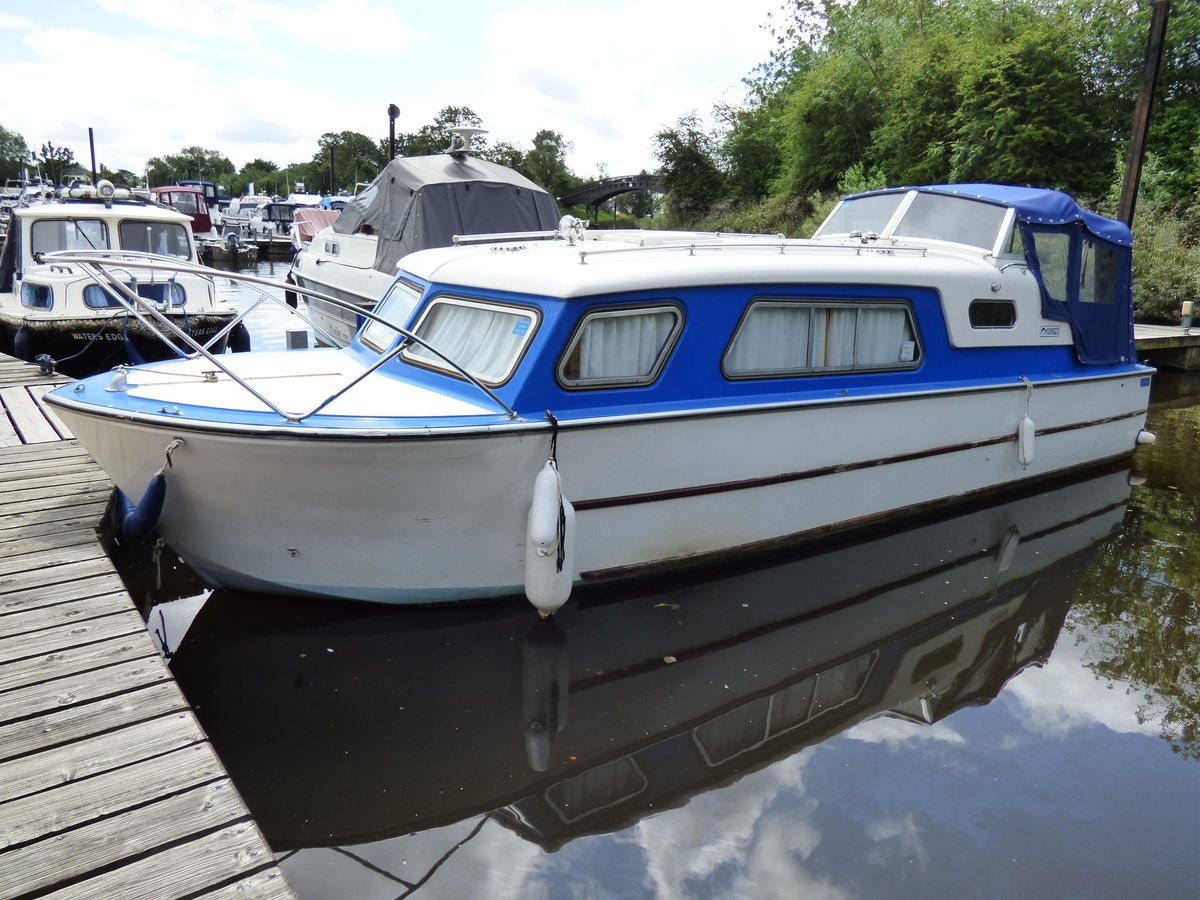 A well laid out aft cockpit boat, many had inboard /outdrive engines fitted, some had Watermota petrol engines, and a few did have Watermota diesel engines. You might strike lucky and find one that has been re-engined with a smaller, quieter and more efficient diesel engine. There was even a 22-foot version that took an outboard motor.
The Nauticus 27 was an exceptionally well built, very well-appointed cruiser in this lower price bracket. You may find one that needs a little tidying up, but it's incredible what a good clean up inside and outside does to some of these cheaper boats.