Whether you prefer a cruiser or bowrider, yacht or sailing boat, fishing boat or RIB, all boats need regular upkeep and maintenance to preserve their performance and condition. There are plenty of things you can do to maintain your boat. 
If you are interested in keeping your boat in top shape, keep on reading, listed below are some useful maintenance tips that can help you keep your boat in good working condition for years to come.
Wash Your Boat Regularly
The first job is to wash your boat on a regular basis. If you sail your boat in saltwater, make sure to rinse it thoroughly using fresh water after every use to get rid of salt residue.
The first job is to wash your boat on a regular basis.
Aside from cleaning it with fresh water, you can also use other cleaning materials such as a boat brush with soft bristles and long handle and a quality soap. Nevertheless, if you want to remove the salt from your boat with ease, you can make use of a marine boat wash since it is formulated for the gel coat. Though you can still use laundry soap or car wash soap. 
Change Your Boat's Oil Regularly
Just like any other vehicles, vessels need to have their oil changed. Sterndrive, inboards, and 4-stroke outboards boats need regular oil changes. The regularity, on the other hand, will differ depending on the boat's model. But as a general rule, boat owners should change the oil once a year or every one-hundred hours of operation.  
Unfortunately for us, there are not any fast change oil garages for boats. That is why, if you want to change your boat's oil there are two options where you can choose from, do it on your own or bring it to your local dealer. 
Fortunately, changing your boat's oil is very easy and in fact, it can be done quickly by anyone especially if you have the right tools. When changing oils, you will only need an affordable oil extractor pump which takes out the oil through the dipstick tube. Plus, an oil wrench as well as enough rags to catch drips. An additional protection from messy oil involves placing an absorbing pad under your boat's engine.
Changing the Oil in Your Boat
Step 1. If your vessel is in the water, make sure to warm it up by starting the engine. However, if it is on a trailer, you will need to supply cooling water into the water intake in the gear case. 
Step 2. After five minutes, turn your boat off and take away the dip stick. 
Step 3. Place the oil extractor pressure tube to the measuring rod tube, slide it until it stops. After which pump up the oil. 
Step 4. Hold a rug nearby the oil filter and then remove it using the wrench. 
Step 5. Remove the dipstick and fill your boat's engine with new oil through the oil fill port. 
Either way, if you want to see the exact and detailed procedure you can check your boat's owner manual. 
Check the Propeller
If you own a stern or outboard driver boat, make sure to check the propeller often. You can utilize a deep well socket in order to remove the propeller several times to make sure thrown away fishing line has not become draped around the propeller shaft. However, if it has, let your dealer check the gear cases since fishing lines can cause gear leaks and in fact, it isn't a DIY job.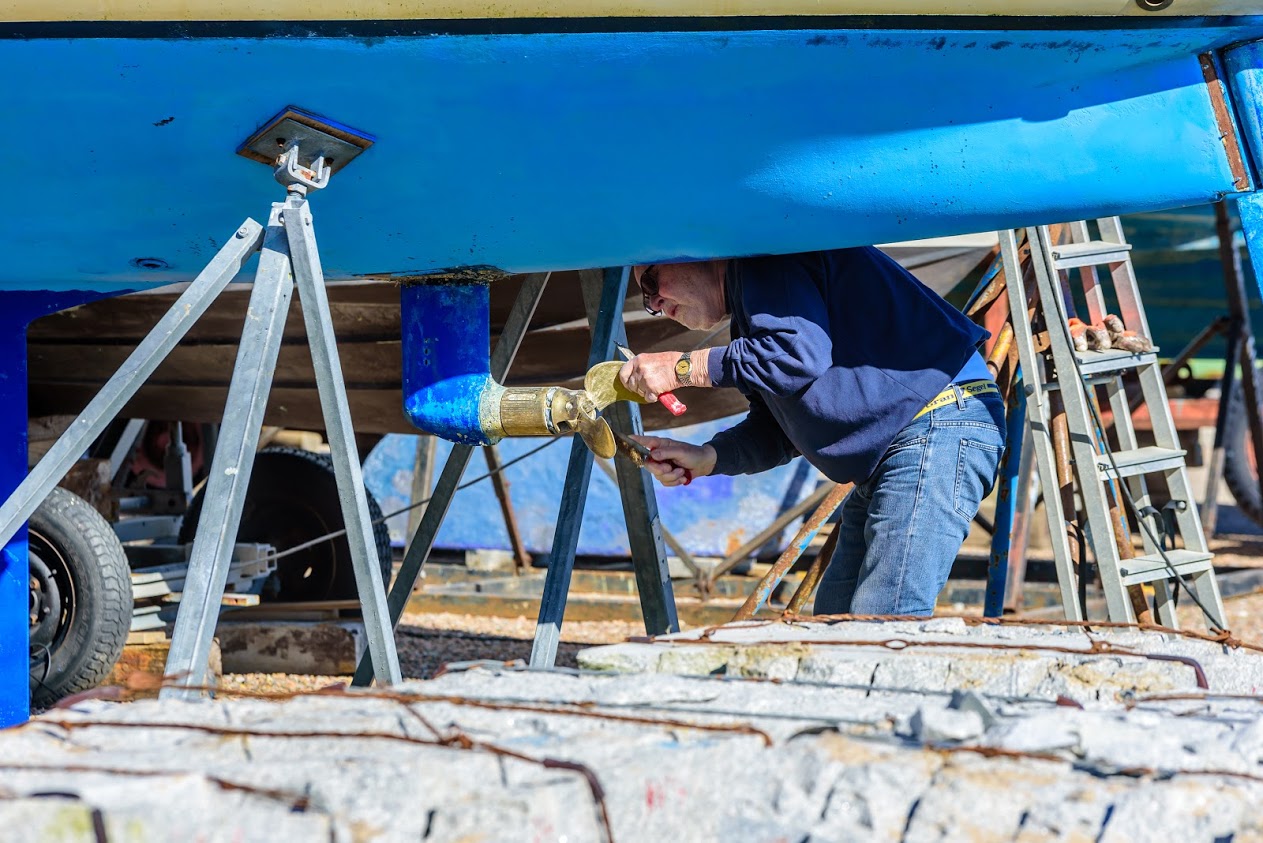 If you own a stern or outboard driver boat, make sure to check the propeller often.
On the other hand, while the propeller is turned off, check it for dents, nicks, and other indications of damage. It's alright if your propeller is missing paint, however, make sure to send it out for repairs if you found out any sign of impact. In fact, even the smallest dent can cause your vessel to lose performance. 
De-wax Before Applying a New Coat
A new wax coat will get your boat ready for the waves. On the other hand, you can enhance the efficiency of the wax coat by de-waxing ahead of time. Even so, there are now lots of de-waxing solvents on the market.
Maintain and Protect Your Battery During Off-seasons
If your boat is battery powered, don't just let them sit there especially during off-seasons. Make sure to take the battery out and clean it thoroughly. You can lubricate the metal terminals as well as bolts, recharge them, and most importantly store them in a safe place.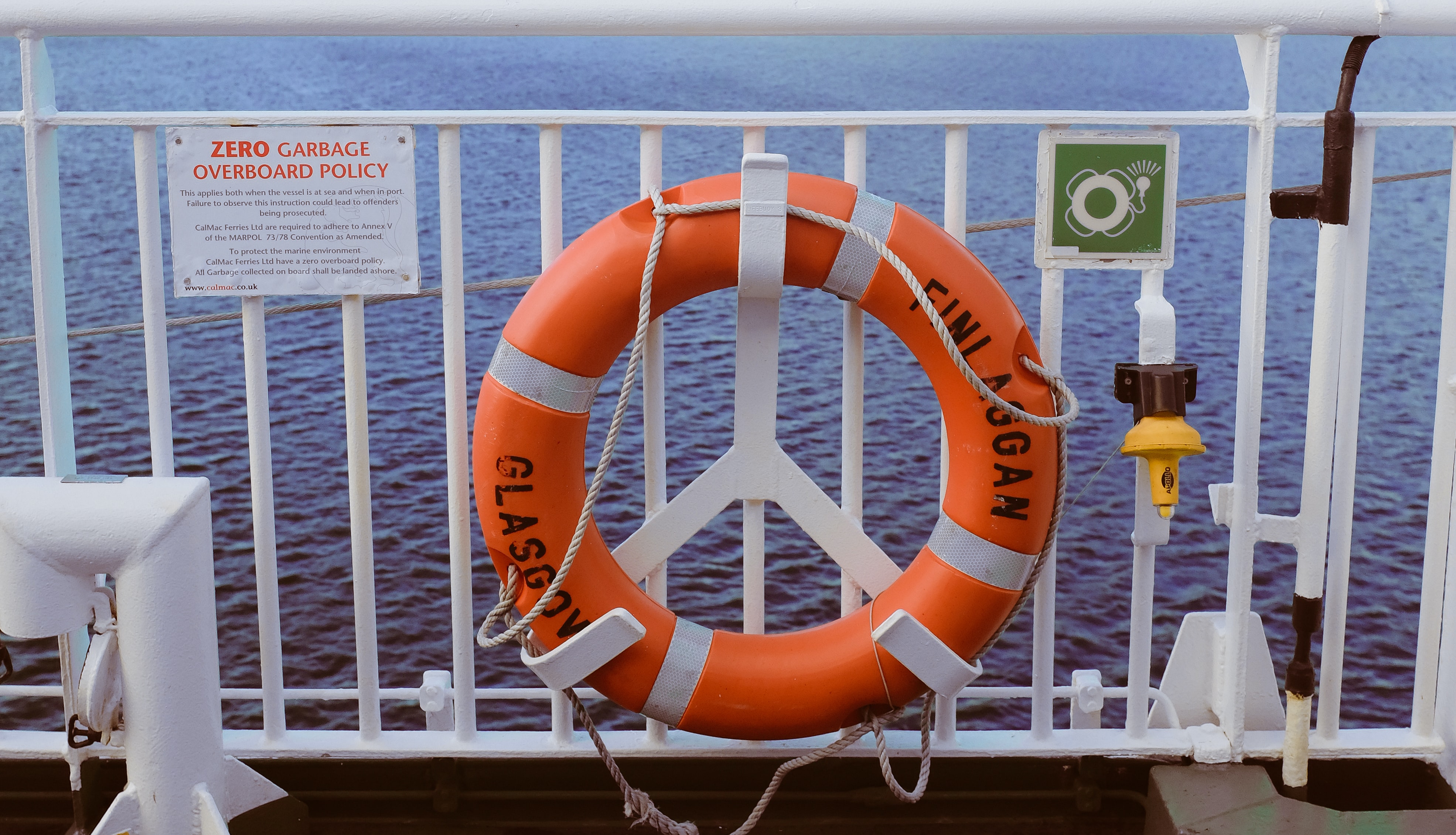 You must not forget to check and regularly maintain all the safety equipment. Photo: Quaid Langan
Check Your Safety Equipment
As well as the boat itself, you should have a maintenance programme in place for all of your safety equipment such as fire extinguishers, life jackets, liferafts, etc. Each piece of equipment will have different recommendations for how often it should be serviced. It's always best to check the manufacturer's recommendations.  
Watch for Rust 
Usually, boats are made up of metal and aluminium materials. Thus, boats are extremely prone to corrosion or rust. That is why you need to inspect your boat's metal components and attachments regularly so that you will be able to see if there is any sign of corrosion. 
Nevertheless, always keep the metal pieces dry and protected and don't be scared to replace them particularly if they are showing signs of corrosion.
Inspect Your Boat's Engine Before an Excursion 
Boat engines need careful maintenance, especially before you bring them for an outing. Whenever you use your boat make sure to check your engine if it is ready for the trip. Inspect the hoses and bilge for any indication of leaks. Also, make sure that the amount of fuel is enough.
On the other hand, while you are utilizing your boat, watch the voltmeters and oil pressure to ensure that everything is running properly. Either way, it's is also a good time to check the wirings. 
Conclusion:
Understanding how to maintain your boat properly is very important. Either way, I hope this article will help you a lot in maintaining your boat's overall performance and condition.
Author Bio
Larry Noel is the owner of BoatCrunch, a blog dedicated to boating and travel. He is an outdoor enthusiast who owns a multitude of different boats, though has a fascination with pontoon boats particularly. Boater by day, writer by night, he provides his readers with a ton of value through his blog, regularly publishing useful guides and informational articles.