Since lockdown was eased there has been a boom in boating across the UK with marinas, anchorages and beaches reporting being at full capacity. The 'staycation' effect has led to people rediscovering the joys of boating as a fantastic, healthy, outdoor family activity. 
With more people getting in and on the water, ensuring safe boating for your crew and other boaters, whilst still enjoying your time on the water, is ever more essential. With the RNLI regularly reporting incidents, it remains everyone's responsibility to reduce the stress on the rescue services and the NHS. 
Embracing safety afloat should become a natural part of the day, and now some simple new technology can help make boating safety easy and discreet too. 
Virtually tagging your crew to your boat will immediately trigger your engine's kill switch if they accidently go in the water. 
Whether you are piling your family and watersports toys into a powerboat, motor cruising in your yacht or driving a safety boat, the OLAS Guardian from Exposure Lights has many helpful additions to your boating safety. 
Here's our top tips to keeping safe, involving everyone in the process, and how wearing a simple wrist band can stop your boat if anyone falls overboard! 
8 Top Tips for happy days and keeping safe afloat 
On a hot, calm day lifejackets may seem a bit unnecessary to some. However, they should never be missed out. Keep in mind that events can change rapidly when afloat. 
TIP - Make it a competition who can put theirs on quickest. 
Ensure everyone has a safe seat and can reach secure handholds. Avoid letting people sit up on the bow of your powerboat, even if you see others doing it. If the boat has to stop sharply or hits a rogue wave, there's very little to stop them falling directly under the boat, in line with the propeller.
TIP - Rotate people around different seating for the journey out and home – so they get a different view and experience.
Remember to explain and warn your passengers about manoeuvres, changes in direction or rough water, especially if you have guests on board unfamiliar with boating. 
TIP - Involve the kids in spotting wash, waves and other boats to keep everyone aware of what's around you.
Whilst there's nothing like a good blast in open water, always stick to harbour speed limits. They are there to protect you, the environment and other users. 
match your speed to the conditions 
slow down for waves and wash
TIP - Introduce a driver fine - £5 for the charity box any time the person driving goes over the speed limit!
#5 Keep a good look out 
Especially, when it's busy, always assume other boaters may be distracted
make sure you know the rules of the road
anticipate ahead to avoid sudden keep-clear manoeuvres 
TIP - Involve your crew in working out who is the give-way boat, so they learn too.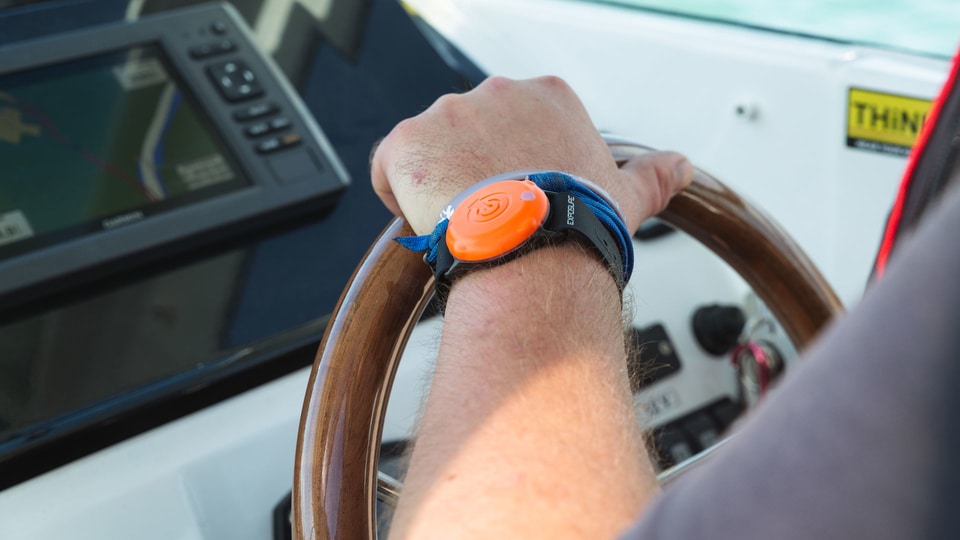 Check the weather for changes in wind conditions and be aware of tides for the area too. Remember:
wind against tide can kick up sharp waves when the tide turns
always stay within the limits of your experience and ability.
TIP - have a good Plan B to head for if the place you wanted to reach is getting too ambitious or uncomfortable. 
#7

Always wear your kill cord
Just like your lifejacket, this one is essential to avoid disaster if you are using an outboard. There have been some horrific accidents where the kill cord has been forgotten. 
TIP - Always switch off your engine if you are near people in water too.
#8

Tag your crew to the boat with a wireless kill switch 
Bluetooth technologies combined with GPS, now means you can ensure everyone on board your boat, not just the driver, is effectively wearing a virtual kill switch that works wherever they are on the ocean.  
The OLAS Guardian from Exposure Lights is a new wireless kill switch. Designed as a simple wearable wrist tag, it virtually connects everyone on board to the boat – helmsman, passengers and even the dog! 
Man-overboard incidents when motor sailing or power boating can happen easily – from a bad wave, a tight turn, or simply someone slips when you are looking away. There are many cabin cruisers with narrow side gangways from aft deck to foredeck, and boats being driven from the flybridge or cabin, where the helm cannot see passengers on the aft deck. It's easy to slip overboard unnoticed. 
Wearing an OLAS tag means that if anyone goes overboard, it stops the engine within two seconds. The virtual connection is broken, the boat stops and a piercing alarm is triggered on your mobile phone too. 
The OLAS Guardian is easy and discreet to fit. It is designed to connect to the existing onboard kill switch system and can be used alongside a physical kill cord, for an outboard engine.
As a safety enhancement it means everyone on board is tagged, not just the driver. When you arrive at the boat, if you have forgotten to tag in or switch your tag on, OLAS Guardian emits a loud audible reminder. This helps as a general safety reminder – is everyone wearing lifejackets too? Has the driver put the physical kill cord on as well, if the boat has one?
If the driver leaves the helm at any time, to carry out basic manoeuvres, such as pulling in fenders, anchors or fishing lines, it also reduces risk if they accidently forget to connect their wire cord. (Let's face it, we've all done it at some point!). They are still virtually tethered, along with any passengers on board.   
If the OLAS Guardian is triggered in a MOB incident, then after a 5 second pause, you simply restart the engine and recover your MOB. If you use the optional OLAS App as well, the screens tell you which way to steer back to the exact position where the MOB occurred.
TIP – OLAS Guardian can work with inboard engines as well as outboards. You can tag up to 15 people on board and use it on boats up to 50' long. A handy feature is the Tags for the crew can be set to just trigger the alarm and without stopping the engine, enabling skippers to perform a faster recovery.