Across Europe there's a growing interest in green boating, which requires motor boat owners to make their vessels quieter and more environmentally friendly. With this in mind, BoatsandOutboards is running a series of 'how to' articles, with advice from marine equipment specialist ASAP Supplies about what you need to be greener in the water. We're kicking off with a look at exhaust silencers. 
Why are Exhaust Silencers a Green Product?
Exhaust silencers on motor boats reduce the amount of noise pollution produced from the exhaust system.
A quiet exhaust system will not only be better for you but it's also better for the surrounding environment and wildlife.
Why invest in a GRP wet exhaust muffler and which one is best for you?
One of the advantages of using GRP is the maximum operating temperature of 177°C, when compared to a typical plastic muffler which has a maximum of around 70°C. As the GRP is able to handle higher temperatures, it makes it less likely you'll burn out your exhaust muffler - which can happen if the exhaust is starved of water due to a bag being sucked up the raw water inlet, or if an impeller fails. They're also very cost effective and resistant to salt water, so will not corrode. There are many variations for GRP exhaust mufflers and waterlocks which Centek have developed and patented since the late 1960's.
Vernatone inline mufflers are the original GRP water cooled marine muffler and have been used by boat builders for over 40 years. They offer good sound reduction and are designed for installation above the water line, as the installation shows below.
The mufflers are best slightly angled down towards the transom to aid water flow once the engine is turned off.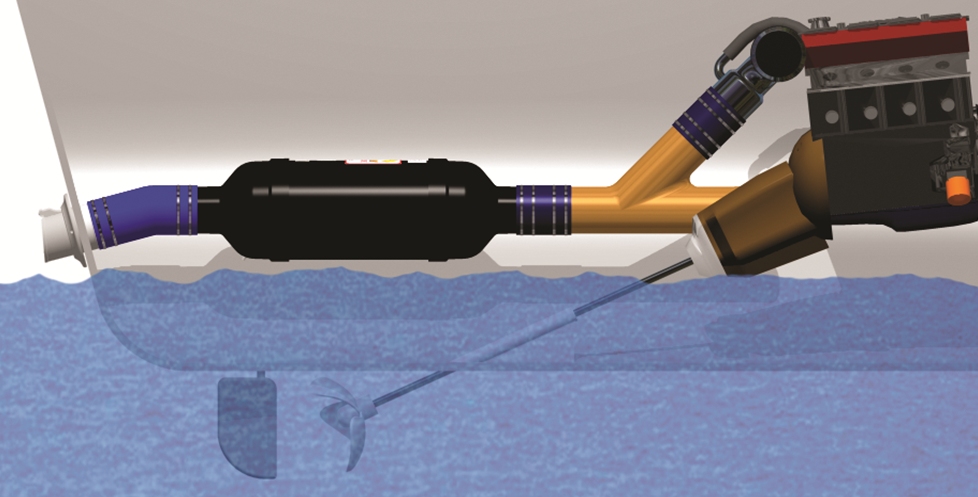 Vernalift water locks give a slightly better sound reduction than the Vernatones and are designed to be installed at the lowest point of the exhaust system so when the engine's turned off, all the water in the exhaust system will be forced to collect in the Vernalift.
The outlet hose should continuously run slightly down hill for self-draining and you are also able to add a Vernatone in this run for further silencing. The Vernalifts have many variations and can be installed above or below the water as the illustrations show below.
All GRP exhaust components A.S.A.P Supplies offers are made by Centek, the pioneers of GRP water cooled marine mufflers. Due to GRP being so versatile Centek are also able to offer bespoke units capable of coping with engines to 2500BHP. Centek components meet most certifications - UL Listed, ABS, ABYC & LLoyds Register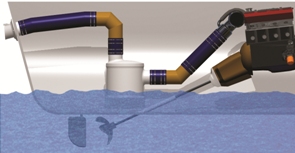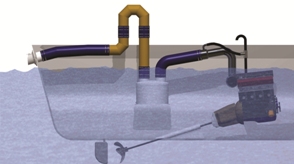 For more information on green boating visit The Green Blue website.
  Browse the latest motor boats for sale here.