With all the summer fun that comes with boating season, it can be easy to overlook the safety aspects that are essential for keeping everyone on board safe. This guide will walk you through the necessary safety equipment for sea-faring pleasure vessels.
Depending on the size of your boat, the UK government requires you to carry different safety equipment on board. It can also depend on where you use your boat. In the UK the government distinguishes between distance from the shore and four categories for inland waterways: 
A - narrow rivers and canals where the depth of water is less than 1.5 metres
B - wider rivers and canals where the depth of water is 1.5 metres or more and where the significant wave height does not exceed 0.6 metres at any time.
C - tidal rivers, estuaries and large, deep lakes and lochs where the significant wave height does not exceed 1.2 metres at any time.
D - tidal rivers and estuaries where the significant wave height does not exceed 2 metres at any time.
The general requirements for a boat that is 13.7 metres or longer (Class XII) are: lifejackets, liferafts, flares and fire extinguishers. A pleasure vessel that is less than 13.7 metres is not legally required fire-fighting or lifesaving equipment (though it is still a good idea to do so). However, if there are employees on board, the owner is responsible for their safety.
Having the right equipment on board and ensuring that it is regularly serviced is one of the most essential things for staying safe while boating. However, before we get started, here are some general safety precautions that you should follow:
Have the right training for your specific boat type.
Plan your journey thoroughly and tell someone ashore.
Check weather and tidal conditions.
Wear a lifejacket and kill cord.
Avoid alcohol- don't drink and drive!
Safety Equipment Checklist
Fire Extinguishers & Blankets
To ensure your yacht is adequately equipped, it is advisable to contract a surveyor to analyse whether your yacht meets fire fighting requirements. Fires on board can be extremely dangerous, especially on vessels with fuel tanks and gas bottles. 
In order to be useful, it is important that each fire extinguisher is big enough to handle the space in which you wish to use it and that they are serviced at a specialist centre annually. It is also wise to keep fire blankets on board so that there are a range of options handy. These should also be checked annually for any holes or tears. When it comes to safety equipment, cutting corners can be deadly- so make sure you service all your safety equipment regularly. 
Fire safety requirements for UK vessels vary according to boat length and weight: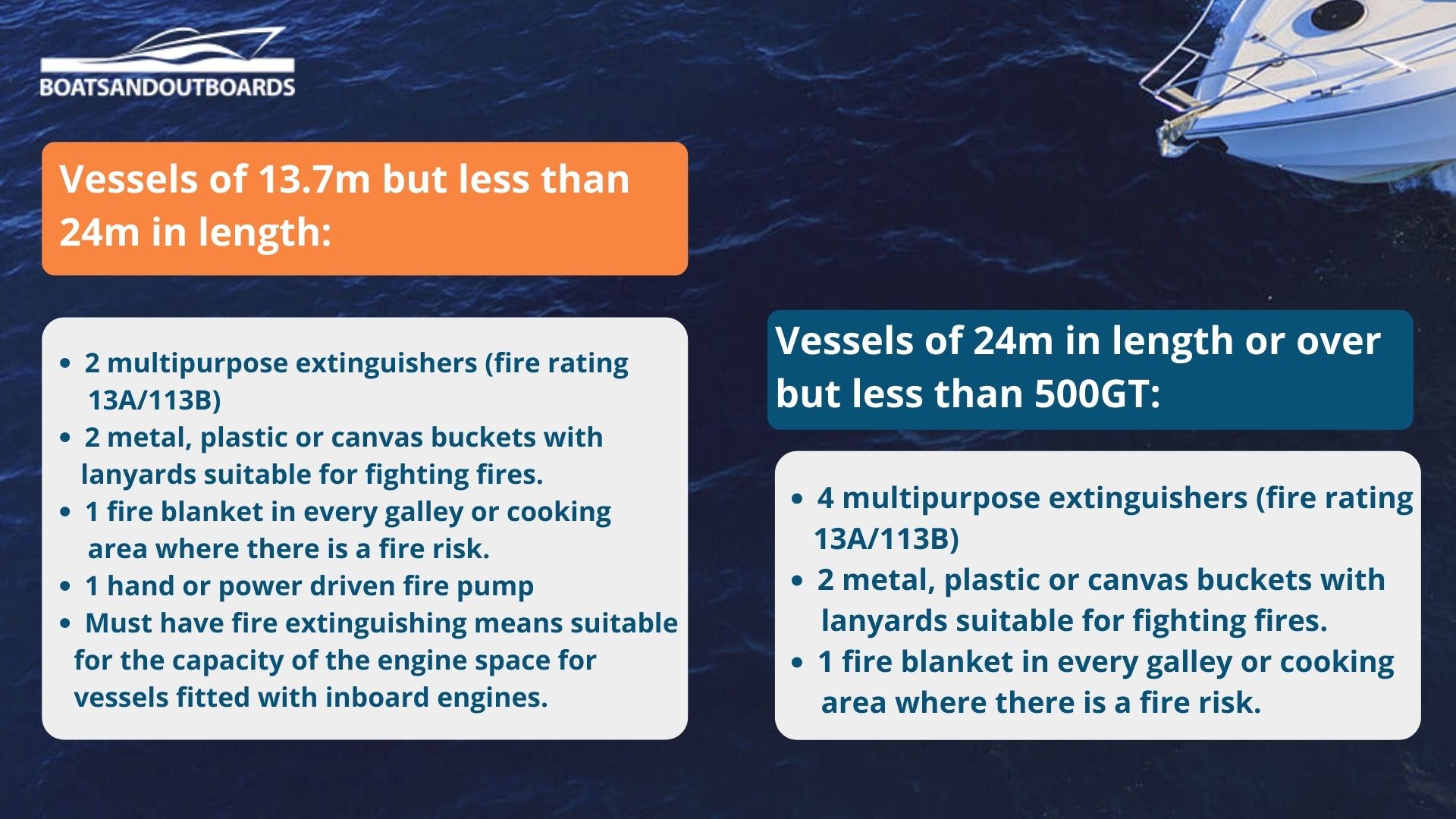 Life Jackets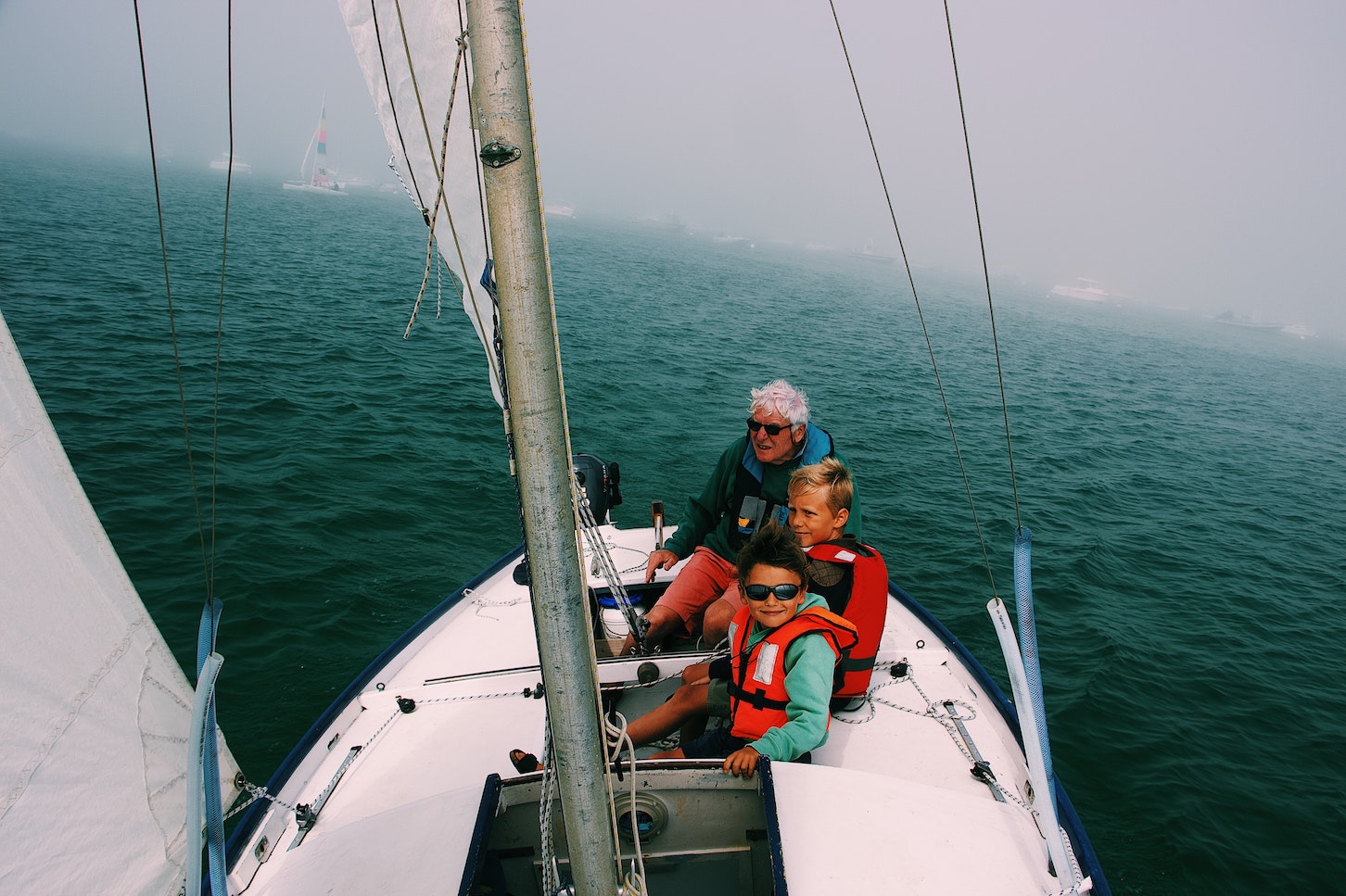 You should have life jackets for all ages and sizes on board. Photo: Mael Balland
Lifejackets are compulsory on all boats except those which are intended for use in category A and B waters. Despite this, it's always a good idea to carry life jackets for everyone on board- particularly if some members on board are unable to swim. You should make sure the life jackets cater to all sizes and ages. It is strongly recommended that everyone on board wears a life jacket at all times.  
In case someone falls overboard, the life jackets should be equipped with a floatation device such as a lifebuoy, a regular buoy or an inflatable lilo. It also should be fitted with a light, whistle, crotch straps to stop the life jacket riding up over your head and, if possible, a spray hood. Life jackets should also be regularly maintained and serviced to make sure they work properly.
Lifebuoy
In addition to life jackets, you should also keep some lifebuoys around your boat as they are easy to throw out if someone goes overboard. In vessels under 16.8 metres in length belonging to classes VIII(1), VIII(A)(T), IX, IX(A), IX(A)(T), XI and XII, the number of lifebuoys should be equal to the number of people on board, with a minimum of two on board at any given time..
Among the lifebuoys on board, there must be lifebuoys equipped with self igniting lights, 18 metre buoyant lifelines and self-activating smoke signals. The lifebuoys should be situated on either side of the vessel and should be capable of quick release from the navigating bridge.
Kill Cord
Along with a life jacket, a kill cord should also be worn by the driver at all times. Most kill cords are coiled-lanyard types that can be worn around the leg and will cut the engine in the event that the driver is thrown from the helm. Nowadays, you can also find wireless kill cords which allow the driver more movement. You should, however, always check if this is suitable for your engine before purchase. A wireless kill cord will stop the engine when a person is overboard via wearable transmitters.  
First Aid Kit
A first aid kit is always a good idea- especially when the nearest shop is over a considerable stretch of water. Whilst perhaps not as crucial as a kill switch or other equipment on the list, it can be extremely useful if a passenger gets sick on board. A basic first aid kit should include: painkillers, medicine for motion sickness, thermometer, tweezers, scissors, alcohol, iodine tincture, gauze and bandages, plasters, sunscreen, after-sun lotion and compresses. If anyone on board requires specific medicine, be sure to include this as well.
Oars and Liferafts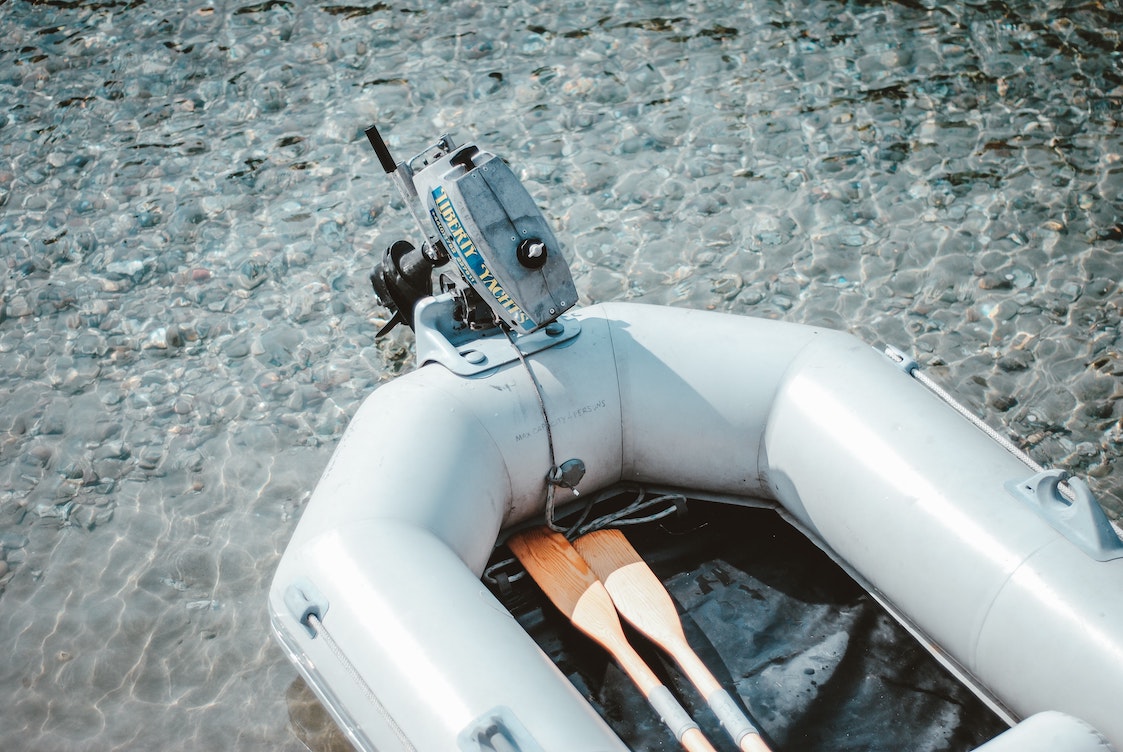 It is always good to have oars as a back up in case your engine fails.
If you have a smaller vessel you should consider carrying oars or paddles on board with you in case of engine failure. On a boat that's 13.7 metres or longer, you must carry a liferaft. You should have enough life rafts to safely accommodate everyone on board. In case someone falls overboard, it is also wise to have line throwing apparatus handy or if you have an oar or paddle you could use this to help guide the person back to the boat. 
Since 01 January 2019, the UK government has been phasing out ORC liferafts. From this date, no ORC liferafts may be newly fitted to Class XII vessels and, from 2024, they will be completely banned. Instead, you are required to have a SOLAS/MED liferaft or one that has been built to  the ISO 9650-1– Small Craft Inflatable Liferafts Part 1 Type 1 Group A standard. 
Liferaft Requirements
Depending on the vessel and how far to sea from the coast you plan on travelling, there are different requirements:
More than 150 miles from the coast requires a SOLAS 'A' PACK.
20-150 miles from the coast requires an ISO (>24 hour) PACK, a SOLAS 'B' PACK, or a SOLAS 'A' PACK. 
Ships of 24 metres in length or over and under 500 GT that operate more than 3 miles from the coast shall carry additional liferaft(s). This will ensure that there is sufficient capacity for all on board, if any liferaft is unusable or lost at sea.
Liferaft Storage
Every liferaft shall be carried either:
In approved FRP containers stowed on the weather deck or in an open space. They should also be fitted with float free arrangements so that they can float freely and inflate automatically.
For ships between 13.7 and 24 metres in length, liferafts should be stored in FRP containers or in a valise stowed in a readily accessible and dedicated weathertight locker opening directly to the weather deck.
In ships of Class XII, every inflatable liferaft should be serviced by the manufacturer's approved agent, at the manufacturer's recommended intervals. However, if the liferaft has been stored in a valise, it should be serviced at least annually.
Distress Signals 
Distress signals are an essential safety item for all seagoing vessels. In the event of an emergency they can be used, alongside a VHF radio, to alert nearby vessels that you are in need of assistance. There are a range of different types available, but among those kept on board there should be 4 red hand flares and 2 orange smoke flares. There are also white hand flares and parachute flares which can be kept on board too, though these are optional.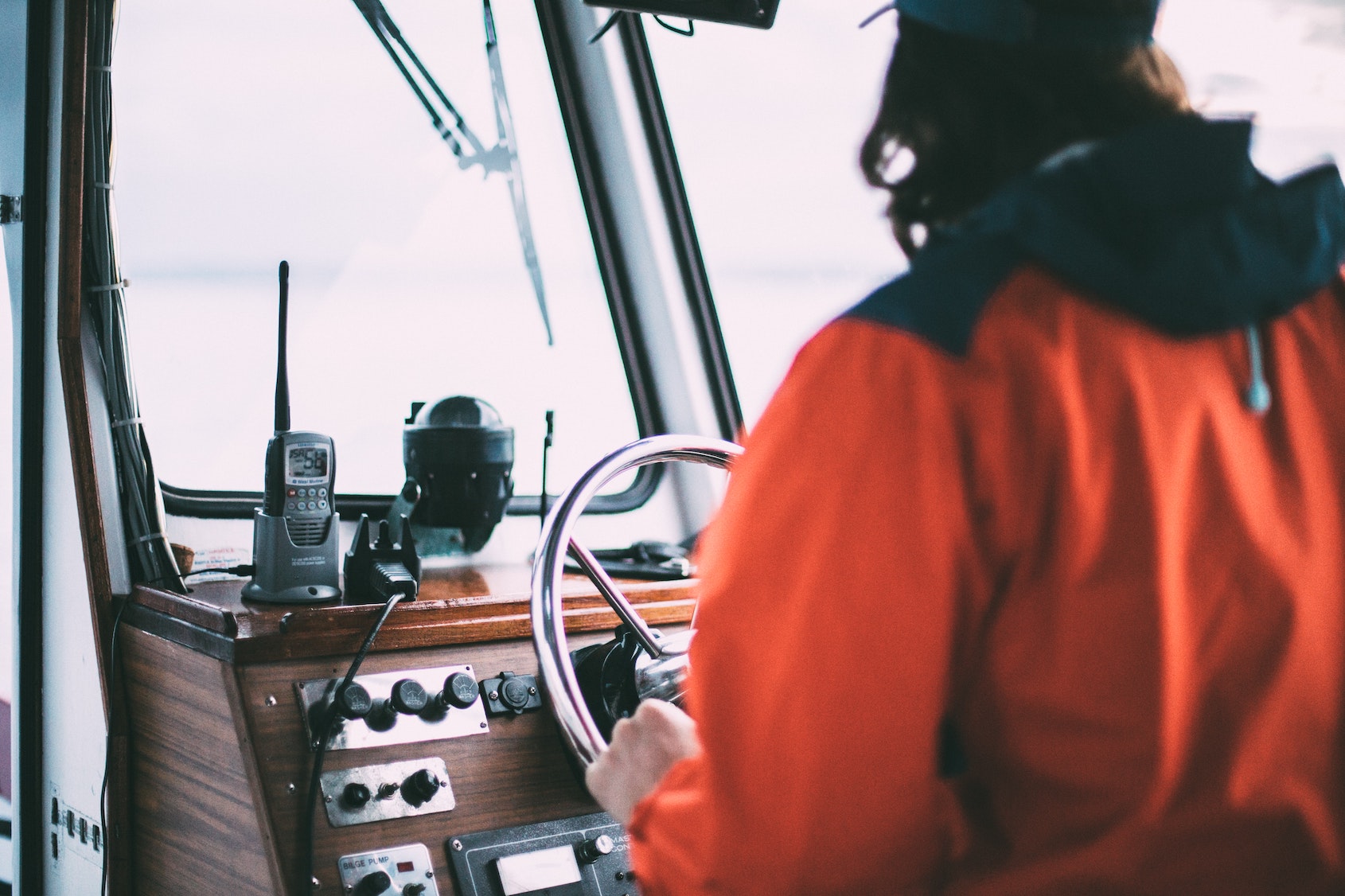 Make sure you have a handheld VHF radio on board. Photo: Garrett Parker
Portable VHF Radio 
A portable VHF radio could save you a lot of trouble in the event of an electrical problem or if you need to abandon ship. With this in mind, it's also a good idea to purchase a waterproof radio with GPS and digital selective calling (DSC). A DSC function will allow you to send an automatically formatted distress signal to the Coastguard and can repeat the alert if no response is received. One of the latest handhelds on the market is the
Icom IC-M94DE marine VHF radio
. Not only does it have DSC and GPS, but it is the world's first marine VHF hand portable radio to have an integrated AIS receiver as well.
Dredging Equipment
Having buckets on board is crucial if your vessel lacks a bilge pump- and even then it can be a good idea in case the pump malfunctions or another emergency occurs. Buckets are extremely cheap and easy to come by so there's no excuse as to why you shouldn't take this precaution.
Line-throwing Appliances
Line-throwing appliances are required on vessels that venture more than 150 miles from the coast. A line-throwing appliance can throw lines over long distances to reach anyone that has fallen overboard.
Retro-reflective Material
All life-saving equipment on sea-bound ships must be fitted with retro-reflective material to provide extra visibility during poor weather conditions or at night time.
Ladder
Depending on your boat, you may also be required to install a ladder to give access from the side deck to the waterline. However, if you have a boat whose construction permits easy access to the water, such as a RIB, this is not required.  
Conclusion
You should also make sure to always store spare batteries and service your emergency equipment regularly. It is also recommended to test it before each journey, to avoid any issues once on the water. For more information on boat safety, check out our article '
Checklist for Safe Sailing
'. 
Disclaimer:
Whilst we have tried to include all the essential safety equipment, this list is by no means exhaustive and should be used as a general guide. Please see the official guidance on the
UK government website
for more information.
Main photo: Quaid Lagan