Choosing the right boat can be tricky, especially when there's so much choice. From RIBs to speedboats to catamarans, the possibilities are endless. This guide will help you choose the perfect boat for you.
Buying a boat is a big investment. In order to choose the right boat for you, it's important to always keep a few things in mind: budget, sailing experience and your lifestyle. These three points will help you decide which type of boat is the right one for you. Once you have your eye on a particular boat, visiting it and performing a sailing trial are also extremely important steps.
In this article we will explore in detail the 7 key steps to choosing the best boat for you:
Budget 
Since boats don't come cheaply, it's best to have your budget planned out. Your budget should go beyond what you will spend on the actual boat and include recurring costs such as boat storage, insurance, fuel, maintenance and any other equipment you may need to buy. That's why, once you have an idea of your maximum budget, it's best to only spend 80% of it on the actual boat.
New or used
Your budget can also be a determining factor when it comes to buying a
new or secondhand boat
. If your budget is on the bigger side, you could be looking at buying a new boat. Buying a new boat will, in many cases, allow you to customise the vessel to your taste and have brand new equipment (no need to worry about whether things will need replacing).
However, you shouldn't fully dismiss buying a secondhand boat. They come a lot cheaper and can even include some extra equipment either for no extra cost or at a huge discount. Given that the boat has already been used, any teething problems that could be difficult to identify in a new boat should have already been resolved for you.
Lifestyle 
Whether you're an avid
fisher
or just want to spend some quality family time out on the water, you need to choose the boat that best suits your lifestyle. Think properly about who will be using the boat, where you will be using it and what activities you plan on doing. You should also consider when you will be using it, if it's every weekend or just during the summer months. The answers to these questions will define certain must-have features of your boat.
For example, if you wanted to use the boat for coastal holidays with friends and family, your boat should be 25m or bigger to survive rough waves, it should have twin engines (in case one fails) and enough cabins and heads (marine toilets) to house everyone overnight.
However, if you wanted to use your boat for a wide range of activities, you can choose a more versatile model that will allow you to have the best of both worlds. You should also ask friends or family who would be using the boat with you for their opinion, in case you missed anything off your list. The more you know about your lifestyle, the easier it will be to choose a boat.
Sailing Experience 
If you are a weathered seaman (or seawoman), sailing experience should be no problem. For the rest, however, it's important to choose a boat suitable for your level of experience. Think about how much time you've spent sailing, any training you may have and your limitations. If you realise that you don't have enough experience for the boat you wish to buy, now is the time to look into sailing courses and boat licences. You should research this depending on which country you will use your boat in.
Boat Types 
Although there are hundreds of types of boats, you should begin by deciding whether you want to buy a
motorboat
or
sailing boat
. Think back to the features you outlined in the lifestyle section and imagine the experience you wish to have with your boat.
Sailing Boat
Advantages
Experience. Having a sailing boat opens up a whole new world. Unlike with a motorboat, you will be interacting with your surroundings and a good day out in your sailing boat can bring a great sense of satisfaction.
Engine Costs. Although sailing boats do come with simple engines, so you're not stranded when the wind stops, they incur significantly less fuel and maintenance costs.
Peace and quiet. Given the lack of engine usage, the sailing experience is much quieter and you can enjoy the sounds of the environment around you.
Disadvantages 
Training. A sailing boat is not the best choice for a novice as they require a significantly larger amount of training.
Shallow Water. Sailing boats tend to have rounder displacement hulls which can make it difficult to sail in shallow water, as they move lower in the water than motorboats.
Space. Sailing boats tend to be on the narrower side, so if you're looking for a boat to host your extended family and friends a sailing boat might not be for you.
Wind Dependent. Relying on wind means that whether your trip goes well or not can sometimes be out of your hands.
Equipment Expenses. Whilst you may be saving in terms of fuel, sails and rigging need replacing and don't come cheaply.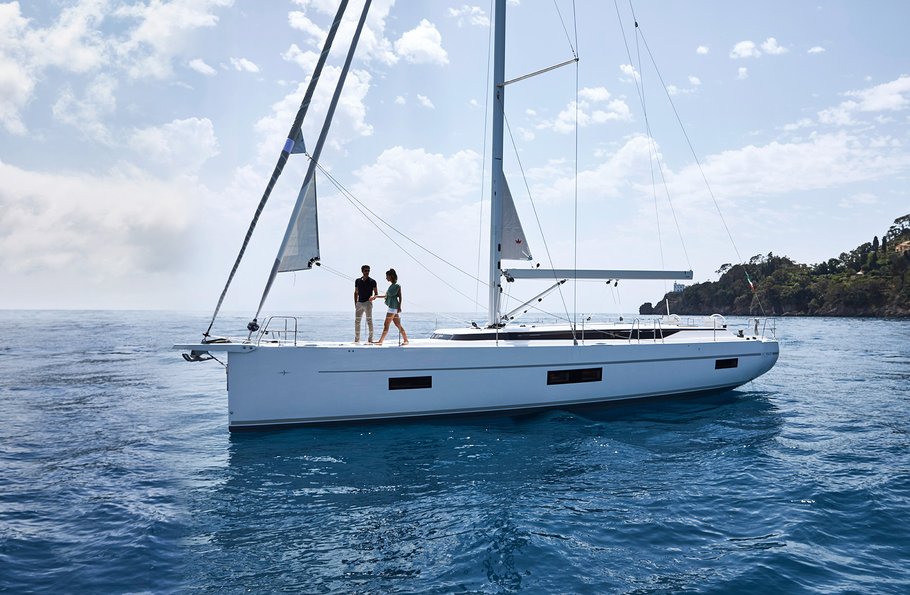 Having a sailing boat opens up a whole new world, allowing you to interact with your surroundings. Photo: Bavaria Yachts (Bavaria C50)
Motorboat
Advantages 
Speed. The obvious advantage of a motorboat is that it gets to places much quicker than a sailing boat. Those who opt for motorboats tend to be destination-oriented, whilst sailing boat lovers enjoy the journey.
Experience. That's right, whilst the sailing boat experience may be sought after by many, for those of you who want to sunbathe and relax, running to and fro adjusting sails may not be for you. A motorboat is perfect for those looking for a calm escape on the water
Training. Driving a motorboat involves much less training than for a sailing boat, so for those with less experience this can be ideal.
Convenience. Having powerful engines means that you are less reliant on natural forces such as the wind.
Shallow Water. Motorboats have a shallow draft which make them much easier to navigate in shallow waters.
Disadvantages
Fuel. The longer your journey, the more fuel you will need. Filling up your fuel tank can be an expensive endeavour.
Engine. Motorboat engines need to be regularly checked and serviced. If you ever need to repair or replace the engine, it will cost you a pretty penny.
Noise. With your powerful engines, traveling to your destination is going to be a noisy affair and is not for everyone.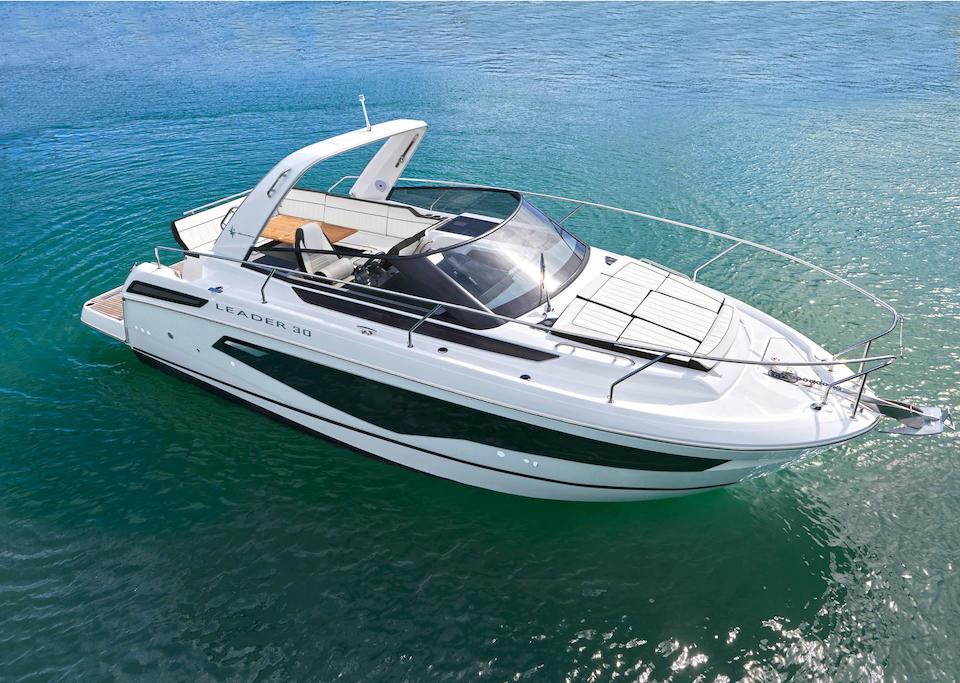 Driving a motorboat involves much less training than for a sailing boat, so for those with less experience this can be ideal. Photo: Jeanneau (Leader 30)
Finding Your Boat
Now you have decided on a sailing boat or a motorboat and have your handy list of must-haves at the ready, it's time to find a boat. You will also want to keep an eye on your budget, use the filter on boat buying websites to avoid falling in love with a boat that's too expensive. To get started, we have prepared a list of websites where you can find your perfect boat:
Remember to always check that the boat meets all the requirements of your lifestyle, is within the 80% margin of your budget and is moored in the right country.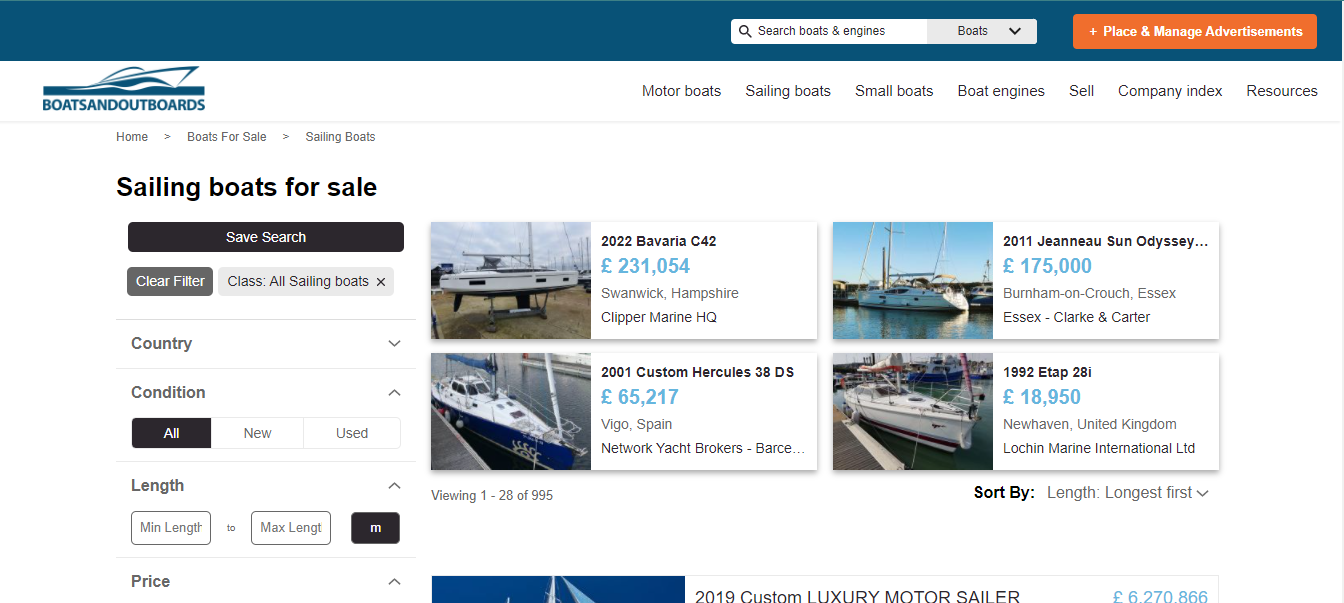 When searching for boats online, make sure you keep to your budget.
Visiting the Boat
Visiting the boat of your dreams is an exciting event, but remember to keep your wits about you. This is your opportunity to make sure the boat is in the same condition as advertised online and to spot any layout or maintenance issues (in the case of secondhand boats).
If you are relatively new to the world of boat buying it can be wise to take someone more experienced along with you, whether it be a friend or a
professional
. They can help check that the boat is in good condition and will be suitable for you.
Sea Trial
Once the boat has passed your inspection during the visit, it's time to take it out on the water. This is where you can really get a feel of the boat and discover any issues it may have. You should take this chance to make sure everything is working properly, especially the engine. It's best to choose a day with some small waves so you can check how the boat performs. As mentioned before, it's best to have an experienced professional with you as they will take care of this and make sure any potential problems are identified.
More information on: