If you don't have much time and don't want to deal with selling your boat yourself, you can contact a broker who will help you close the sale successfully.
Brokers act as intermediaries in the process of buying and selling boats and help get a deal that satisfies both parties. 
Broker services can go from pricing the boat correctly to handling all the administrative processes.
Brokers usually specialise in particular types of boats, so it's important to find the one that best suits your needs.
Find a broker in your area
here
. 
Brokers act as intermediaries in the process of buying and selling boats. 

Photo: bavariayachts.com
What do Brokers do? 
Nautical brokers are either companies or experts in the sector dedicated to selling boats whilst protecting and promoting the interests of their clients. They act as intermediaries in the sale and purchase by agreeing on a series of services and conditions that allow them to operate on the boat owner's behalf, in order to help them sell the boat at the best price and within a reasonable period of time. 
In addition to advertising and publicising the boat to a wide audience of potential buyers, they are also responsible for conducting the negotiations efficiently, avoiding many of the obstacles that can arise during the sale. These intermediary activities help facilitate and accelerate the sale, as well as find a satisfactory agreement for all parties.
We will now take a detailed look at what a broker can do to help you sell your boat effectively:
Help price your boat correctly: To ensure a good sale (in most cases this means a quick sale) it's important to price your boat correctly . A broker will know your boat's market value better than anyone, since they have access to information that is not available to the general public such as, effective sale prices of boats like yours, and not just starting prices. With the help of an intermediary, you can be sure that your boat will be priced competitively.
Advertising your boat effectively: Your broker will advertise your boat on websites with the most visibility, such as Boats And Outboards . In addition to websites, your broker may suggest other ways to reach potential buyers, depending on your type of boat. For example, the sales strategy for a 9 metre 1970 sailing boat and a 19 metre Sunseeker will be different. The broker's purpose is to help you find the best audience for your boat, which can include sending an email advertising it to potential buyers, other brokers, as well as advertising in boat shows and fairs. 
Preparing the boat for sale: A broker can help advise you on the improvements you could do to make your boat more attractive in the market. They will help you identify maintenance or decor problems and propose solutions. They can also organise any repairs and suggest finding a mooring so that the boat is more accessible during the sale period.
Responding to enquiries from potential buyers: If you want to save yourself the trouble of replying to all the questions from potential buyers, a broker is essential. Brokers will also know how to identify time wasters and are able to reply to an endless number of technical questions.
Boat visits: Another service that you can employ and that will save you a lot of time is letting the broker take charge of boat visits. You won't have to spend time showing the boat to every potential buyer, which is especially useful if the boat is located far from where you live. Additionally, if you aren't a boat expert and prefer to just sit back and enjoy, you can count on the broker to clarify doubts and show the boat in the best possible way.
Managing all aspects of the sale, including inspections, sea trials and negotiation: It's likely that the buyer will ask to do a sea trial, as well as a technical inspection to assess the boat's condition. During the sea trial and technical inspection, problems may arise. The broker will have to keep these in mind during the negotiation process and will help you make decisions so that the sale is as profitable as possible. In many cases, the broker's role in the negotiations will help get a deal that would be almost impossible to get otherwise. 
Handling the transfer and tax procedures related to the sale: Brokers are experts in title deeds, safety standards for different types of vessels, sales contracts, tax office requirements and other necessary documents for the transfer of property. Once again, if your time is limited or you simply don't want to add more stress to your life, a broker also offers these services to make the sale easier.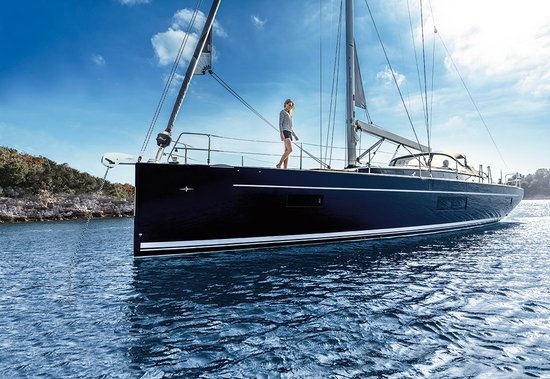 A broker will know your boat's market value better than anyone. Photo: bavariayachts.com
Broker Services and Commission
If you decide to sell your boat with the help of a broker, you will be in the hands of a seasoned professional who knows the market better than anyone. The presence of a broker will also reassure potential buyers. As a seller, you will have the opportunity to choose the services you want to contract, meaning that you can, for example, choose whether you want the broker to show the boat, or show the boat yourself. You can also decide whether you want the agent to be in charge of the boat being clean and in excellent condition for showings. In some cases, like if you have already decided on the next boat you want to buy, the broker could accept the boat as part of the payment for the new boat. You can also choose whether you wish to sell the boat exclusively with one broker, or multiple. If you choose to sell your boat with a single broker, the commission will be a lot cheaper.
A broker will normally ask for documents proving the ownership of the boat, maintenance documents and any other necessary documents to ensure that everything is in order and prevent any issues or delays when it comes to closing the sale. If you don't have these documents (many old boats don't), a broker can also help you find the best way to solve this problem. The services or a broker are usually based either on commission (usually around 10%) or a fixed price depending on the boat type and the specific services included. The commission and terms of payment are decided on before the broker starts working and is paid once the sale has been closed. 
How to Choose a Broker
Before choosing a broker, it is best to contact a number of them either by phone, email or in person, even if they have been recommended by a friend or someone whom you trust. Here are some things to consider:
See how they advertise other boats on boat selling platforms, and if you like the way in which they present them. This is one of the first things to keep in mind when choosing the right broker. After choosing a broker, take a look at your boat's advert and see if there are any things that could be improved.
Send them an email with information about your boat and ask them what services they usually provide and what the commission would be. 
If you are worried about whether the broker is trustworthy you can always check to see if they are part of a trusted broker's association such as the ABYA or British Marine . 
You should also take into account whether or not they reply to your email quickly. If you call them, consider how long it takes them to get back to you. These are good indicators of how professional the business or individual is. 
Brokers usually specialise in a certain type of boat or a certain boat size. They also operate in different locations, so make sure you choose one that has experience in boats similar to yours and that they operate near to where your boat is located. In some cases, you can consider moving the boat to the broker's facilities or a nearby area for ease of access. 
More information on: 
Main photo: bavariayachts.com