So you've decided to sell your boat. Now it's just a question of how. As with most things nowadays, the best way to do so is online. Creating an online advert for your boat is quick and easy with websites like Boats and Outboards.
Boat selling marketplaces like Boats and Outboards, YachtWorld and uk.boats.com are the ideal way to
sell your boat
. Once you have all your photos and boat details ready (we'll come back to this), the actual process of
creating an online boat advert
only takes a couple of minutes and you'll gain access to thousands of potential buyers.
Choose Your Marketplace
Let's go back for a moment to the question of where. When choosing where to sell your boat, don't just go for the first website you see. You should consider a number of different factors in order to reach the right audience.
What we mean by this is if, for example, you are selling a boat in the UK, you should then look at websites with a large UK-based audience. There's no point in advertising on international websites, unless your boat is special or rare enough to make people want to travel to see it and whilst you may think your Fairline Squadron is worth the visit, most non-UK residents will beg to differ! So, choose where you advertise carefully and you'll save yourself some time in the long run.
Here we'll give you a rundown of all the best boat selling marketplaces that Boats Group has to offer and what they specialise in:
Take Your Pictures  
Now that you've chosen your outlets, you can start to build your online advert. Your advert is what's going to set you apart from the thousands of other boats listed on these websites, so make sure you take your time and do it right.
The first thing you need to do is take pictures of your boat for your advert. This is the more time consuming part of creating the advert, however, it's also the most important. Although it might be tempting to use manufacturer's photos, it's important to take your own as it can turn buyers off and even make them think your advert is a scam.
Before taking your pictures, make sure that your boat is spotless and that any personal items have been removed. You can leave a few items for staging purposes- such as a towel placed neatly on the bed, pillows for the sofa and table settings.
Once your boat is picture perfect, it's time to take the photos. If possible, try and take pictures of your boat on the water as these photos are much more dynamic and will attract more potential buyers.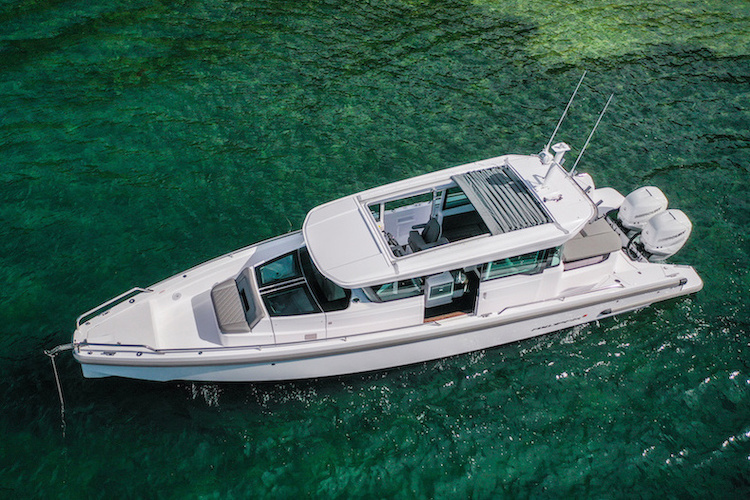 Take pictures of your boat on the water as these photos are much more dynamic. Photo: axopar.fi
Create Your Advert 
Now that you have your pictures at the ready, you can head to your boat selling website of choice and create your boat advert. The process is usually very simple and only requires a few steps. Here we will show you how you can create an advert on Boats and Outboards, though the process will be similar for any of the previously mentioned websites.
Step 1
The first step takes mere seconds, simply choose your boat category from a predetermined list: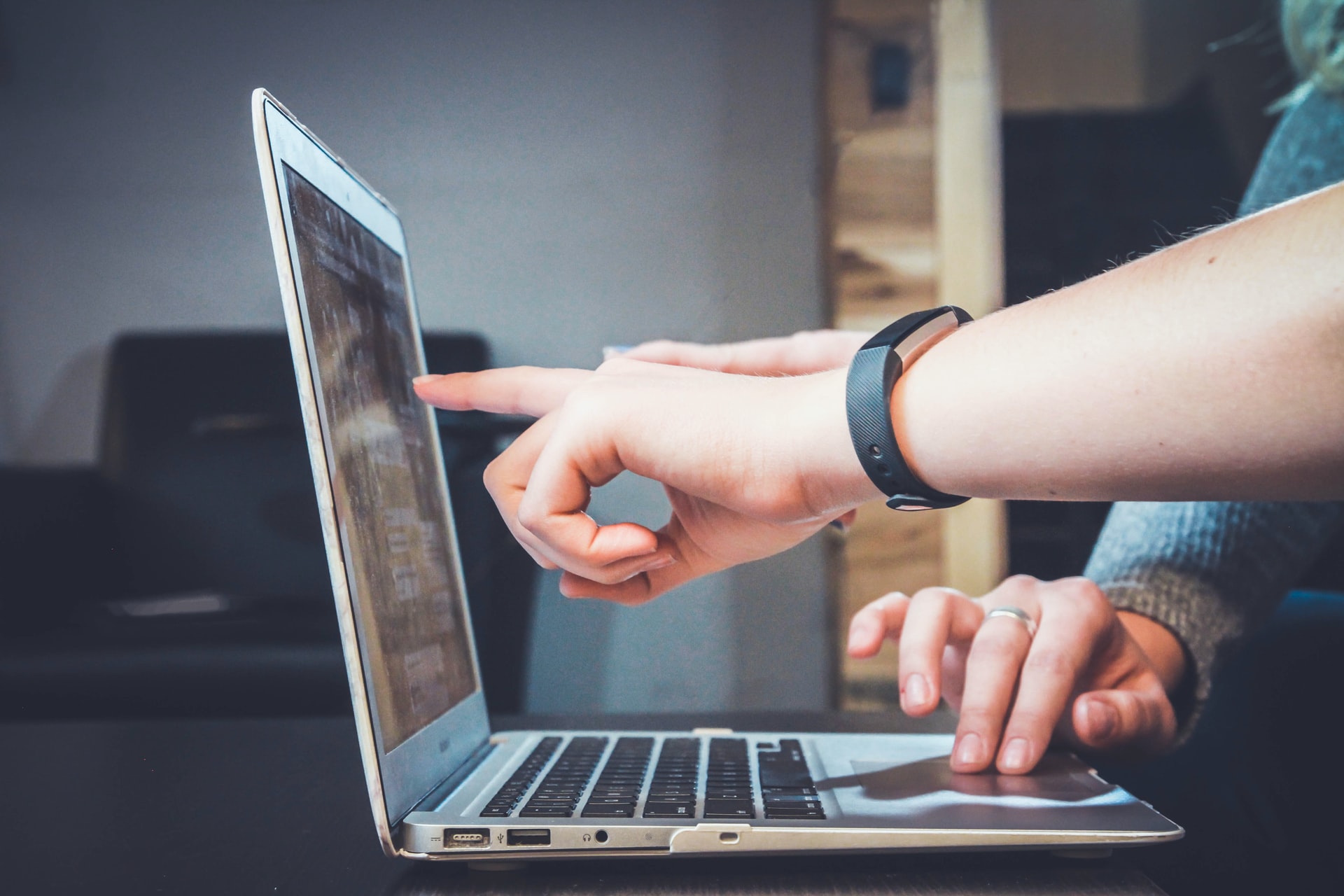 Start creating your free advert by selecting your boat type.
Step 2
The next step is where you will have to fill out all the details about your boat and add a price and description for your advert. You will want to give as much information as possible to avoid buyers having to contact you with basic questions. With the Boats and Outboards form most of the key information is organised in drop-down menus to speed up the process and make sure you don't forget any key information.
For the description of your boat it's important to highlight her special features, uses, equipment, how she is powered, engine hours and the number of berths/capacity. You can also add a more personal description, mentioning where and how you used your boat as well as why you are selling it. It can be reassuring for buyers to know that you are simply selling to change models or size up as this shows that there's no problem with the vessel itself. This is also the time to mention if any accessories such as a trailer are included in the price.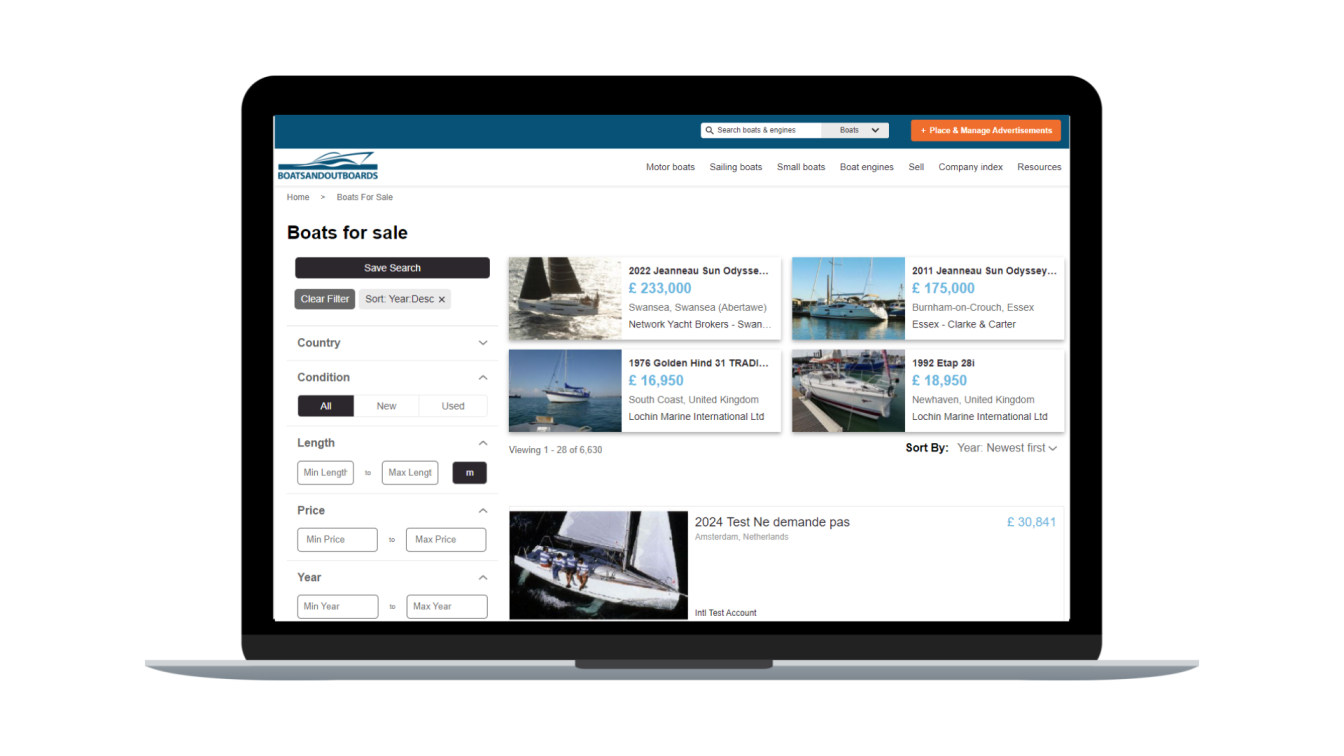 It's important to highlight your boat's special features and uses.
Step 3
If you wish to boost your advert, you can always upgrade your advert with the premium package. Paid adverts will get you up to 10 times more calls as they are more visible on our website. Other benefits of the premium package include:
Appear above the free ads at the top of listings
Boost your ad to the top regularly
Unlimited photos
Highlighted in listings
Ad stays online longer
Step 4
And that's it! Now your advert is live on the Boats and Outboards website, ready to attract potential buyers. You can easily edit your advert and share it on social media to get more responses.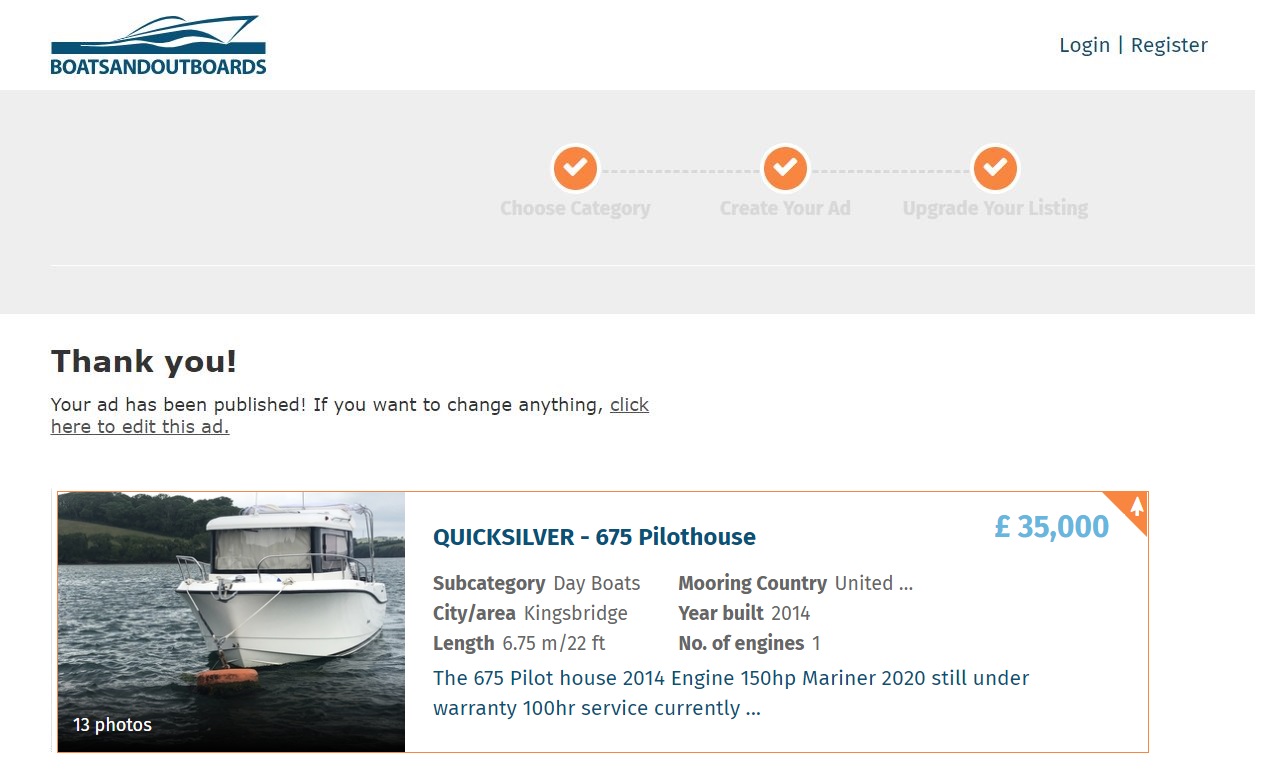 Your advert is now live on our website!
Final Thoughts
Now that you have your online advert, that doesn't mean that you can't also explore some offline options. Even something as simple as printing out a for sale sign and placing it on your boat can help get your phone ringing.
For more information see: