While many people think boat restoration, interior refurbishment and practical yachting upgrades require specialist knowledge, the most rewarding updates are often very simple and inexpensive. In fact, whether your boat is 20 years old or virtually new, there are plenty of things you can do to give it a new lease of life for the season ahead. For example, even a minor Safety equipment purchase like new flares, lifejackets, ropes or antifoul can upgrade your boating package and re-energise your appetite for a day out. And from wakeboard towers to impact mitigation seats, navigation equipment and electronic driver aids, the sheer range of aftermarket upgrades are equally mind-boggling. But if you want the maximum reward without having to spend major cash, that's not a problem. The following six interior refurbishment and boat restoration ideas are a great place to start…
Boat restoration, interior refurbishment, and practical yachting upgrades are often easy and inexpensive.
Boat restoration tip 1. Revamp your fabrics
Cleaning your boat is vital for its looks, its performance and its value retention so you need to get it done. If your boat's interior has musty or mouldy fabrics, white vinegar is a cheap, effective cleaner that kills mould better than bleach, without the toxic fumes. For carpets, always vacuum them first, before soaking them with white wine vinegar and water mix and then scrubbing them with a soft brush to remove the dirt. This works best if you do a manageable section at a time. Let the vinegar mixture sit for several minutes, then scrub it again and rinse with clean water. If possible, use a heavy-duty vacuum cleaner to remove as much water as possible and then allow the area to dry out thoroughly. If your carpets and soft furnishings are removable, it's best to do this outside. Otherwise, open the windows and use a dehumidifier. And if your fabrics look excessively 'tired', why not get your seats reupholstered? It can be an amazingly affordable way to transform the look and feel of your boat.
Covers and Biminis also deserve your attention. They can easily develop mildew and while most boating canvas can be cleaned with warm water and washing up liquid, seriously mildewed canvas needs something more potent. So try using a mixture of 1 cup of bleach and ¼ cup of mild soap in a gallon of water. Soak the canvas with this solution and allow it to sit for 10-15 minutes. Blot the mildewed area and rinse thoroughly. As always, test a small, inconspicuous area first to be sure you won't discolour the fabric.
Cleaning your boat is vital for its looks, its performance and its value retention so you need to get it done. Image: progressive.com
Boat restoration tip 2. Eradicate the rust
It's easy to remove rust around your stainless steel fittings without the need for expensive rust removers. White vinegar and Bar Keepers friend are both excellent but be wary of highly corrosive commercial rust-removal products, as some will eat through fibreglass if used incorrectly. Avoid using steel wool on stainless steel as it will damage the finish and you'll end up with more rust than you started with. As for rust stains on your fibreglass, simply put baking soda or salt on the area and scrub with a toothbrush. It may take a little time, but persistence will pay off.
Boat restoration tip 3. Spruce up your gelcoat
If your gel coat needs work, the first step is to clean the hull. First, spray it down with a hose or pressure washer. Pay attention to small areas that accumulate grime, especially around hardware attachments. Most soap will dry out while you're working, so by the time you've soaped the whole hull, the starting point will have dried. So try laundry detergent instead. Since it's water-activated, it never fully dries out and you can clean the whole hull in one go. Use a large sponge and soap down the hull in sections, using a smooth, circular motion. Then rinse the boat thoroughly.
If your gel coat looks powdery and dull after it's clean, that's often due to the natural oxidation of the fibreglass. This is normal for any ageing boat, but you can stave off the look of oxidation with regular waxing. You'll need to buff away the oxidised layer, using a low-speed buffer and an appropriate buffing compound, and then re-wax the surface. Since you're working on a very visible element of your boat, be sure to start with a small test patch before moving on. Start conservatively with your buffer speed, compound and pressure - and increase all three as needed, keeping the buffer moving. Don't expect to achieve a high-gloss surface from buffing alone. Your boat will still look slightly dull at this stage but once the chalky look is gone, you're ready to apply some fresh wax and bring back that shine.
Use a low-speed buffer and appropriate buffing compound to remove the oxidised layer, then re-wax the surface. Image: chiyachtrefinishing.com
Boat restoration tip 4. Maximise your space
A cluttered space can really affect your enjoyment of your boat and radically reduce your prospects of selling it for a good price when the time comes to upsize. So, in addition to emptying out all unnecessary possessions, why not make the space work for you by installing pull-out drawers in the steps leading down to your cabin or by adding shelving right up at ceiling level. Vacuum-pack storage bags are a great way to make the best use of storage space and elevating your bed is also a very effective solution.
Boat restoration tip 5. Light up your life
If your budget is very modest and you're concerned about onboard power, battery-powered marine-specific LED ropes and stick-on lights are a great way to make your boat feel that little bit more special. These are available at lots of chandleries and can be installed with the utmost ease. But if you want to really transform the onboard experience, a company like Lumishore should be right at the top of your list. Its Lux Lighting Collection can create any colour on command, with an intuitive control centre that enables you to change the intensity and the white balance, adjust your lighting across multiple zones and programme in a variety of bespoke settings for onboard parties or evening R&R. If your cruiser has compact or confined cabins, you can even tailor it to provide the 'natural' daylight your lower deck lacks.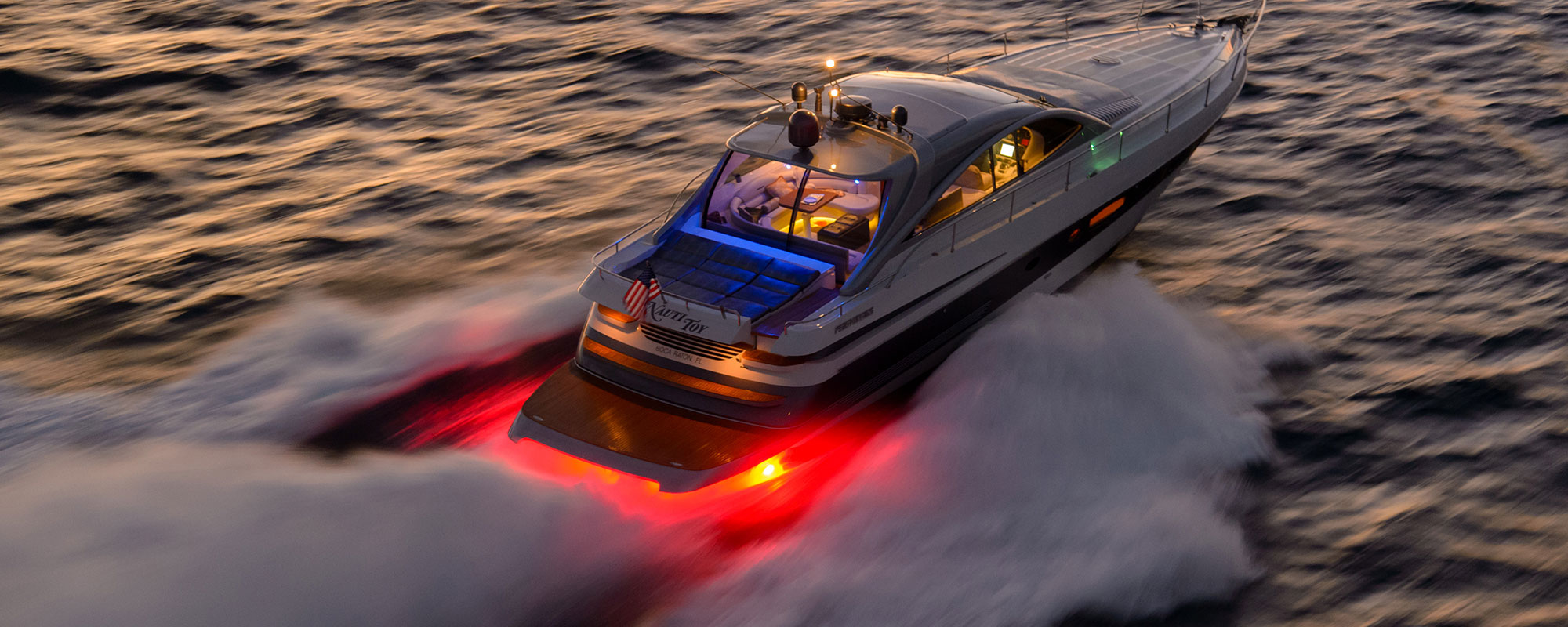 LED ropes and stick-on lights are a great way to make your boat feel that little bit more special. Image: Oceanled.com
Boat restoration tip 6. Expand your horizons
Any boat can be made more versatile, more user-friendly and better value with the addition of some well-chosen aftermarket extras. For instance, whether you own a compact open boat or a family cruiser, a set of purpose-built canvases to help turn your external deck space into a camping cabin for weekends away is a brilliant investment. Similarly, if you want to enjoy estuary exploration and beach your boat with ease, a bow ladder, a keel band and a stern anchor will provide everything you need. If you want to extend your boating season throughout the winter months, a diesel heater will help dehumidify an enclosed pilothouse or helm station when the weather's damp and make you far less dependent on shore hook-ups for warmth. And while a cool box might sound a bit basic, a proper marine-specific unit from the likes of Yeti, Icey-Tek, Igloo or Waeco can really upgrade the usability of your boat. Buy one that can be topped with a cushion and lashed to the deck and you have a movable bench seat that you can carry ashore for relaxed beach barbecues and ice-cold drinks – and it's an indispensable asset for keen fishermen too​​.
Related Articles: How to maintain your boat