Could you ditch the rat-race and live life at a leisurely 4mph on the inland waterways? Narrowboats can be fitted out as colourful, cosy homes, brimming with charm, and with an ever changing view out of your bedroom window.
The lifestyle is certainly refreshingly different - if you know what you're doing that is.

Here at BoatsandOutboards.co.uk we've seen the amount of people searching our 'Canal boats for Sale' section quadruple within the last year.

"It's not surprising there's been a spike in demand for narrowboats suitable for residential use as they are seen as providing an affordable alternative to incredibly dear flats and houses," says Beryl McDowall at the Residential Boat Owners Association. "We're seeing lots of younger people joining the canal community who are struggling to get onto the property ladder in London and the south east. But there are also people from all across the age spectrum who hanker for the slower pace of life, the tranquillity, and the greener way of living you find on the inland waterways."

Whether you're looking for a slice of adventure, cheaper accommodation, a holiday boat, or even a calm place for retirement whilst you cruise along the UK canals, it seems that us Brits are embracing the idea of living on the water.

With prices starting as low as £13,000 and upwards of £100,000 and even part ownership available from companies such as BC Boat management ltd, there is a huge scope to find your dream vessel.
It's all well and good for us to tell you how rewarding it can be to live on a narrowboat, but we're sure you'd rather hear some real life stories from those who live this tranquil lifestyle day to day.
Therefore to help our readers understand what it's really like, we've scoured the internet to find the best boat bloggers and writers about this very subject.
They have kindly agreed to share their stories with us, talking about their everyday life, the ups and downs and of course some superb photos, we think you'll find their insights fascinating, and highly valuable if you're considering joining the growing community of canalboat liveaboards.
Scroll down the page and take a look at our top
narrowboaters
, they have each provided a brief synopsis
on
what their blog or article is all about and a section on what they enjoy about life on a narrowboat. Then if you would like to read more into their story, just click on each link and be taken straight to their page.
Julia Kalinin - Why I decided to live on a Houseboat in London
About the article:
Julia Kalinina lives on a narrow boat in the capital as a way to live in London but also NOT live in London.
What Julia enjoys about living on a narrowboat:
The reflections of light from the water dancing on her ceiling on sunny days. And sunny days on a boat in general.
Click here to visit the article
!
Les and Jaqueline - Boat Life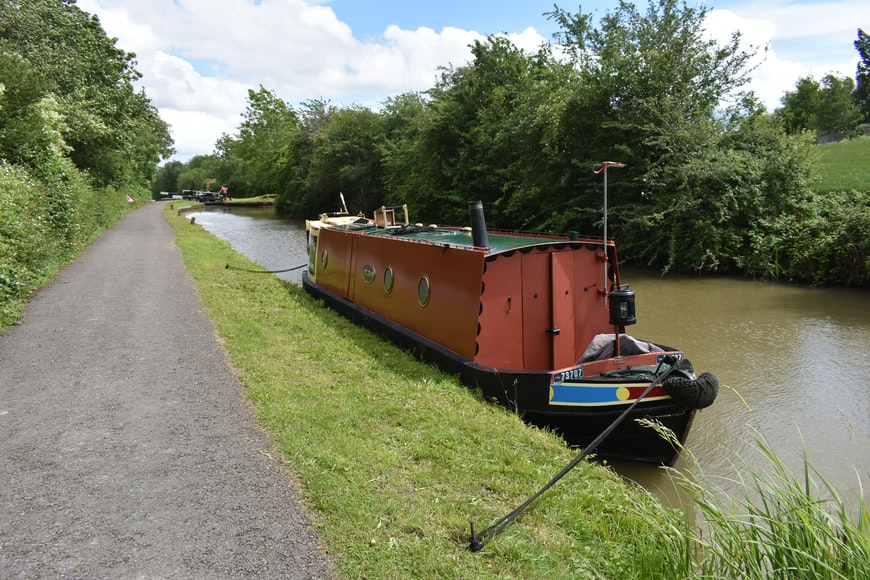 About Les and Jaqueline's blog

:
Les Biggs
My wife Valerie died of pancreatic cancer in 2000. I found myself rattling around in our big, empty house filled with memories. I got up at 4 am every day and headed off to work as a courier--a job I had done for over twenty years. Most of the time I didn't really look at my bills--I just paid them as they came in and got up the next morning putting one foot in front of the other, heading off to work. One evening with nothing better to do, I began looking over all the bills connected with the house and I was astonished at how expensive it was. I was essentially working to keep up a house with only myself in it and the expenses were rather shocking considering I owned the house and there was only me to provide for. It just didn't make any sense to continue on indefinitely grafting hard to pay for expenses associated with a life that no longer fit my circumstances.
I was born in Paddington, West London and grew up right next to the Paddington Arm. I have always loved the canals and often parked my van at lunch time near a canal and sat watching the wildlife while eating my lunch. So now that my beloved wife Val was gone and so were our plans to retire to the Norfolk Broads, it was time to figure out a new life; I turned again to the
canals,
and began driving to different parts of the cut on the weekends, talking to boat owners and was invited aboard several to look about, have a cup of tea and talk about living on a narrow boat.
In
2005
I put my house up for sale and bought a narrow boat naming it NB Valerie in honor of my wife. House sold, boat bought--off I cruised into a wonderful new life filled with adventure, new friends and a slower pace of life I craved and needed.
Jaqueline Biggs
I was living in Washington State, on sick leave from my job with Washington State University. I was recovering from ovarian cancer, having undergone half of a lengthy two year alternative treatment. I was watching a program on Public TV called
Burt Wolff's Travels and Traditions
. Burt was in France on a canal boat, talking about how lovely it was to slowly cruise the beauty of the canal, stopping at villages for food, meeting the locals. Astonishingly he said, "Some people even live on these boats!"  I did some online research and found the British canals and narrow boats and I was knocked sideways. I just fell in love with them. I thought, "That's the life for me. I want to buy my own narrow boat and live on it, cruising all the canals in Britain. Maybe I can write a book to pay for the boat, and perhaps convince the British government that my Welsh grandmother made a grievous error in emigrating to America in 1918 and they should let me come and live there."
I was born and raised in Alaska and my parents were homesteaders. I lived as a child without indoor plumbing or electricity and I knew I could easily adapt to living on a narrow boat. I had raised my children from a very young age after a disastrous early marriage ended in divorce. I had worked hard to put myself
though
university, support my children and build a good life but--I was tired and I wanted a slower pace of life. I was actually considering buying land out in the sticks and purchasing a Yurt to live in when I found the canals and
narrowboats
.
My next thought was, "Jaq--you are a fifty-something,single woman, five foot one inch tall, and recovering from cancer. You don't even know if you can operate the locks, never mind a boat and all that goes with it. You need to find someone who is living aboard and single handing it and find out what is involved. I found many dozens of boaters' blogs but they were all retired couples living aboard. Finally I found Les' blog and I sent him a very formal email: "Dear Sir..." Les thought the tax man was after him!
Over a period of five
months
we emailed back and forth and Les answered all my questions about
trad
versus semi-trad sterns, water versus air cooled engines, as you do. Then he wrote to say it was on his bucket list to visit Las Vegas. He had been there in 1981 and he wanted to return to see the "new" Las Vegas. I asked Les if he would like to come visit me while he was in the States. I had a lovely home with a guest room and bath and he would be welcome to visit for a week if it suited his plans.
Les came over in October of 2010. It was the best week of my life! We had so much fun. I had made the offer thinking that Les could experience the beauty of Washington State and see what life is like for an average American. I could actually pick his brain in real time and learn even more about canals and
narrowboats
. I never expected to fall in love.
In fact
I was rather jaded where men and love were concerned. At the end of the
week
I took Les to the airport in Spokane,
eighty six
miles away from Pullman where I lived. Arriving home I smelled his aftershave and burst into tears. I went to my office, fired up my computer and sent him a
one sentence
message: " I think I fancy you." After Les arrived back in England and recovered from jet lag he spent several hours pacing his daughter-in-law's kitchen, She finally said, "Dad what is the matter with you?" and Les replied, " I think the woman I love lives 4000 miles away." Then he checked his email! And the
rest as they say
is history.
We love this life because it offers us freedom which both of us prize deeply. We are continuous cruisers and that is exactly what we do, as a narrowboat is
the best way
to see this country. We've visited London three times, mooring up for free in Paddington Basin for a week. The last time we only spent £80.00! We saw a West end show and had dinner out. The beauty of it is that one can run all over London and see all the sites and then catch a bus back to the Basin where it is quiet and safe. Unlock the doors of your boat and you are home! All your belongings are there; you don't need a hotel, you don't need a rental car and you need not eat out unless you choose to do so.
We are in charge of our life. Barring our loved ones, everything we need to pay attention to and take care of is on the boat. It is a very simple, laid back life. It is as close as one can get over here I think, to the rural simplicity of my childhood, but living on a narrow boat can be as simple or ornate as one chooses. It is all about what floats your boat and how much money you wish to invest in it.
I still work part time for Washington State University instructing three writing courses online from our boat. I tell my students that I have the best office view in the world and when we get tired of it we move!
Click here to visit the blog!
The Real Life of a Narrowboat Wife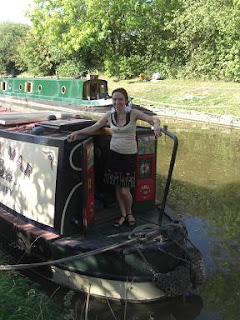 About the Narrowboatwife the blog:
Peggy Melmoth is a freelance blogger specialising in blogging about narrowboats and canals. Her personal blog is packed with real life stories about her 13 years spent living on a boat with her husband and two young daughters. If you've ever wondered what it's like to live on a narrowboat with children she offers a free e-book called 'Narrowboat Families'.
What Peggy enjoys about living on a narrowboat:
"I think the best things about living on a boat are having the freedom travel with your home, and living close to nature. I love the swans and ducks, the peace and quiet and the illusion that you're far from roads, traffic and modern life."
Click here to visit the blog!
Adventures Aboard AreandAre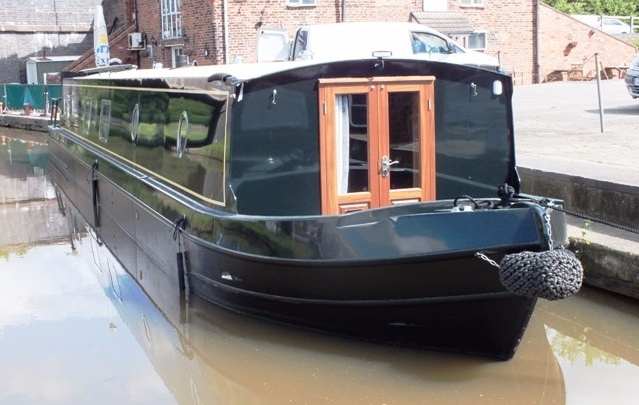 About the adventures Aboard AreandAre blog:
Barry and Sandra first ventured into life 'on the cut' in the spring of 2009, on a six-month adventure from New Zealand, and began writing a blog using 'Blogspot'. Barry had been a professional photographer for 35 years and 'rediscovered' his passion shooting canal related images. Sandra had been a midwife, predominantly leading projects and co-ordinating quality standards, loved writing, and had had a few articles published - so it became a perfect partnership for blogging. Following a second six-month journey in 2010, realising life was too short and they wanted to slow down a little, they began planning ways to return 'indefinitely'. In 2013 this came to fruition. Barry is now in a complex, five-year process, to gain his 'UK spousal sponsored visa', and they're in the process of establishing three businesses whilst living on their boat 'Areandare'. The blog began as a way of keeping friends and family in touch with their meanderings, and now doubles up as a marketing tool. They have hundreds of followers around the world, many of whom keep in touch and some they've met. 
Why Barry and Sandra live on a narrowboat:
In 1976, Barry was in
UK
on his 'Big OE' as they call it in New Zealand, with a couple of friends. During a journey north, they came across a canal with narrowboats,
locks
and a swing bridge. There's nothing remotely similar in New Zealand, and Barry was transfixed. The memory remained with him for decades.
Fast forward to 2007, Barry and Sandra had been a couple for just over a year (Sandra emigrated to NZ in 2005 from
UK
), and Sandra hoped Barry would accompany her on a three-week visit to
UK
and meet her family. He eventually agreed, so long as it included a boating holiday. Sandra was puzzled, but agreed, and they found a four day and night package with
Anglo Welsh
from Tardebigge. 
Following this Barry was hooked and returned to New Zealand determined to repeat the experience over a longer period. To cut a very long story short, after persuading Sandra of the merits of such foolhardiness, they completed two six-month journeys covering around 2,000 miles of the British Inland Waterway system, then returned in April 2013 'indefinitely' to live (and trade) aboard a narrowboat. Being on the canals and seeing England (and Wales) from a completely different perspective, persuaded Sandra to return to
UK
to live -
additionally
her parents were now elderly and needing care (sadly her dad died in February 2015), and she had a grandchild (now two!). Being in a house, travelling on the roads and working in a 'proper job', wasn't something Sandra would've agreed to, as she adores New Zealand - if she had to live on land she'd rather not be in the busy-ness of England. Barry is captivated by the history and images of life on the waterways; Sandra loves the constant variety of neighbours and views from the
window,
and is able to make precious time available to be with her family, who are spread across the country. It's a linear community and they've made many wonderful friends who share their love of 'the cut'."
Jameisons Afloat Free Spirit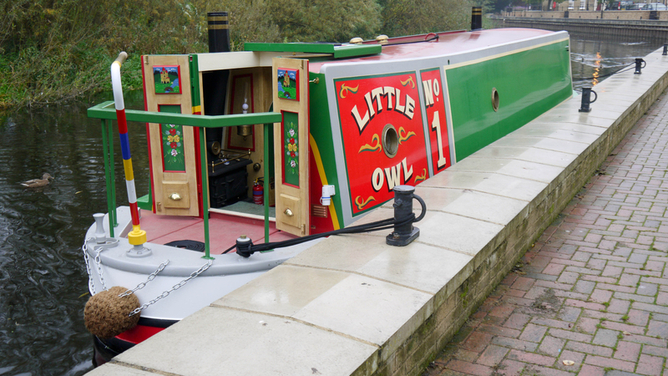 About theJameisons Afloat Free Spirit blog:
Our blog was started basically as a diary of our travels for our family & friends, however over the years it has become a good way of keeping track of the whereabouts of our boating friends and for them to track us.
We started boating in the mid 70's with hire boats thanks to an invite from friends to join them for a week afloat. From that point we were hooked and hired virtually every year as we found the "holiday afloat" was a wonderful time for all the family to have fun, unwind and spend time together. Eventually the kids went their own way and we found ourselves in a situation where we could afford to buy a boat for ourselves.
In 2006 we found our present boat "Free Spirit" and,following early retirement, we moved
on-board
to enjoy the carefree life on the canals. Our aim was, and still is, to visit all the navigable waterways in England by boat. To date we have only managed approximately 60%, so still have a way to go.
What the Ian and Irene 
Jameison
 enjoy about living on a narrowboat:
Well
there is the comparative freedom to travel and stop as we like. The country looks totally different from the back of a boat (even the cities), and the opportunity to explore waterside villages by foot gives one the chance to find hidden gems that in a car you would completely miss. Whilst out on the water there is a lot of camaraderie amongst boaters that you do not get "in town". There is always someone to talk to or to lend a hand if there is a problem, and during the summer
impromptu
BBQs and towpath gatherings are quite common. Coupled
to
the healthy lifestyle, (working through a flight of locks provides a good
days
exercise and is cheaper than joining as
gym
) and the exposure to fresh air means we are probably a lot fitter than if we had stayed on dry land.
Finally
the continuously changing scenery provides a wonderful opportunity to indulge hobbies of wildlife photography,
fishing
and walking.
Click here to visit the blog!
The adventures of Princess Lucy
About the adventures of Princess Lucy blog:
The first thing you should know is that when we bought Florence II, as she was named in 2012, that we had never set foot on a narrowboat. We knew nothing about boats or boating and had to try to understand everything. She was bought as a project and the plan was, that if we found we hated the whole idea, we would sell her. At
45ft
she is an ideal size to get to grips with. On inspection, she was tidy but almost nothing had been changed since she was built for Canal Time in 2001. She had all her original fixtures and fittings including ash cladding throughout. We had to decide what to keep and what needed modernising. Since then, we have been lovingly restoring, repairing and upgrading. We immediately fitted a multi-fuel stove as we considered this essential and the plastic hip bath was replaced by a custom built shower enclosure. The blog initially records our adventures to bring her back from Loughborough to our mooring in the Peak District in the worst weather imaginable. Since then, we have written regularly about her progress and our many journeys of discovery.
Why we like extended
year round
cruising and living on Princess Lucy
.
When we bought the boat, we could not have anticipated the range of challenges or pleasures. We were determined to use her regularly, for long periods and all year round. We set about making her warm and comfortable. Watching a film in front of a log fire, having cooked dinner in her small but perfectly formed galley, is especially rewarding after a day's cruising in icy conditions. As is tying up directly outside a gastro pub and strolling across the car park for dinner. But boating offers up surprises and this entry from December 2015 sums up
what we
value about this unpredictability.
Click here to visit the blog:
The Tumbleweed Blog
About The Tumbleweed Blog:
We are Steve and Angela and we live on our narrowboat Tumbleweed No5, a 58' trad.
We had talked about
buying a boat
for years but it never quite happened. We had done loads of research and looked at all the facts and figures and knew more about toilets than was
healthy,.
Still it never quite happened as there always seemed a reason (excuse) to not make the move.
We have made several big decisions in our life and never regretted doing them. We always said if it doesn't work out we can always do something else instead, so why should living on a boat be any different.
So that was it…. decision made. Before we knew it we had a boat and a place to moor at and had handed our notices in. All our worldly goods fitted in 2 estate car loads. We were on our way.
That was in 2014 and since then we have fully embraced the new lifestyle that boating presents you with. We had spent the previous 12 years running Youth Hostels so were well used to moving around and living in remote locations, as well as living quite a simple life, this background helped make the transition quite painless.
It's not all sunshine and roses living on a boat, it can be hard work. Carrying bags of coal in the rain along a muddy path isn't much fun, but if you can take these things in your stride the compensations more than
make up
for it. That bag of coal makes a nice warm fire to enjoy !
We are now located on the River Lark in East Anglia and enjoying our explorations of the local waterways. Sadly, we have to work for a living but would love to be continuous cruisers…. maybe one day.
Our blog describes our travels, life afloat, reviews of equipment and general musings. We hope you enjoy it.
Click here to visit the blog
:
NB Triskaideka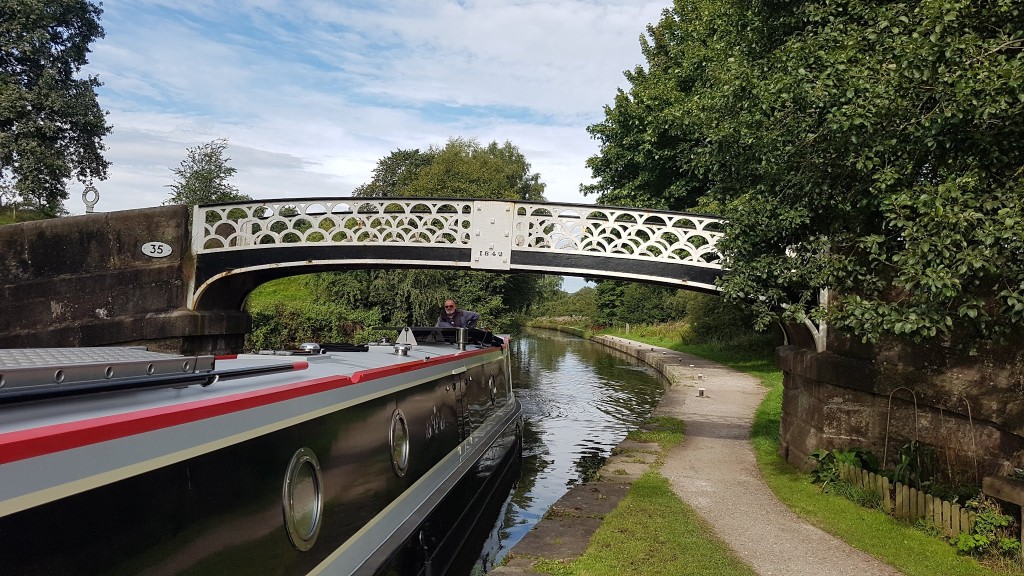 About the NB Triskaideka blog:
Our blog follows the trials and tribulations of our annual cruise.  We do not live aboard permanently but continually cruise from spring through to autumn, and then being wimps go home for the winter.  Our blog started with the design and build of our narrowboat, and then we continued the blog to enable family and friends to follow our travels.
What they enjoy about living on a narrowboat:
You see Britain from a different aspect and at a slower pace, both urban and rural, meet people from all walks of life, see wildlife through the seasons from nest building to leaving the family fold and forage the hedgerows for free food, can't beat a tot of sloe gin on a cold day, especially when you know where you picked the sloes.  This year its Leicester Line Sloe Gin last year Middlewich Branch.  
Click here to visit the blog!
Gecko's Progress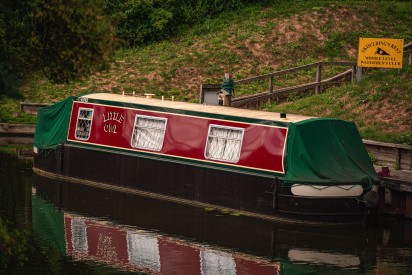 About the Gecko's Progress blog:
We sold our family home in 2005 and had a narrowboat built for us by Severn Valley Boat Centre in Stourport. Since then we have lived aboard Gecko and cruised from March to November each year. For the winter months we find a mooring, usually in a marina where we can hitch up to mains power. Thus we are classified as a Continuous Cruiser as we have no home mooring.
The big pull of the canals is the freedom. We cruise when we feel like it and stop whenever and wherever we fancy. If we like the locale we may stay a few days, or even longer within the C&RT restrictions.
Living on the inland waterways is like living in a linear village. One meets others in passing, sometimes learning their first name, usually learning the name of their dog and always the name of their boat, but not much more.Next time you meet, like neighbours, you exchange a few words, catch up on the gossip and if you are stopping, perhaps have a drink together. Subsequent meetings may be days, months or even years apart but that just means there is more gossip to catch up on. As with decent villages, people on the cut look out for one another. Unlike the TV portrayals, the sun does not shine all the time and occasionally things go wrong. Boaters are generally rather sanguine and will probably put the kettle on in a situation which might produce road-rage amongst motorists.
We find something of interest wherever we stop - in villages, market towns, city centres or the middle of nowhere. My blog reflects the varied nature of our experiences and interests which do spread beyond the towpath.
Click here to visit the blog:
A Narrow Escape: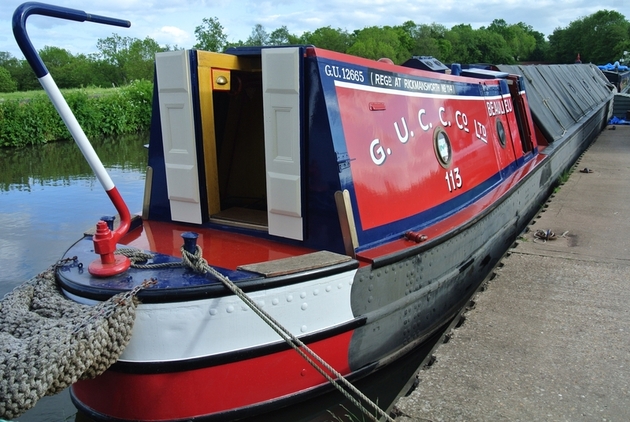 About A Narrow escape is about:
Life
aboard a narrowboat in London 

"Hysterical ramblings of the nautically challenged"
What
Carlih
enjoys about living on a narrowboat:
"I enjoy living on a narrowboat because endless hardship makes for great blog material. But
also
because I love exploring, ducklings and lifestyle choices that look good on Instagram."
Click here to visit the blog!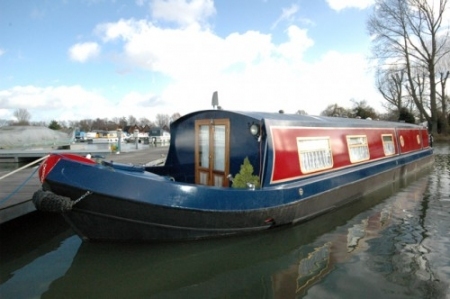 About the Lillyanne blog: 
Mick and I, Pip, discovered our mutual love of the canals early on in our relationship whilst on a narrowboat holiday on the Leeds and Liverpool Canal. Since then we hired numerous boats which lead us on to being part owners of a share boat for four years. The natural progression was to own our own boat, NB Lillyanne became that boat. The original plan was for us to take a year off work, rent the house out and to explore the waterways, it's history and nature. This we have done and the year has since grown and keeps on growing. Later this year we will move onto NB Oleanna a bespoke narrowboat currently in build for us. Mick was a Telephone Engineer and I am a Theatre Designer hoping to do bits of work on our travels.
We moved on board full time in July 2014 with our old cat Houdini. Now we have a new Second Mate, our six month old Tillercat called Tilly. Our blog is our cruising diary and the story of our lives on and occasionally off NB Lillyanne. Although I write the majority of the posts, Mick and Tilly occasionally contribute too. We travel the network meeting up with old friends, making new ones and watch the seasons change around us. The slow pace, a simpler life, history and being closer to nature are what we like about living on a boat, it suits us. We also like that the garden changes without having to do any gardening!
Narrowboat AmyJo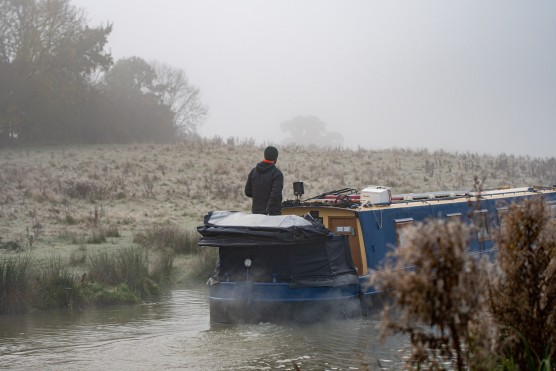 About the Narrowboat AmyJo blog:
We decided we wanted a narrow boat, that bit was certain and simple.  What came next is exciting yes, but we had no idea how much it would affect everyone in the household, and by that I mean it not only had an impact on Chris and myself but Amy and Joanne, our daughters, too. 
 Having had many holidays on the canals and thoroughly enjoyed them we gradually fell in love with the idea of owning our own boat.  Chris and I reached a point in or lives where our two daughters, Amy and Joanne, were in their 20s and both courting two good lads.  We suddenly found the hectic lifestyle of ferrying kids around and basing our lives around them was slowly diminishing.  Mum and Dads taxis had become redundant as the girls each had their own mode of transport, their own cars, and we found ourselves alone in the evenings more and more.  The house devoid of the usual noise and activity of a young family we started to take stock of our own lifestyle and what we wanted to do for the first time since the girls were born.
We realised that as the girls were off doing their own thing and creating careers for themselves we now had more time for ourselves.  At the time both girls were thinking about finding a place of their own with their partners so we realised the big 4 bedroomed house we lived in was suddenly going to be far too big for just the two of us to rattle round in.
Bored one afternoon and with time on our hands Chris and I decided to go for a walk and ended up gongoozling at the staircase locks in Chester.  For some reason we both felt compelled to help the boaters work the locks and after a pleasant few hours working them and talking to the boat owners we both looked at each other and without any word said the seed of our dream became firmly planted.
So started our journey and why I'm put this missive together in the hope one day it might be of some small help to those who choose to follow the same path we are.  If it helps in some way then I will be happy, if not at least it might help if you cannot sleep, reading this should do the trick :-)
If you are considering buying a boat and living on it, while its nice to have your own dream come true, stop for a moment, to consider what impact that might have on the rest of your family, we did not at first but soon after moving home it became obvious the change was going to affect the girls as well as us much more than we thought. 
We put the house on the market to release the equity in it to fund the boat.  We decided to downsize as we would not be in the house much once AmyJo was finished.  Good idea?  Well for us yes, but we didn't take into account the girls were still with us and moved into a nice bungalow but half the floor area of the old home.  We soon realised things were a bit cramped as we still had loads of things we could not find places for as well as smaller rooms.  Moving from two en suite bathrooms and a downstairs loo to one bathroom and one other loo is proving to be interesting, especially with 3 females getting ready to go out to work.  As the only male in the house I tend to loose out in the get in there first stakes so timing is critical.
Next we quickly realised having fitted wardrobes in the old house was nice, but now we found ourselves with nothing. No wardrobes at all, these we had to source and purchase, eating into our budget (lesson one)  
Then there is the getting to work issue.  In the old house we were two miles from Chester centre with an easy back road route into town.  The girls work in town and Chris a few miles out of town in Farndon.  Amy could take the park and ride bus that stopped a 100 yards from the door but this is not available here, we obviously did not take that into account when we were searching for properties ( lesson two).  From the new house both girls now have further to drive and Chris's journey has doubled adding to the petrol bills, not good considering the price of petrol these days.  One saving grace is I am now closer to my work and have an easy ride through country lanes and over the canal to and from work, I often stop on the canal bridge and take in the sight of the cut.
We then notified the insurance companies of our move and because we are in another post code all car and house insurance premiums have gone up adding to our outgoings, We were convinced our outgoings would drop as we are in a smaller property, not so (lesson three).
All that said we would still do the same again if it means we end up with AmyJo on the cut and, though they occasionally whinge, the girls are OK and are happy with the new home, in fact its probably making them more determined to find their own place (one can live in hope).
Click here to visit the blog!
Patience Afloat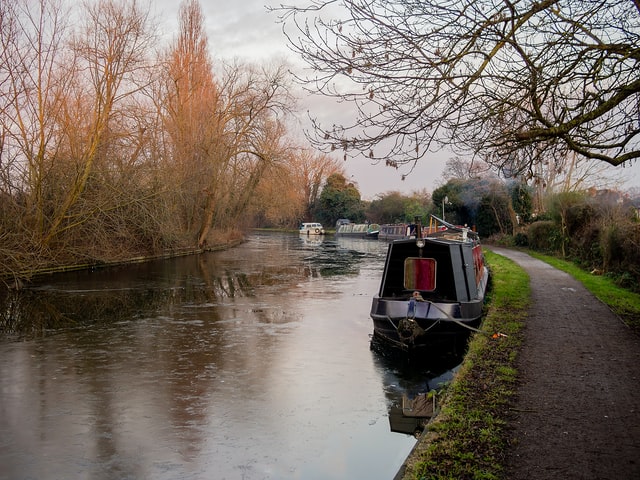 About the Patience Afloat blog:
We (Duncan and John) started our blog both as a record of our boating expeditions and as "the story of a narrow boat, from finding, deciding on buying, learning too use it, maintain it and enjoy it. All done with Patience."
Our boat, Patience, was first moored on The Ouse in Cambridgeshire, toured the rivers Ouse and Cam and their tributaries, before passing through the Middle Levels, along the Nene for a couple of years, and is now on the Leicester Arm of the Grand Union, poised to travel far and wide. 
WE've learned a lot about her and have experienced our fair share of problems, now listed under our Guide to Narrow Boat Problems here.
What Duncan and John enjoy about life on a narrowboat:
We are fair weather boaters, enjoying rather than enduring our travels. We barely stay out for more than a week at a time but enjoy preparing for a trip, targeting good pubs and interesting sights. Our tour de force was navigating the Cam past the Cambridge colleges, as this picture shows. Duncan enjoys hours in sunlight and dappled shade while steering under overhanging branches in clear rivers, while John enjoys tinkering with the engine, checking pumps and doing all kinds of maintenance. Our wives stay for a couple of nights now and again but get easily bored with the same slow progress that we enjoy - "the fastest way to slow down."
Click here to visit the blog!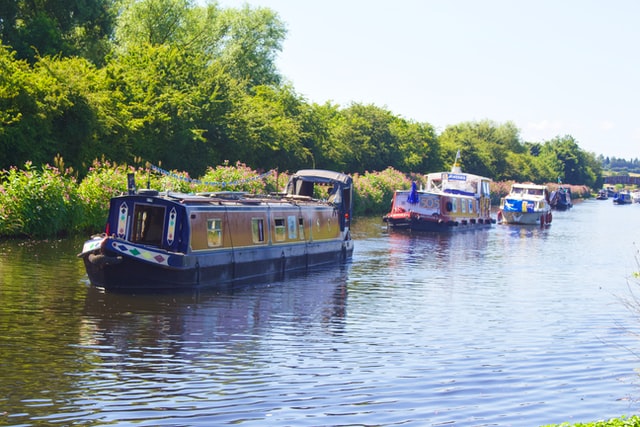 About the Living on a Shoestring blog:
When Rob and I decided to buy a boat, we had absolutely no idea what we were doing. The phrase: "let's just see how it goes" was uttered, and within a couple of weeks, we'd moved out of our rented house and taken up life afloat. It was one of those things that we'd either instantly regret, or remember for the rest of our lives. Thankfully it was the latter.
As a writer, starting the blog came naturally to me. We had a lot of family members, and even complete and utter strangers, contacting us to ask us questions about boat life. A lot of it was the norm, such as "isn't it cold?" and "where do you poo?" but after a few emails from young couples in similar situations asking for our advice (with many going on to actually buy a boat, "thanks to us", they said), I felt as though blogging about it would be a nice little keepsake to look back on.
Amongst boat-stuff, it's a general lifestyle blog about places to eat and things to do in our homeland of Derbyshire. The real star of the
blog
though, is our ridiculously overgrown Golden Retriever puppy, Sid. He features heavily throughout my posts, so if you like to look at pictures of handsome, dopey, and sometimes-kind-of-naughty dogs, then please check out Living on a Shoestring.
Seyella's Journey
About the Seyella's Journey blog:
Having hired narrowboats on several occasions and thoroughly enjoyed it, we always said that at some point we'd buy our own and set off to tour the waterways. Well, that point came when, stressed with my job, we sat down one evening and thrashed out our finances. Yes, if we sold everything, we could do it. So we did. Four cars (one of them my cherished, restored, Riley Pathfinder. That shows how committed we were!), a caravan and the contents of our house apart from a few sentimental bits and bobs that went into friends and family's attics, and the house itself, all went, and we moved onto Seyella in August 2006. 
We've never looked back. Apart from a health scare with Mags a couple of years ago, I think we're probably fitter, and certainly happier, than we ever were on land. We've made lots of friends, from all walks of life, that we
never would
have before. And the ability to go where and when we want, just to please ourselves, is liberating.
Ok, it's not all plain sailing. Getting short of water and with a full loo tank when frozen in, in the middle of nowhere, can be a little worrying, but just needs a bit of forward planning to avoid. 
The good stuff by far outweighs the odd bad day. No, that's not right. They're all good days, it's just that some are better than others!
Click here to visit the blog!
Captain Ahab's Watery Tales
About The Captian Ahab's Watery Tales blog:
I never went looking for the name Captain Ahab, but rather it found me! It was all down to one of my son's teachers who routinely asked my wife "how's Captain Ahab" when enquiring about my boating , decided to adopt the pseudonym little knowing that it would follow me like the proverbial Great White Whale.
The blog serves as my
on line
reference library for all things
boatey
, initially chronicling our canal and river travels on Wand'ring Bark and then expanding to record my historical research into the UK's canal system, particularly my ongoing exploration of the abandoned canals which
criss cross
our landscape. The material
it
contains also attracts input and comment from people who lived on or by the abandoned canals thus adding another living dimension to my research. The end result often ends up in articles published in one of the major waterways magazines. But that is only one dimension of my boating interests.
Over that last four
years
my wife Helen has established a thriving business making preserves using ingredients foraged from the towpaths and hedgerows. This venture soon outgrew the confines of our 42ft motor boat and a couple of years ago we invested in a 27ft butty which we tow to canal festivals and houses both our stock and serves as a 
pop up
market stall at canal festivals. 
The butty was constructed out of two old boats, the stern being a reproduction horse drawn Josher cabin which used to be on a
house boat
and the hold / bows were formed from the wrought iron sides of a BCN day boat, complete with hundreds of rivets. Of course, given its purpose, we call it The Jam Butty and it is hugely popular with photographers as we travel
round
the system. It also helps us advertise our Jams, Marmalades, Chutneys, Cordials and Vinegars some of which are made aboard as we travel and the rest are made at out West Midlands home near the Northern BCN.
We love to spend our summers travelling the waterways, picking, making and selling which offers an equal balance of solitude and sociability, meeting lots of boating acquaintances as we go. As a 
business
it just about covers our expenses during the summer months but
for now
I return to my day job in the winter whilst Helen starts the long process of making stock for the next season.
We would like to thank our top narrowboat bloggers for providing us with an insight into their life's. Be sure to follow their blogs for the latest updates of their fantastic adventures.
If you fancy taking to the canals then take a look at all the latest canal and
narrowboats
for sale on our site.